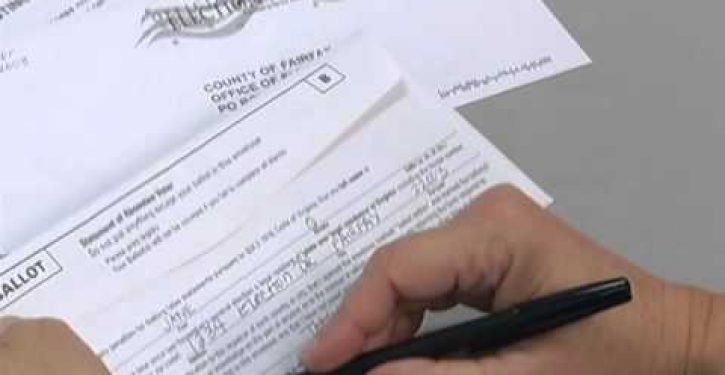 "Timing is everything," former Apple CEO John Sculley is credited with saying. The veracity of that adage was put to the test once again on Tuesday when Thomas Cooper, a mail carrier from Dry Fork, W.Va., was charged in a criminal complaint with attempted election fraud. That was the same day that Twitter "fact-checked" Donald Trump's claims of potential fraud through vote-by-mail schemes.
According to a news release from the Department of Justice:
In April 2020, the Clerk of Pendleton County received "2020 Primary Election COVID-19 Mail-In Absentee Request" forms from eight voters on which the voter's party-ballot request appeared to have been altered.

… The investigation found five ballot requests that had been altered from "Democrat" to "Republican." On three other requests, the party wasn't changed, but the request had been altered. …

Cooper was responsible for the mail delivery of the three towns from which the tampered requests were mailed. …
Twitter Trying to Censor Trump
The tweet by Trump adjudged to be misleading or wrong read, "There is NO WAY (ZERO!) that Mail-In Ballots will be anything less than substantially fraudulent. Mailboxes will be robbed, ballots will be forged & even illegally printed out & fraudulently signed."
Twitter plastered that tweet with a label at the bottom reading, "Get the facts about mail-in ballots."
Those "facts" take followers to a statement that reads in part: "Experts say mail-in ballots are very rarely linked to voter fraud. … Fact-checkers say there is no evidence that mail-in ballots are linked to voter fraud."
Trump Furious
Aside from Cooper's case, there here have been some prominent examples of voter fraud involving mail-in ballots – fairly recent debacles in North Carolina and Texas for beginners.
Vote-by-mail schemes, contrary to what Twitter wants you to believe, are considered by many experts as a means of facilitating voter fraud.
A bipartisan electoral reform commission in 2005 concluded that mail-in voting creates privacy issues and "increases the risk of fraud."
President Trump slammed Twitter on its own platform for "stifling free speech" through the use of fake news fact-checkers.
"[Twitter] is now interfering in the 2020 Presidential Election," he charged. "They are saying my statement on Mail-In Ballots, which will lead to massive corruption and fraud, is incorrect, based on fact-checking by Fake News CNN and the Amazon Washington Post."
"Twitter is completely stifling FREE SPEECH, and I, as President, will not allow it to happen!" he concluded.
The Democrats, led by Speaker Nancy Pelosi, have been championing the use of mail-in ballots premised on the notion that Americans should not have to sacrifice their health to exercise their franchise.
Voting at home shouldn't be a question of politics. It's a health issue. No American should have to choose between their protecting their health and exercising their right to vote. #inners pic.twitter.com/SxgOvhgwg4

— Nancy Pelosi (@SpeakerPelosi) May 27, 2020
The fallacy of Pelosi's claims resides in the fact that five months remain before Election Day. Considering the rate at which states are relaxing standards for COVID vigilance based on declining numbers, those concerns may be a moot point by Nov. 3.
Cross posted at the Mental Recession