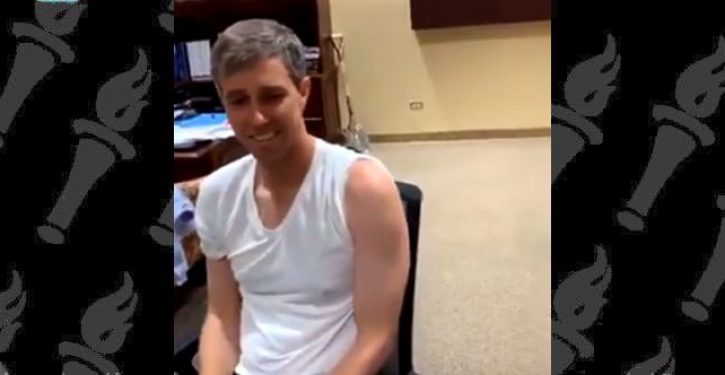 It was mere days ago that the Left was ready to lynch (oops, sorry) Donald Trump for using a word that conjures up a dark chapter in history. Among the Democrats to add their two cents to the condemnation of the president for using the word lynching to describe House Democrats' "impeachment" investigation was presidential hopeful Beto O'Rourke, who said, that Trump's tweet comparing the impeachment inquiry to a "lynching" proves he's "unfit to lead this country."
Yet, O'Rouke has demonstrated his own hypocrisy by repeatedly using another set of words — Nazi, Hitler, Third Reich — that conjures up an equally dark chapter in history to describe the president.
Challenged by CNN anchor Wolf Blitzer over his incendiary comparisons, O'Rourke replied, "Find me a better analogy."
The offensive comparison is nothing new for Robert Francis, of for the rest of his resistance party for that matter, all of whom have a track record of comparing everything — global warming skepticism, immigration enforcement, what the president had for breakfast — to Hitler and Nazi Germany.
Blitzer pointed out that some lawmakers on both sides of the aisle bristle at the analogy.
Not Beto, who longs to convince voters that he's a tough guy willing to stand up to the president, despite the fact that his nickname is one letter removed from spelling "Beta." (RELATED: Beto O'Rourke Compares Trump's Immigration Talk to Nazi Germany)
?WOW?

BETO on comparing Trump to Hitler: "Find me a better analogy"

— Benny (@bennyjohnson) October 21, 2019
Beto enlarged upon his dare to "find me a better analogy" by accusing Trump of "describing all people of one religion as inherently defective, or disqualified, or dangerous. … That is what the president has done when it came to Muslims."
False: Trump has referred to Islamic extremists as dangerous — a fact that many on the Left continue to refuse to acknowledge — and sought to implement a travel ban from countries harboring any terrorist activity. The fact that some of these countries coincided with Islamic extremism is an unfortunate, but not an invalid, relationship. (RELATED: Dan Crenshaw Excoriates Democrats For Constantly Comparing Republicans to Nazis)
https://youtu.be/MIWrmgPNUqQ
Since O'Rourke finds the Hitler comparison so indispensable, he might be surprised to learn that one of the policies he has underwritten as presidential candidate — gun confiscation — was the method Adolf Hitler used to render German Jews powerless and, hence, ripe for the slaughter.
Cross posted at the Mental Recession