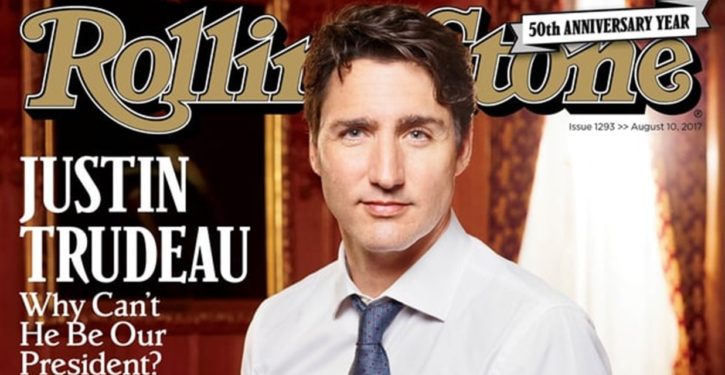 "Emergency powers, threats to freeze the finances of peaceful protesters, and smearing critics as terrorists—it has to be China, right? But no, it's our neighbor to the north, under a leader with a bad case of China-envy. For all the world to see, a panicky Prime Minister Justin Trudeau is throwing a tantrum over protests against restrictive pandemic policy that warns us how quickly an established democracy can lose its mind," says journalist J.D. Tuccille.
"Part of Canada's problem is that the country has rarely seen large numbers of people take to the streets in opposition to government actions. As a consequence, officials and some members of the public are wigging out over what would cause people elsewhere to shrug."
"By the standards of mass protests around the world, the 'Freedom Convoy' snarling Downtown Ottawa ranks as a nuisance," The New York Times editorial board pointed out last week. "The number of protesters, about 8,000 at their peak, is modest; there have been no serious injuries or altercations, the truckers stopped blaring their horns after residents got a temporary court injunction against them."
Yet, Canadian Prime Minister Justin Trudeau invoked the Emergencies Act for the first time ever against protesters he previously called a "small fringe minority."
Trending: Facebook forbids mainstream political argument as 'hate speech'
"The ongoing blockades and occupations are presenting serious challenges to law enforcement's ability to effectively enforce the law," Trudeau declared on Monday. "Because of that, the federal government is invoking the Emergencies Act to supplement provincial and territorial capacity."
The Emergencies Act is the current version of the War Measures Act applied by the Prime Minister's father, longtime Prime Minister Pierre Trudeau, in 1970 against literal terrorists.  It allows the government to force people to provide services to the government, and restrict public assembly with heavy fines and jail time for not complying, without the approval of Parliament. CTV News asked Justice Minister David Lametti why the decision was not left to lawmakers:
Lametti: Yes, legislation is always an option, but how long does legislation take? Particularly in the House where the main opposition party, their main goal is just to frustrate any piece of government legislation of whatever type and in which many people in the opposition actually support—

CTV News: But look, sir. To be fair, frustration with the democratic process in a minority government is not necessarily a justification to use the Emergencies Act. It has to be a crisis…

Lametti: We believe, as I have said, that this is a crisis that needs special attention …. the Emergencies Act allows us to make the declaration immediately and then put the parliamentary scrutiny afterwards.
The Canadian Civil Liberties Association says "the federal government has not met the threshold necessary to invoke the Emergencies Act. This law creates a high and clear standard for good reason: the Act allows government to bypass ordinary democratic processes. This standard has not been met." It adds that "emergency legislation should not be normalized. It threatens our democracy and our civil liberties."
The Trudeau administration's order "require any financial service provider to determine whether they have in their possession or control property that belongs to a person who participates in the" protests. Banks suspecting they serve demonstrators "must freeze their accounts and report it to the Royal Canadian Mounted Police or Canada's intelligence service." The Trudeau government acted after overseas protest backers transmitted money to protesters through crowdfunding platforms and using cryptocurrencies like bitcoin. Administration officials are aggravated that cryptocurrencies are not subject to the control they exercise over banks.
"What I see is the biggest gap in crypto is self-custody, pure peer-to-peer. Because how would you get reporting on that?" said a University of Calgary professor. "You would effectively need to regulate Bitcoin to be able to do that."
"The whole purpose originally, of Bitcoin and analogues to Bitcoin was to dis-intermediate. And [Canada's financial intelligence agency] rules apply to intermediaries," he observed. "What happens when there are no intermediaries? It is literally the equivalent of handing cash."
"Bitcoin's fundamental value proposition is seizure resistance," said a venture capitalist. "As important in Canada as it is in Venezuela."
Prime Minister Trudeau was criticized eight years ago for praising the ability of China's "basic dictatorship" to act quickly, as he now is able to do using the Emergencies Act. His outlook echoes his father, longtime Canadian Prime Minister Pierre Trudeau, who not only invoked the War Measures Act, but openly admired totalitarian rulers like Fidel Castro. Three years ago, Maclean's magazine discussed the copious "evidence of the Trudeau family's long love affair with the world's autocrats and tyrants."