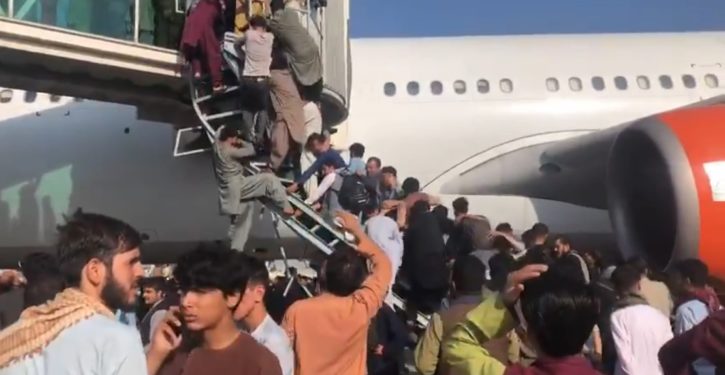 On Saturday, Ben Bowles wondered why the Biden administration wasn't briefing the names of the "high-profile" ISIS-K planners who were reportedly killed in an airstrike retaliating for the suicide bombings at Kabul airport, which are now said to have claimed at least 180 lives, including 13 Americans.
Ben's sense was that Joe Biden would take a victory lap for the signal success of rapidly identifying and locating the ISIS-K terrorists in order to "hunt them down and make them pay."  Biden has certainly done so in the past.
Lurking in the Bowles subtext was perhaps a hint of suspicion that the administration is taking showy actions to make a terribly botched evacuation look just a little better.  Ben is kinder than I am.  My primary assessment right now, based on experience, is that that's pretty much what the administration was doing.
U.S. intelligence on terrorist activities in Kabul has plummeted with the pullout.  We have very few, if any, in contact on the ground in Kabul, and others who are in contact have no reason to trust us.  We probably had a fairly good idea where some cells of ISIS-K planners were gaggled some three weeks ago, but if we couldn't avert the suicide bombings on 26 August, it's doubtful we had intel good enough to identify key personnel and locate them so quickly after the attack.
That doesn't mean a strike on generic ISIS-K operatives would be worthless.  It does mean what we're hearing about it is spin.  We'd have to be certain who and/or what was neutralized, to assess the value of the strike.
Similar comments probably apply to the latest U.S. drone strike, which is reported to have taken out a suicide bomber transport vehicle on the way to attack the airport.  As Ben says, these stories are being retailed in pat, conclusive language.  It sounds "off" to my ear, as if now that we have no assets in-country, we suddenly have perfect knowledge that we lacked back when we had command, control, intel (elements centered on Bagram air base), and a vast local network.
I'm not clear on how we knew the people in the vehicle were (a) suicide bombers (b) headed for the airport.  But I entreat the Biden administration not to tell us.  There have been enough compromises of operational security.
We may never be certain what targets U.S. air strikes really took out in Afghanistan this past week.  My sense of things doesn't even actually depend on a solution to that, because it happens in real strike operations that we don't always hit what we thought we did, or some related permutation of that adjustment factor.  CENTCOM at one point was constrained in its communications by the likelihood of uncertainty, and the determination to tell only an accurate story.  That caused the headquarters to make public reports only after careful assessment, and delayed reporting from the Pentagon or the White House even longer.
But there seemed to be little delay for either of the strikes in the last few days.  The media got a seemingly full story on them very quickly.  That's part of the "off" feel the air strikes narrative has to it.
But that's not really the important point.
The best reason to spend time on that aspect of the strikes – other than the unnerving possibility that such missions are being undertaken frivolously – is that the strikes themselves are unsuited to the problem of evacuating Afghanistan.  It's not useful to execute air strikes while making no attempt to hold the airport secure but open to evacuees, or provide reliably secure transport for the evacuees to get there (as opposed to sneaking small groups of evacuees through a Taliban/terrorist minefield that is in no way neutralized or even held at risk – and leaking to the Taliban that we're doing it, for good measure).
Nothing that's struck anywhere, in Kabul or outside of it, can make it easier for the evacuees to get to Hamid Karzai International, which has been the main problem.  Striking after the suicide bombings won't stop the bombings either, which keeps the airport and its entry points at perpetual risk.
Nothing, in fact, can replace the necessary factor of security control in Kabul, given the way the evacuation is being conducted; i.e., funneled through a single critical node, the international airport.  If evacuees don't have a secure way to get to the airport, and are in mortal peril the entire time they're waiting in or near it, many will not get out.  (This AP report highlighted in our Web Crawler may offer reasons for concern in that regard.)
It's not good enough to retaliate with strikes after Americans are killed, when that's not a fix for the real problem.  It may be good enough for the media, but it's not good enough for the American people.  We have the right to expect that our servicemen and women will be used to do an effective job getting evacuees out, and not be conveniently herded together at the international airport for soaking up bomb blasts or bullets, from a Kabul held by the Taliban.