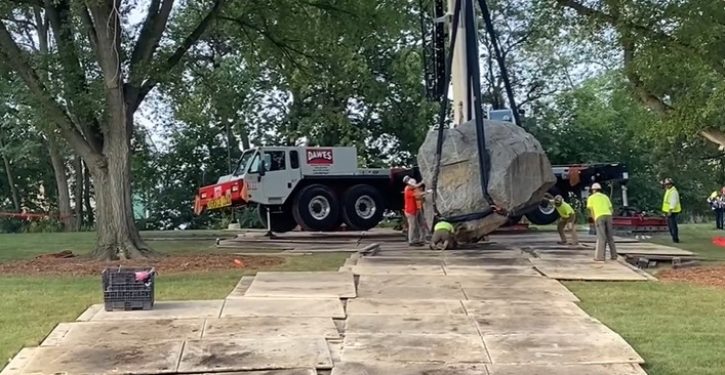 They can't bring on critical race theory soon enough. Once "honest history," in the words of American Federation of Teachers President Randi Weingarten, becomes the norm in education and government, all America will be free of racism at last.
In the meantime, be grateful for news reports like one that appeared this morning in the Wisconsin State Journal advising that a racist boulder has been removed from the U. of Wisconsin-Madison campus. So what makes the rock racist? Is it its name, Chamberlin Rock? That doesn't appear to be the reason. Thomas Chrowder Chamberlin, the Chamberlin it is named for, was president of the university from 1887 to 1892, though his real claim to fame is his work in the field of geology, especially glacial formations. In fact, the boulder named for him is a rare "example of a pre-Cambrian-era glacial erratic that experts say is likely over 2 billion years old," according to the article.
So what then is racist about Chamberlin Rock? You have to go back in the newspaper's morgue nearly a full century to uncover the reason so many people find the boulder to be a painful symbol. A State Journal article dated Oct. 9, 1925 notes:
Which Candidate Do You Support in the Republican Primaries?
The big boulder on Observatory hill, which is the largest of its kind in the immediate vicinity of Madison, is now out where folks can look at it.

For centuries the huge granite "n*ggerhead," partly visible, has been lying there on the hill, just alongside the cinder drive. For three days a crew of men, with horses, steel cables and capstan of 75-tons pulling capacity have been working to bring it to the surface. [Ed. The n-word is spelled out in its entirety in the original.]
According to this morning's story, "University historians have not found any other time that the slur was used." However, the article's author, Erin Gretzinger, writes, "The Ku Klux Klan was active on campus during that time," so surely that counts for something.
Anyway, the 1925 story was recently discovered, and activists got busy being offended in retrospect:
Juliana Bennett, a UW-Madison senior who serves as the campus representative on the Madison City Council, said removing the rock signaled a small step toward a more inclusive campus.
"This moment is about the students, past and present, that relentlessly advocated for the removal of this racist monument," she said. "Now is a moment for all of us BIPOC students to breathe a sigh of relief, to be proud of our endurance, and to begin healing."
How, you might ask, were past generations of students aggrieved by a minor detail in a story that seemed to recede into obscurity until only recently? When critical race theory finally transforms the nation, the answer to such questions will be obvious.