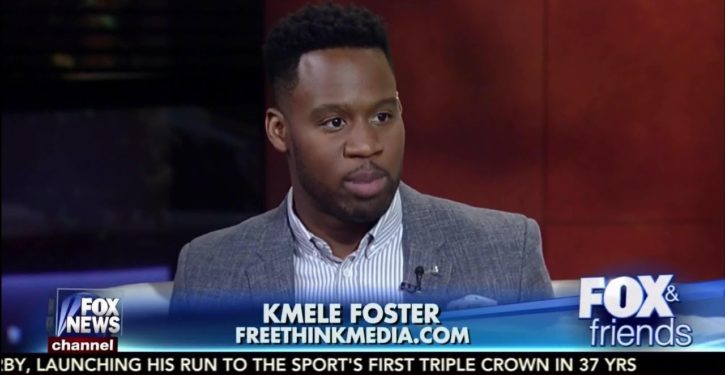 Yesterday, before the jury had returned a verdict in the murder case of Derek Chauvin, Howard Portnoy wrote a piece about the "elephant in the room," referring to the unspoken assumption that Chauvin's handling of George Floyd, which proved fatal, was a by-product of Chauvin's racism. Had Floyd been white, the presumption goes, Chauvin's methods would have been more humane.
That same topic was explored last night on "Fox News Primetime," hosted this week by The Federalist's Ben Domenech. One of his guests was podcaster Kmele Foster, who argued that indeed no evidence was presented to support the contention that George Floyd's death was a case about race.
A video of the exchanged follows, along with a transcript.
Ben Domenech: We have a situation here that is incredible in terms of the reaction that it spawned over the course of the past year, The death of George Floyd, obviously something that became not just a national story but international phenomenon in terms of reaction to it. What is your response to the verdict today?

Kmele Foster: Well, the first thing I will say is that any time a civilian ties in the custody of law enforcement or in interaction with law enforcement, particularly an unarmed civilian, that is a cause for concern. And in my experience, the overwhelming majority of the time that happens, when someone who is working has made a mistake. And I don't think this case is an exception to that rule. On the other hand, I do think that this was a genuinely complicated case. It is interesting that the jury returned a decision so quickly. I wasn't in the room, I listened to a lot of the evidence but I don't know all of the facts of the case, but a circumstance where you don't have any physical evidence and you score sweeping kind of three convictions like this, that is an interesting outcome. In terms of The National response to this, the real quandary I have is for most Americans, when they look at this case and they think about the facts of this case, it isn't obvious to me which facts make it clear, just self-evidently clear that this is a case that was about race. It is entirely possible for people of all races and backgrounds to have bad outcomes and interactions with law enforcement, and I would say egregiously bad outcomes. I don't want to be sensationalist, that isn't that what happens most of the time. Most police interactions go, they happen, and you're safe and you get home okay. But when things do go bad, that is important. The real question is, what do we do to prevent that? At the moment, people seemed very interested in retribution. It isn't obvious to me that we are really having serious conversation about reform, and most of the conversation is about racism. Quite frankly, I think our people are taking their eye off of the ball.

Domenech: You know, you bring up an incredibly important point, which is that this story has been reflected through our media environment entirely through the lens of race, where Derek Chauvin is essentially a stand-in for every white American, George Floyd a stand-in for every black American. To me, that is something that is designed to foment racial rage, outrage, and to really spread the kind of toxic environment that we have seen in recent years. What can be done to push back against that type of narrative, given the dominant force that the media has given this story through that lens?

Foster: I think what needs to happen is people to write and speak honestly about these cases, take these cases as individual events, rather than linking them all together and insisting that George Floyd is Breonna Taylor, is Jacob Blake, is Daunte Wright, is Adam Toledo. These are all distinct circumstances with very unique case-evidentiary elements and they need to be investigated and adjudicated on that basis, not linked together and turned into this patchwork of, you know, racial justice, a very clear and self-evident narrative of the state persecuting black people, when in fact, that is just not what is going on here. I think what the Adam Toledo case, to take the most recent example, you have a 13-year-old kid who is shot in interaction with law enforcement. Under any circumstance, this is important and worth taking into consideration. The question is, should we be focusing narrowly on the last minute of his life when, in fact, a police officer makes a split second decision, and I mean split second, to fire their weapon, or should we be talking about why a 13-year-old is on the street at 2:00 in the morning?