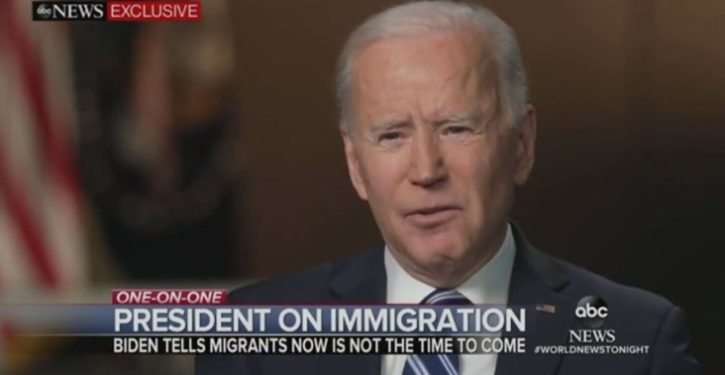 This president thing is turning out to be harder than it must have looked to Joe Biden when he was on the outside gazing in. While you're campaigning for the highest office in the land, all you have to do is say things that you think will resonate with your base. Things like "We're a nation of immigrants." Never mind that when then-Sen. John Kennedy immortalized the phrase nation of immigrants in a book with that title, he had legal immigrants in mind.
Now that he's president, Biden is finding out that talking the talk is very different from walking the walk. The "mess" at the southern border that he and his fellow Democrats in Congress claim he inherited from Donald Trump is reaching critical proportions on his watch. Blaming the previous administration is no longer enough. Occupancy at one of the makeshift shelters for unaccompanied minors that Biden set up is at 729% of capacity. Children are taking turns sleeping on the floor and complain of being hungry. Action is required.
So what is Pres. Biden doing to ameliorate the problem? Precisely what his predecessor did when he established his "Remain in Mexico" policy for asylum seekers. Except in Biden's case he's being more vague. Rather than setting up encampments on the Mexican side of the border, as the Trump administration did, he's simply telling migrants to "go back home."
Here Biden is, attempting to answer tough questions from ABC's George Stephanopoulos about his about-face.  A transcript of the interview appears after the video clip.
George Stephanopoulos: A lot of the migrants coming in saying they're coming in because you promised to make things better. It seems to be getting worse by the day. Was it a mistake not to anticipate this surge?

Joe Biden: Well, first of all, there was a surge in the last two years, in '19 and '20, there was a surge, as well.

Stephanopoulos: This one might be worse.

Biden: No, well, it could be. But here's the deal. We're sending back people — first of all, the idea that Joe Biden said, come. Because I heard the other day that they're coming because they know I'm a nice guy and I won't do what Trump did.

Stephanopoulos: They're saying this.

Biden: Yeah. Well, here's the deal. They're not.

Stephanopoulos: Do you have to say quite clearly, don't come?

Biden: Yes. I can say quite clearly, don't come. We're in a process of getting set up. Don't leave your town or city or community.
Contrast his words now with his campaign promise one year ago:
Donald Trump's "Remain in Mexico" policy is dangerous, inhumane, and goes against everything we stand for as a nation of immigrants. My administration will end it. https://t.co/toYzMaPP1Y

— Joe Biden (@JoeBiden) March 12, 2020
Yesterday the Biden administration announced that the president would be giving his first solo press conference on March 25. If his Q & A with George Stephanopoulos was any indication of coming attractions, the presser will be one for the record books.