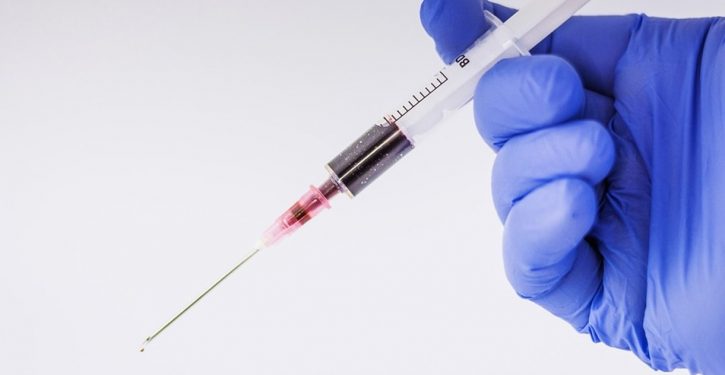 Oregon plans to give minorities preference over whites in access to the coronavirus vaccine, which is unconstitutional.
After vaccinating healthcare workers, teachers, and seniors, Oregon plans to vaccinate "people in communities of color, specifically those most impacted by the pandemic: 'Black, African-American, Hispanic/Latino/Latinx, indigenous peoples, tribal and urban-based native communities, and Pacific Islanders.'"
It is not clear that "Pacific Islanders" really are that "impacted" by the pandemic: One percent of COVID-19 cases in Oregon involve Pacific Islanders, who comprise a bit less than 1% of the state's population. Blacks account for 3% of cases, despite being only 2% of the population. But there is no reason to expect a group's percentage of cases to exactly mirror its percentage of the population — especially when it is a small minority group that lives mostly in one part of the state (the Portland metropolitan area).
The Supreme Court says it is "completely unrealistic" to expect that minorities will be represented "in lockstep proportion to their representation in the local population." (See Richmond v. J.A. Croson Co. (1989)).
The racial differences in disease rates aren't based on genetic susceptibility. Hispanics, who have a lot of white DNA, are the most disproportionately impacted: They account for 36% of COVID-19 cases in Oregon, despite being only 13% of Oregon's population.
People who have looked at similar or larger disparities in other states have concluded that they are not due to racism, but rather due to other factors, such as Hispanics being a disproportionate share of the essential workforce exempt from government lockdowns, or their living in densely-populated apartment buildings.
James A. Bacon, the former publisher of Virginia Business, examined Hispanic overrepresentation among COVID-19 sufferers in Virginia, where Hispanics accounted for 43% of cases, despite being only 9% of the population. He found that "there is no statistical evidence in the public domain that Virginia Hispanics are tested less for COVID-19, that Hispanics infected by the virus enjoy less access to hospitals, or that Hispanic patients receive inferior treatment in any way."
As a reader of the above article noted in the comments section, "The high percentage of Virginians with COVID who are Hispanics doesn't show they are victims of racial discrimination, but rather, that they are economic assets to the state. Hispanics work disproportionately in essential jobs that continued to function during the epidemic, which increased their risk of exposure. Food service workers, plumbers, etc., are disproportionately Hispanic. Without them, life would be worse, and consumers would suffer. Fortunately, Hispanics in Virginia are younger than non-Hispanic whites, so their mortality rate from COVID has been low."
There is nothing special about their genes that puts them in danger. It is just that their jobs, neighborhoods, and backgrounds tend to put them in more frequent contact with people who already carry COVID-19. As medical school professor Sally Satel observes, the risks of exposure for blacks and Hispanics "are increased because they are more likely than whites to work lower-paying jobs that require interaction with the public and to travel to those jobs by public transportation. Blacks and Hispanics are also more likely to live in homes with many family members sharing close quarters."
So it is those characteristics — not race — that Oregon can legally consider in handing out the vaccine to individuals. As the Supreme Court explained in Bartlett v. Strickland (2009), the government is supposed to use race only as a "last resort." So it would have to target all high-risk occupational categories and crowded living areas first, before it could use race as a factor.
It might be argued that blacks live in densely-populated areas plagued by coronavirus partly due to discrimination, such as redlining by banks or discrimination by landlords. But the Supreme Court has ruled that "societal discrimination" against a minority group is not a valid reason for giving priority to members of that group. (See Richmond v. J.A. Croson Co. (1989)). So even if black and Hispanic people experience discrimination that shunts them into lower-paying jobs with increased risk of catching the coronavirus, that wouldn't be reason enough for Oregon to give them a racial preference.
Only recent, systemic discrimination against a minority group by the government can justify giving that minority group a racial preference. That means widespread discrimination by the unit of government giving the racial preference, not just a few individual instances of discrimination, as an Oregon-based federal appeals court judge explained for his court in Coral Construction Co v. King County (1991)).
As that federal appeals court has noted, discrimination in other parts of the country won't justify a preference for minorities, either — only discrimination by the very state that is giving minorities a preference.  (See Western States Paving Co. v. Washington State Department of Transportation (2005)).
Oregon has certainly discriminated against black people in the distant past, such as Oregon banning black people from its territory in the nineteenth century.
But racial preferences are only a potential remedy for recent discrimination. For example, a court ruled that discrimination that occurred 14 years earlier was too old to justify a preference for black people. (See Hammon v. Barry (1987)).
Moreover, the fact that Oregon discriminated against one minority group (blacks) would not be a reason for it to give a racial preference to different minority groups, such as Pacific Islanders. Courts have struck down racial set-asides when they included minority groups such as Asians that lacked black people's history of being discriminated against by the government using the racial preference. (See L. Feriozzi Concrete Co. v. Casino Reinvestment Dev. Auth. (2001)).