This article, the fifth in a six-part series, continues an exploration of some strange and remarkable incidents in and related to the history of the uranium trade in the years 2008 and 2009.  The justification for having this interest, in the middle of the most crucial U.S. election in at least 150 years, is laid out in the introduction to Part II.
There is good reason to investigate what has been going on with uranium and other nuclear-related items in the last two decades, and one of the chief factors in that is discussed in Part I: the involvement of Goldman Sachs in trading and possessing physical uranium starting in 2009.  To date, there has been no other such involvement by a financial house, or any company not originally constituted to hold and trade physical uranium.
In Part II, we looked at the weird history of the freighter M/V Arctic Sea, which supposedly went missing in the Eastern Atlantic for 15 days in 2009 – yet actually didn't.  Arctic Sea's saga was distinguished by some very unusual details ("the deets'), including a stop in Kaliningrad for cargo-hold modifications before departing on the voyage from Finland; a prior history of conducting voyages with "missing" periods; and the ship's insurer being from the same Renaissance group of companies that paid Bill Clinton $500,000 for a speech in Russia, just prior to the U.S. decision to allow the sale of Uranium One to a subsidiary of Russia's Rosatom.
In Part III we pursued some additional "deets," starting with a change of ownership structure just before the remarkable 2009 voyage.  Even more eye-opening, the announcement in August 2009 that the ship had been "found" made reference to the Arctic Sea being west of the Cape Verde Islands on exactly the day of Hillary Clinton's one and only visit to the Cape Verde Islands (at any time, but also as secretary of state), on 14 August 2009.  Finally, we reviewed another unique feature of the case: that Russia blamed Estonia, and in particular Estonia's former chief of national intelligence, for concocting Arctic Sea's "hijacking" and "disappearance" as a plot.  Russia actually requested a Red Notice by Interpol on the Estonian official.
Trending: As feds buckle under border influx, Abbott surges TX forces to shut 6 crossing points; awards contract for border wall
In Part IV, we reviewed a last, significant detail from the Arctic Sea incident in 2009: namely, hints that the secrecy and supposed "hijacking" were about the ship carrying special material, possibly nuclear, at some point in her voyage.  Part IV concluded with a look at the ship's fate after 2009, which was an unusual interlude for the next two years until she was sold to a charter freight company in late 2011.
Part V continues with a look at some unique and interestingly contemporaneous developments surrounding the Arctic Sea transit in 2009.
Timing that stands out in a most unusual history
Although it isn't particularly unusual for commercial ships to have odd and colorful histories, it is a bit more unusual than "unusual" usually is, for Arctic Sea to be bought, after her 2009 escapade, by a relatively high-profile, established, American logistics firm that had no realistic need to buy a ship for the ostensible purpose of the sale.  (See, again, Part IV for the story on this, and on Arctic Sea's sketchy activity after the sale to Great Lakes Feeder Lines, or GLFL.)
It would have been more typical for someone in Southern Europe or the Middle East to buy Arctic Sea, probably through a shell company set up in a clearinghouse venue like Cyprus or the Isle of Man.
It's also worth noting that the one trip there's firm evidence of Arctic Sea making as a GLFL asset took her to Egypt, presumably a chartered commercial voyage that cannot possibly have been economically preferable to consigning cargo to an oceangoing freight line that makes regular runs across the Atlantic.
It's an interesting question, other than the possibly related event with Solchart Arkhangelsk, what Arctic Sea was doing while she was owned by Arctic Runner Shipping/Logistics Plus, between July 2010 and November 2011.
Meanwhile, there are a handful of coincidences from the timeframe of Arctic Sea's excellent adventure.
One is that, before Arctic Sea was in Damietta, Egypt, in June 2010 – and after her "hijacking" interlude in Northern Europe in July-August 2009 – a prohibited-arms carrier, M/V Francop, was intercepted by the Israelis on 1 November 2009 as it transited between Damietta and Cyprus, with a follow-on destination of Lebanon.
Israeli authorities said at the time that Francop had picked up the shipment of hundreds of tons of Iranian-provided weaponry in Damietta, a popular Eastern Mediterranean port for repacking and transloading cargo.  Iranian cargo ships, although under U.S. sanctions in the relevant period, were making frequent stops in Damietta, and much analysis was devoted to the Iranian shipping activity, and the possibility that some prohibited cargo was moved between Egypt and Sudan (i.e., with transshipment from or to Iran via Sudan) over land.
In either case, a connection to Iran for a very odd trans-Atlantic voyage by Arctic Sea, at a time (2010) when she was supposedly making St. Lawrence Seaway runs, would have fit other patterns in the same period, as would that connection running through Egypt.
Scooting nuclear material around
Another peculiar coincidence was the confession of an Italian mobster to a series of, shall we say, unauthorized disposal events with toxic waste, some of it reported to be spent nuclear fuel, off the coast of Italy. As many as 32 shipments were reported to have been scuttled in the 1990s and 2000s.  The report of the mobster's confession came out in September 2009, about a month after Arctic Sea was said to be "found" west of the Cape Verde Islands.
The Calabrian mobster's confession was an instant classic:
An informant from the Calabrian mafia said the ship was one of a number he blew up as part of an illegal operation to bypass laws on toxic waste disposal.

The sunken vessel has been found 30km (18 miles) off the south-west of Italy.

The informant said it contained "nuclear" material. Officials said it would be tested for radioactivity.

Murky pictures taken by a robot camera show the vessel intact and alongside it are a number of yellow barrels.

Labels on them say the contents are toxic.

The informant said the mafia had muscled in on the lucrative business of radioactive waste disposal.

But he said that instead of getting rid of the material safely, he blew up the vessel out at sea, off the Calabrian coast.
Anyone who's ever been at sea off Calabria (the "toe" of the boot) knows it's a well-trafficked area, and it would be pretty hard to miss a ship being blown up there.  (That's probably how the Italian authorities came to know about it, in fact.)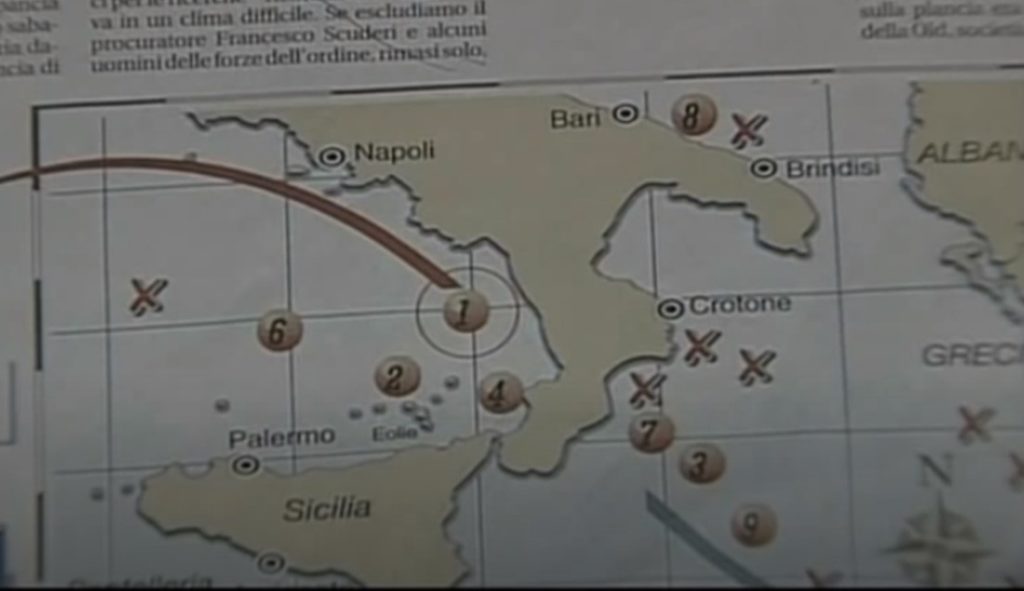 As humorous as the scenario is, however, it's a reminder that there was a "lucrative business" in radioactive waste disposal, and mob criminals in Europe were involved in it.  It's a question that bears looking into, even in the case of Arctic Sea.
It seems highly doubtful that Arctic Sea's purpose was to transport toxic waste for illegal disposal at sea somewhere.  Disposal, however, would not have been completely out of the question as the intended end of toxic waste consigned to the ship as cargo.
We can presumably start, at least, by dismissing Finland as the source of such toxic waste.  But in July 2009, Arctic Sea did make that two-week stop in Kaliningrad, which – with syndicate-crime involvement – could have put toxic waste from the former-Soviet uranium milling and enrichment operations in Estonia within reach.
Estonia is still, in fact, seeking an aboveboard agreement for proper disposal of the remaining waste at Sillamae, the collection site for the Cold War-era operations.  The year 2009 was an interesting one, because Estonia had announced the completion of a toxic waste cleanup the year before – in October 2008 – which consolidated and improved the storage arrangements at Sillamae (see Wikipedia as well for a less flavorful take).
In other words, toxic waste was being moved around for a known purpose in eastern Estonia in the period just preceding Arctic Sea's 2009 voyage.
Notably, the cleanup at Sillamae would have been ongoing at the time of Arctic Sea's previous "missing track" trips in 2007 and 2008.  For each of the three previous "missing track" trips, Arctic Sea made a stop in Tallinn, Estonia before departing for the Mediterranean.
None of that is dispositive, of course, on any point being considered here.  But if someone were trying to sneak toxic waste out of Estonia in collaboration with, say, Russian mobsters, that would certainly explain a lot about Russia's apparent reaction to Arctic Sea.  Scenarios can be imagined in which disappearing for a week or 10 days would allow Arctic Sea to transship materials to a buyer who might be interested in them, or even (less likely, in my view) to heave them overboard in the Atlantic.
The spectacle of ships with toxic waste being literally blown up and scuttled by mob criminals off the coast of Italy is a reminder that even in our "civilized," well-monitored age, barbaric things still happen.  It bears investigation.
I would make very little of this next coincidence, but it's the kind of thing a competent analyst wouldn't fail to keep on record.  The first (and only) feeder-line run of GLFL's Dutch Runner, Arctic Sea's sister ship in the St. Lawrence Seaway, was in 2008 (see Part IV), and took place at the same time as the transport of Saddam Hussein's yellowcake to Canada, where it arrived for follow-on processing at a Canadian facility via the St. Lawrence.
There is no logical direct connection between the two events, so that's not the point.  But there may be a point in the fact that – as we saw in Part I – this was also the same period (the latter half of 2008) in which Goldman Sachs was making the decision to trade directly, hands-on, in uranium as a commodity.
Canada is a major miner of uranium, and Goldman Sachs had longstanding links to the Clintons, who had been interesting themselves in the uranium trade, with entry points through Canadian brokers (e.g., Frank Giustra), since at least 2005.  The potential for transporting yellowcake via the St. Lawrence Seaway was presumably recognized as an ancillary possibility in Goldman Sachs's deliberations.  It's another data point that merits being retained in the file.
On that logistics-related head, remember, as well, the odd coincidence attending the Russian firm Tenex: the subsidiary of Rosatom whose U.S. arm, Tenam, was reported by an FBI confidential source to have made bribes to the Clintons in 2009.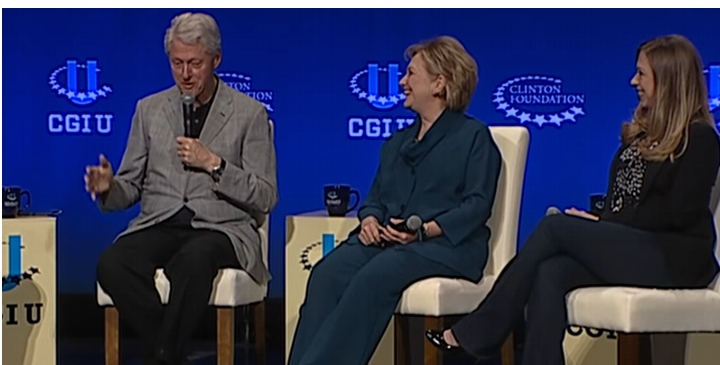 This was during the period when the Russian purchase of Uranium One was being worked, and is one subset of the circumstances in question with Tenex.
Inevitably, the Clinton angle
The other subset involves a U.S. logistics firm, Transport Logistics International (TLI).  TLI was charged by U.S. authorities with routinely bribing Tenex for uranium transport business between 2004 and 2014.  (Note that TLI was acquired by the French company Daher in 2009, our year of years, and became Daher-TLI at that point.)
Coincidentally, TLI's registered office in Maryland was co-located with the local office of the firm Teneo Holdings (including its subsidiary Teneo Capital).  Teneo's headquarters is in New York; its office in Maryland was presumably a convenience for its business activities.  The original core company, a political and business consultancy, was created in September 2009 by Declan Kelly, a long-time Clinton aide.
Kelly and Clinton lieutenant Doug Band combined the original consulting firm and some other interests into Teneo Holdings in October 2010 (coincidentally, the month in which CFIUS approved the Uranium One shares sale giving Rosatom subsidiary ARMZ control of the company).
Declan Kelly held an appointed role under then-Secretary Hillary Clinton as special envoy to Northern Ireland.  In that role, he used Teneo to personally employ the staff for his envoy portfolio.  In other words, it was a bit of an odd twist: in an official role commissioned by the State Department, the employees were not civil servants.
Later, according to the report by Politico (link above), Teneo "would go on to employ numerous Hillary Clinton associates, including her closest confidante, Huma Abedin, and, for a time, Bill Clinton as 'honorary chairman,' giving clients rare access to the couple and their network of world leaders."
So: what are the odds that Tenex would be at the center of bribes flowing to it from a uranium transport company, TLI, whose Maryland office was co-located with a consulting conglomerate founded by cronies of the Clintons, who allegedly were being targeted with bribes flowing from Tenex in 2009?
At the very least, the odds against this being mere coincidence are pretty stiff.  Clinton connections, including those that intersect with the Obama administration, keep popping up where uranium is being moved around.
The coincidences pile up when we recall, from Part I, that Goldman Sachs – with its longstanding ties to the Clintons, and the top-dollar corporate donor to Obama in 2008 – had established itself in the hands-on uranium trade by the June-July timeframe in 2009.  At a time when there was a lot going on in Uranium World, a close corporate crony of the U.S. administration (i.e., Goldman Sachs) had just developed a strong, new, and unique interest in uranium transport.
These circumstances are food for thought.
In Part VI we will look at some context surrounding the busy, watershed years 2008 and 2009 – the years of Goldman-Sachs, uranium, and M/V Arctic Sea – having mostly to do with the shipping trade and developments in it that found our usual suspects somewhere in the vicinity at every turn.