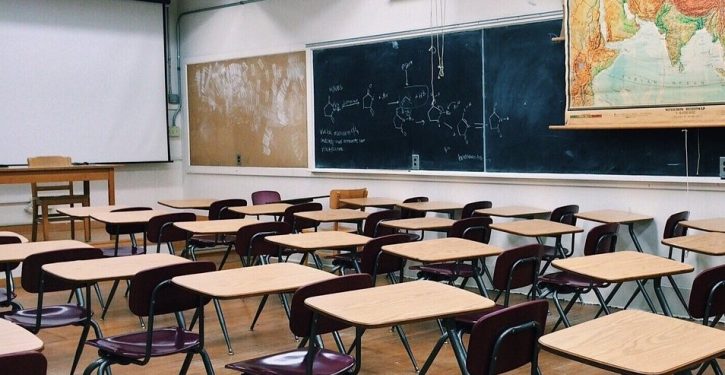 Schools and child-care centers do not increase the overall spread of COVID-19. More and more studies prove that. So K-12 schools — especially elementary schools — should be reopened for in-person learning.
"Shutting schools increases Covid-19 deaths, study finds," says the University of Edinburgh. "Closing schools during the pandemic would result in more overall deaths in the long term than keeping them open, according to fresh analysis of the data that informed the government's decision on lockdown." The study is "based on a re-analysis of" the Imperial College study used "to initiate" the United Kingdom's "nationwide lockdown in March 2020."
"Researchers from Yale University surveyed more than 57,000 U.S. child care providers. … They found no association between contracting the virus and exposure to child care," notes the American Academy of Pediatrics.

"Schools do not, in fact, appear to be major spreaders of COVID-19," notes Brown University Professor Emily Oster in The Atlantic. While a few students and staff have caught the coronavirus, this doesn't show schools are dangerous: "Even if there were no spread in schools, we'd see some cases" among students and teachers, "because students and teachers can contract the disease off campus."

School closures are "harmful" to some children's health, according to the Centers for Disease Control and Prevention. Moreover, "school closures kill more children than COVID," notes syndicated columnist Phil Kerpen.
In most of Europe, schools have reopened or never closed. That's true even in countries hit very hard by COVID, such as the United Kingdom. British schools reopened with very little COVID spread among either students or staff.
"COVID-19 has not caused the deaths of any otherwise healthy schoolchildren" in the United Kingdom, even though that country had a higher overall death rate from COVID-19 than the U.S., according to the Independent.
Nor does the coronavirus cause many serious illnesses among children. A British Medical Journal "study was published which found the need for children to have hospital treatment for COVID-19 was tiny" and critical care "even tinier."
Studies find that children are much less likely to contract the virus than adults, and also much less likely to spread it — especially those under age 10.
A German study found no evidence of coronavirus spread in schools there. An article in Pediatrics, the official peer-reviewed journal of the American Academy of Pediatrics, concluded that young children seldom transmit COVID-19 to each other or to adults, weighing in favor of reopening the schools. So there is no health reason to close elementary schools.
In some cases, politics is driving decisions to keep schools closed. In September, an official in staunchly Democratic Los Angeles County said schools there would not reopen "until after the election." As the Daily Wire notes:
On Wednesday, audio surfaced of Los Angeles County Public Health Director Barbara Ferrer saying that K-12 schools in America's largest county likely will not open until after the November election. …

'We don't realistically anticipate that we would be moving to either tier 2 or to reopening K-12 schools at least until after the election, in early November,' Ferrer said. 'When we look at the timing of everything, it seems to us a more realistic approach to this would be to think that we're going to be where we are now until we are done with the election.'
Keeping schools closed until the election is purely about politics. Closing schools harms the economy by forcing many parents to stop working to stay home with their kids. That in turn helps elect Joe Biden, who currently leads Donald Trump in public opinion polls. Economic models show that the worse the economy, the more likely a president is to lose an election to his challenger, and the more likely that members of Congress of the president's party will be defeated as well.
The strongest opposition to reopening schools is in liberal counties, not counties with the highest COVID rates. Progressive teachers unions have thwarted school reopenings. They have used "sick-outs" to shut down schools that planned to reopen, and force school boards to delay school openings. Teachers unions have frequently used political pressure to get school boards to push back dates for reopening the schools.
Closing schools in Los Angeles County until after the election may tip a close congressional race to the Democrats. Democrats in Los Angeles County hope to unseat a Republican congressman in the county's far north, Congressman Mike Garcia. He  narrowly won a special election in early 2020, in a district that earlier voted for Hillary Clinton.