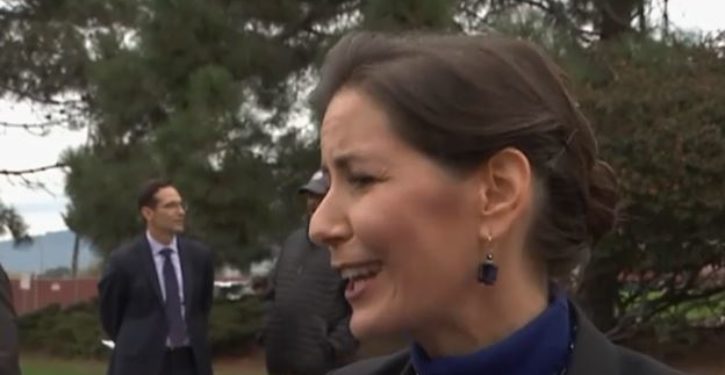 Libby Schaaf, the liberal mayor of Oakland, Calif. who once tipped off illegal aliens about an upcoming ICE raid, claiming it was her "duty" to call out Donald Trump's "racist lie" about illegals, was served a reality sandwich this week. She found the flavor bitter and unpleasant.
The Hill reports that Schaaf's "home was vandalized in the early hours of Tuesday morning, shortly before she cast a deciding vote not to defund the city's police department."
Around 2 a.m. Tuesday, vandals shot projectiles at Schaaf's home, set off fireworks and graffitied her home with paint, Schaaf's spokesperson, Justin Berton, said in a statement.
A video from ABC Oakland affiliate KGO shows the full extent of the damage, which includes the spray-painted messages "Defund OPD," "homes 4 all," and "blood on your hands."  According to witnesses, 30 to 50 people dressed in black and wearing masks were responsible for the attack.
Understandably, Schaaf feels let down by "her own people," but her office released a statement that may come back to haunt her. It reads in part:
This attack, designed to intimidate the Mayor and strike fear into her family, will not stop her from advocating for the policies she believes are in the best long-term interests of her beloved hometown. Like all Oaklanders, she supports passionate protest but does not support tactics meant to harm and terrorize others. [Emphasis added]
Hmm. When Donald Trump in June threatened to designate Antifa a terrorist organization, the Left bristled. NBC News harrumphed, "there is no domestic terrorism statute and legal authority for the U.S. to designate any domestic organization as a terrorist group." The ACLU echoed that emotion, writing, "[T]errorism is an inherently political label, easily abused and misused. My question is when the media plans to jump down Libby Schaaf's throat for daring to label the protesters who "decorated" her property terrorists?