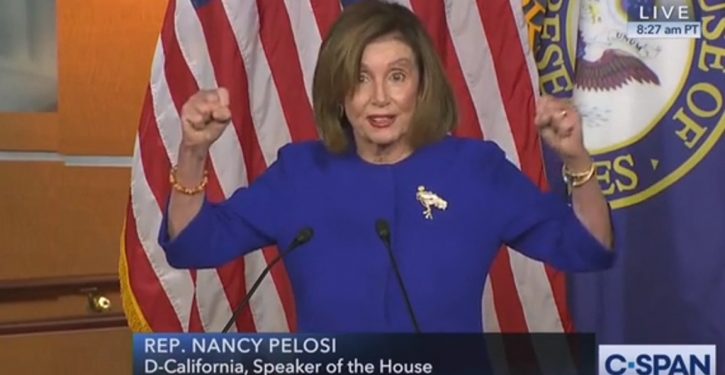 Nancy Pelosi and the House Democrats have been taking some grief for remaining out of session as the coronavirus problems dip and swivel around us.
The House was planning to reconvene on Monday, 4 May, when the Senate will be back in session.  But this past week, Pelosi and Majority Leader Steny Hoyer decided not to take that step.
If the House can't meet in its chamber in the U.S. Capitol, many observers are wondering why it can't convene by virtual means and hold votes online.  In her now-notorious interview with MSNBC's Chris Hayes (on 15 April), Pelosi was asked about that.
"Final question for you," said Hayes, "is just about the urgency and timeline here. I mean, someone raised the idea of remote voting, right? … People raised the idea of virtual voting with you. You said that — that was not going to happen."
Pelosi responded: "We're giving a task to the chair of the rules committee, and the chairwoman, that would be Jim McGovern and Zoe Lofgren, the chair of the House Administration Committee, the two committees of jurisdiction to present options to us — what is allowed under the Constitution, under the rules of the House, what is possible technologically."
But she went on: "People think we can do Congress by Zoom. Zoom is a Chinese entity that we've been told not to even trust the security of. So, there are challenges. It's not as easy as you would think."
Interestingly, Pelosi continued in that interview with a brief reference to "proxy" voting, which would entail members casting absent members' votes on their behalf.
That now seems to be the front-running proposal for getting the House voting again.  Pelosi says she wants some level of Republican buy-in for it, which is being framed as the hold-up for the idea (although who knows, as usual these days).
So, to summarize, online voting has security problems and proxy voting has Republican problems.  (Merely holding House meetings on Zoom could hardly be a problem, even if the Chinese were hacking avidly into the sessions.  The Chinese can watch open House sessions, floor or committee, any time they want via C-SPAN.)
It's no surprise that Republicans would be a bit more leery of the proxy voting idea than Democrats would be.  If Democrats were in the minority and Republicans proposed it, Democrats would scream everything from "racism!" to "fascism!"
But there's a solution so ready it's hard to imagine why the House Democrats haven't suggested it.  The House could hold floor votes by mail.
After all, they've been trying to force the entire country to elect the president by mail in November.  According to their talking points, it's indulging in fevered conspiracy theory to suggest there are any security or voting-integrity problems with vote-by-mail.
No one actually exploits the vulnerabilities that are magically absent from vote-by-mail.  That's the Democratic talking point anyway.  Republican accusations about fraudulent voting via vote-by-mail are big lies and fake news.
If we went by what Democrats say, vote-by-mail is the safest, most secure form of voting.  It's far safer than showing up in person, and more secure than voting online, where the Chinese might be waiting to zoom your vote.
Granted, a vote could take 3-4 days from the moment it was called.  Even using overnight delivery from the Postal Service might not get votes in next day from members mailing them out of Alaska and Hawaii.
But call it 96 hours to count the votes.  That's certainly better than going weeks at a time without being able to hold a vote.
Of course, it would be unconscionable to apply any more authentication requirements to this procedure than to the public's voting on election days.  No authentication requirements would be tolerated.  Members would merely sign a form and drop it in the mail.
Alternatively, each party, or any old PAC acting on its own initiative, could arrange to pick up members' ballots for them, and either mail them or drive them around for a while in the trunk of a car, before flying them to Washington, D.C. in some private pilot's back seat.  Ideally, they would be transported from a small general aviation airfield (preferably one without a control tower) to the Capitol building in an ice cream truck.
If a few extra member votes accumulated this way, well, things happen.  All votes would count until fully litigated.  Some bills would pass or fail based on more Democratic or Republican votes than there are members.  But it would be racist to deny the rights of the members' constituents based on technicalities like how many Republicans there are in the House.
Naturally, late-arriving votes would still be counted.  That goes without saying.  It would be racist to suggest that Republicans were adding mysterious, Suddenly Arriving Votes a couple at a time, as the tally grew, in order to defeat a bill.
This seems like such a simple, Democrat-approved solution, I really can't account for why it hasn't been proposed.  If it's good enough to elect the president, it's good enough to pass laws with.