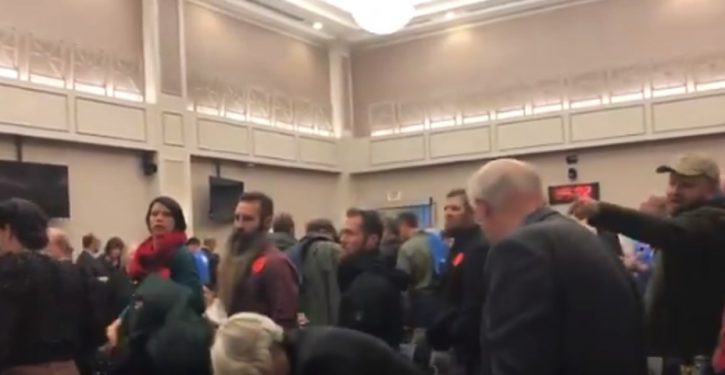 On Tuesday, the Democrat-controlled Virginia House of Delegates will reportedly hold the final reading of a controversial weapons-ban bill and go straight to a floor vote on it, trying to rush the bill through after it was passed by a House committee on Friday, 7 February.
The bill, House Bill 961, will ban "many commonly-owned semi-automatic firearms, suppressors, and standard capacity magazines."  The language of the bill bans magazines that hold more than 10 rounds.  As the NRA website indicates, "the committee amended the bill to allow citizens to keep currently owned firearms and suppressors" — but the bill apparently still requires anyone who intends to retain ownership to get a permit for the weapon under the terms of the new law.  No one will be able to make a new purchase of what the bill calls an "assault weapon" once the law is in force.  The state police will keep records of all ownership permits; the NRA is correct that confiscation is still the end goal.
The Virginia Senate, also Democrat-controlled, is expected in due course to pass a reconciled measure.  Democratic Governor Ralph Northam backs the legislation and will sign it into law.
With that outcome looming, almost all of Virginia's counties (91 of 95), and at least 50 cities and towns, have adopted Second Amendment "sanctuary" status, meaning they do not intend to enforce the new law.  Virginia's attorney general declared in December that these measures have no force of law.
Trending: College students required to detail sexual history before registering for classes
In January, thousands of Virginians turned out in Richmond for a gun-rights rally at the state capitol complex, which went off peacefully in spite of being hyped beforehand by the media — and the governor — as a public safety emergency.  All the extremists who reportedly were being tracked by federal and state law enforcement as they planned to come to the rally were from outside Virginia; one was an illegal alien in Maryland.
In light of those circumstances, we might have reason to hope that Virginians will find a way to resolve peacefully the confrontations that seem bound to occur.  The Virginia law, assuming Northam signs it in the coming weeks, will be immediately challenged in court.  There's a good chance a stay will be imposed by a judge, and upheld on appeal, as the law makes its way to the U.S. Supreme Court.  It may, at worst, be sometime in 2021 before Virginians have to actually face implementation of the law.  They may never have to, if federal courts strike it down.
But there's also the alternative possibility.  That would be what angry citizens in the committee room on Friday had in mind as they watched the House committee approve H.B. 961 on a party-line vote.
#VIRGINIA…… "YOU JUST MADE ME A FELON!"

Virginia House passes Ban on AR-15 style rifles, Suppressors & High Capacity Magazines…

AND all hell breaks loose as law enforcement forces Americans out onto the street as their anger erupts#virginia2a #Trump2020NowMoreThanEver pic.twitter.com/71baFbel3F

— cindyseestruth (@cindyseestruth) February 10, 2020
As one man shouted "You just made me a felon!" and others called out "We will not comply!", the capitol security police promptly began ordering the crowd of observers out of the room.  To my eyes, it looked like it was a minority of the crowd that set up a ruckus.  Almost everyone left, as required, in an orderly manner.
But sensible gun-owners aren't likely in any case to get themselves arrested inside the state capitol building.  As the NRA update suggests, meanwhile, the House of Delegates appears to be trying to rush through a final floor vote, in order to forestall a bigger confrontation in case anyone shows up who isn't so sensible.  Gun-owners have little to no history of such unruly displays; disrupting lawmakers at work (e.g., with shrieking in chamber galleries, lie-ins in lobbies, etc.) tends to be more the province of left-wing protesters.  But if the governor's overreaction to the rally in January is a guide, the Democrat-controlled branches of government have an unwonted fear of what gun-owners may do.
Whatever gun-owners do, it almost certainly won't go beyond a few moments of vocal protest while they're inside state government buildings.  That said, this thing isn't over.  It's just beginning.  Virginia has some tough sledding ahead.