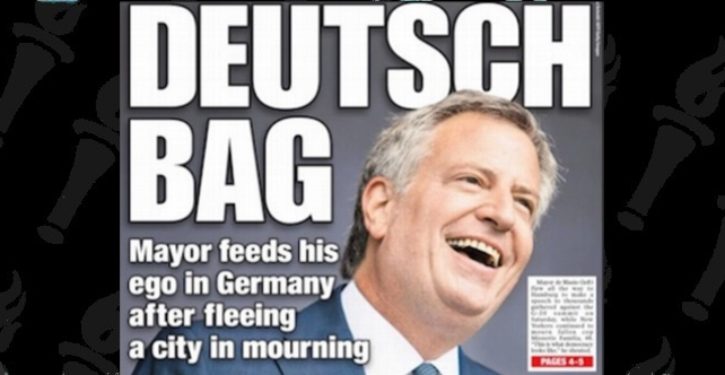 Whether it's extolling patriotism or the wisdom of the founding fathers, wait long enough and Democrats will sound like Republicans. The words will be hollow, mind you, said as a political expedient, but they will be uttered nonetheless.
Throughout the Democratic debates, the American flag (the one that prompts liberal airheads like Colin Kaepernick to take a knee) never appeared on stage once with the candidates. Yet during the Democrats' recent push for impeachment, Nancy Pelosi proudly stood in front of a reproduction of Old Glory, which — if that wasn't enough — had printed beneath it a line from the national anthem.
Which Candidate Do You Support in the Republican Primaries?
On Saturday, in the wake of reports that two members of the New York Police Department had been wounded in what was categorized as an "assassination attempt," the president tweeted:
I grew up in New York City and, over many years, got to watch how GREAT NYC's "Finest" are. Now, because of weak leadership at Governor & Mayor, stand away (water thrown at them) regulations, and lack of support, our wonderful NYC police are under assault. Stop this now!

— Donald J. Trump (@realDonaldTrump) February 9, 2020
Before the morning was up, his message received a reaction from the city's Mayor Bill de Blasio. This is same far-left politician who felt no compunction about skipping the funeral of one of his slain officers so he could protest at the G-20 summit in Germany. On this occasion, he wrote:
Our city is hurting right now. The only appropriate response is thoughts, prayers and solidarity with our officers — this is no time for division. https://t.co/jKkKZmWB0F

— Mayor Bill de Blasio (@NYCMayor) February 9, 2020
Thoughts and prayers?! Are that the same thoughts and prayers de Blasio derided after a shooting in Dayton, Ohio, in August of 2019?
They'll send thoughts and prayers to Odessa and Midland. Like they did after El Paso.

They'll stall and wait out the anger. Like they do every time.

We have to BREAK the cycle. We need leaders to LEAD. Mitch McConnell: Bring the Senate back to pass commonsense gun control NOW.

— Mayor Bill de Blasio (@NYCMayor) September 1, 2019
The same thoughts and prayers that Sen. Cory Booker called "bullsh*t" in March of the same year? That CNN anchor Don Lemon mocked after a gunman murdered 26 people in a shooting in Sutherland Springs, Texas?
Democrats need to stay on script lest they be called out for being the hypocrites they are.