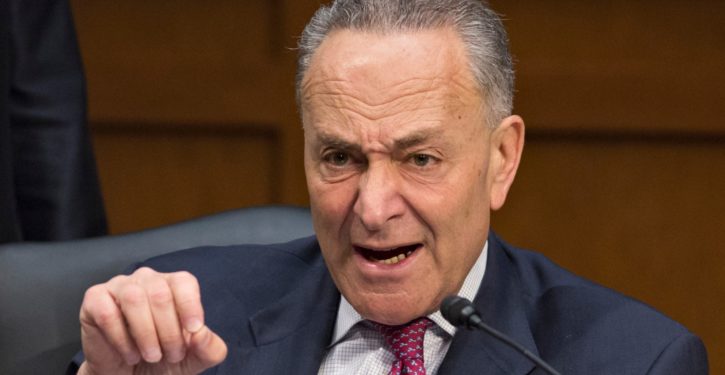 If the Democrats' have a mantra these day it is "witnesses and evidence." Senate Minority Leader Chuck Schumer claims that if the impeachment trial doesn't inlcude witnesses, "it will make the value of an acquittal zero." Never mind that during the Clinton impeachment, he took precisely the opposite tack, saying, "This idea that they didn't have to call witnesses in the House so they should call them in the Senate doesn't make sense."
Other no-less hypocritical colleagues of Schumer have been equally emphatic about the need for witnesses and documentary evidence in the current trial. "What are Republicans afraid of?" presidential hopeful Bernie Sanders tweeted Tuesday.
Senate Republicans, working directly with the White House, voted to prevent witnesses from testifying in Trump's impeachment trial.

What are Republicans afraid of? Today was a bad day for our country, for our Constitution, and for the rule of law. https://t.co/NMWX25rUoH

— Bernie Sanders (@SenSanders) January 22, 2020
Trending: Biden canceled Trump's plan for a 'Garden of American Heroes.' But look who honorees were
In their efforts to ensure a fair trial, the Democrats appear to be overlooking the 800-pound gorilla in the room. They seem to be forgetting that they have already interviewed approximately 500 witnesses, issued over 2,800 subpoenas, and even executed almost 500 search warrants in the hopes of unseating Trump. All of that took place during Phase 1 one of the impeachment, which also goes by the name "the Mueller investigation." Even Robert Mueller himself testified by seven hours on Capitol Hill.
Nor were the Dems finished. When the special counsel's nearly two-year-long probe ended with no evidence of collusion, they repaid the president for his cooperation by opening their own internal witch hunt in the House. And when that failed to produce an impeachable offense, they settled on the so-called whistleblower's testimony. But instead of officially launching an impeachment inquiry, as had been protocol in the past, they operated behind closed doors in a room in the basement of the Capitol. The presidents' attorneys were not invited or permitted to call witnesses, thereby denying him his due process. And when the White House refused to comply with demands from Rep. Adam Schiff, who was running this circus, Schiff and fellow Democrats accused him of stonewalling.