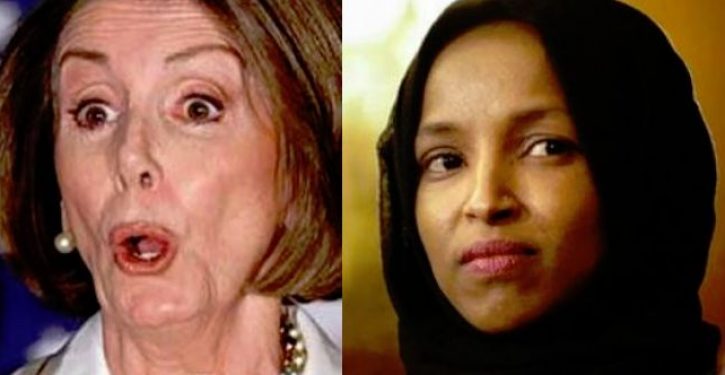 Perhaps we can get a better understanding of why Nancy Pelosi has been a major defender of Rep. Ilhan Omar's controversial remarks about 9/11 if we look back at some of her own remarks, which reveal that the two Democratic representatives have something in common.
Omar diminished the worst terrorist attack ever conducted on American soil by describing the driving force behind September 11 as "some people did something."
President Trump took a video of Omar's comments and added clips from that tragic day tweeting, "We will never forget!"
House Speaker Pelosi responded, not by condemning Omar's comments, but by condemning the president for playing them back exactly as they were spoken. She alleged that the video placed Omar's life in danger and demanded Trump remove it from his Twitter feed.
WE WILL NEVER FORGET! pic.twitter.com/VxrGFRFeJM

— Donald J. Trump (@realDonaldTrump) April 12, 2019
"The president's words weigh a ton, and his hateful and inflammatory rhetoric creates real danger," Pelosi stated. "President Trump must take down his disrespectful and dangerous video."
Only in a liberal's mind can using one's own words be "disrespectful and dangerous" to that very person.
Maybe This Is Why Pelosi Is Defensive
During the summer of 2018, Pelosi received some flak mostly from conservative media outlets for downplaying the 9/11 terrorist attacks that claimed the lives of nearly 3,000 Americans as merely an "incident."
The speaker was using 9/11 to defend her party's stance on open borders, citing a commission report, saying:
When we had the 9/11 incident, the commission was formed and they made the recommendations. They made recommendations to protect America, and some were about our borders, and Republicans would not take them up. [Emphasis added]
Nancy Pelosi refers to the 9/11 terror attacks that killed nearly 3,000 Americans as just an "incident."

Pelosi then falsely stated the Trump admin separated families because they believe moms "who want to escape rape, murder and gang violence for their child" are "unfit." pic.twitter.com/JLIwLwzCYu

— Ryan Saavedra (@RealSaavedra) July 26, 2018
Criticism
Naturally, the media paid no attention to Pelosi's downgrading of the worst terrorist attack on U.S. soil to an "incident," but she was taken to task by a man whose mother perished in the terrorist attacks. His name is Nicholas Haros, Jr. and it was during a speech at last year's memorial service at Ground Zero that he said, "This year, a representative of the House referred to our loss as just another incident."
"Stop. Stop. Please stop using the bones and ashes of our loved ones as props in your political theater," Haros pleaded. "Their lives and sacrifices and death are worth so much more. Let's not trivialize them or us. It hurts."
The son of a 9/11 victim, Nicholas Haros, Jr., calls outs Nancy Pelosi & Cory Booker for their remarks about 9/11 pic.twitter.com/mPxeSSgN5r

— Fox & Friends First (@FoxFriendsFirst) September 12, 2018
When will Omar and Pelosi apologize to the victim's families for their insensitivity?
Cross posted at the Mental Recession