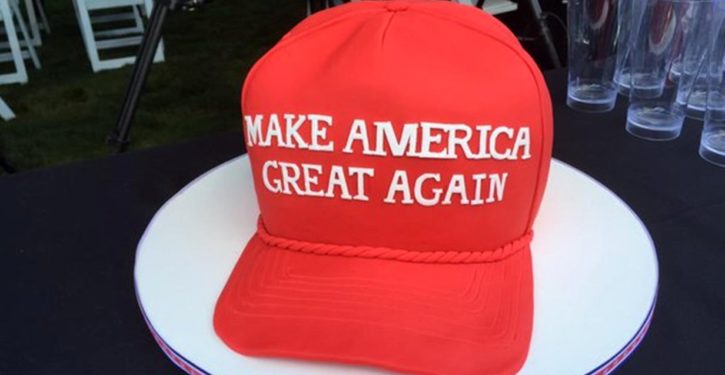 A viral story propagated by the Washington Post, NPR, and other media outlets turned out to be false — but only a few of those media entities, such as the Cincinnati Enquirer, have essentially recanted it. The media left the false impression that a Native American drummer had been racially taunted and bullied by Catholic school boys in Washington, DC for the March for Life, including a smirking boy wearing a MAGA hat. But the boys didn't harass anyone. It was the Native American drummer who approached one of them — not the other way around. As Reason Magazine's Robby Soave observes, "The media wildly mischaracterized that video of Covington Catholic students" supposedly "confronting a Native American veteran."
If you go up to someone, and bang your drum in his face, he isn't harassing you, even if he smirks at you in response and is wearing a MAGA hat. The initial media coverage overlooked the fact that the drummer approached one of the boys, not the other way around. The Washington Post did belatedly note that any incivility may not have been one-sided, and that another Native American man had told one of the youths: "Go back to Europe. This is not your land.'"
Lawyer Scott Greenfield, a criminal defense attorney who doesn't like Trump, or MAGA hats, was among the first to question the false media narrative of harassment by the boys. In "Bang the Drum Slowly," he notes that "additional video" calls into question the misleading narrative peddled by the Washington Post and other media organs. It was the Native American drummer, Nathan Phillips, "who walked toward the young man, not the other way around."
It's not that this kid with the MAGA hat sought out ignominy, to block this Native American elder's way, but rather found himself caught in the center of a situation and, rather than turn away, show either respect or courtesy, he held his ground, held his stare.

Trending: Engaged at Warp Factor One: When submarines don't mind being seen

It was then that I recognized the smirk on the young man's face. It's the one that a kid puts on when he's caught in the spotlight and has no clue what to do. It's the face of brash confusion, fearing that if he backs away, his friends will call him a wimp, so he stands there impassive and stares, pretending to be tough when his mind is whirling with "oh crap, oh crap, oh crap, I don't want to be in the middle of this and I don't know what to do to get out."

In retrospect, millions of people would be more than happy to tell this young man what to do….His decision to stare down this elder wasn't a good one, but kids often make poor decisions, or at least choices that reflect poorly on them later. …It's not as if Phillips' purpose there, beating the drum, chanting, wasn't to draw attention to himself. He got it. ….

This young man in his MAGA hat didn't touch Phillips. He didn't push his way through the crowd to confront Phillips, to deliberately be the person blocking Phillips' way. He didn't scream at him, epithets or otherwise. Not even, as some in the crowd are alleged to have done, "build the wall," a phrase that offends many while being as much an expression of political view as any other.
Similarly, the conservative journalist Rod Dreher notes that the media narrative was false. As he observes, it was not the boys who confronted the Native American drummer, but rather, the drummer "confronted them."
They don't appear to understand what point he was making with his own chanting and drum-beating. And now they are held up to the contempt of the country for something they appear not to have done at all. And, the news accounts conveniently ignore the provocative, racist, foul-mouthed attacks on the boys by one of Phillips's Native American companions.

[…]

From what I can tell from over here, what is being reported about the Covington Catholic boys appears to be almost 100 percent Fake News. I started out ready to condemn those boys, but after watching more videos of the entire incident, I changed my mind.
As Daniel McCarthy notes in the Spectator:
This and other clips have shown the Indian activists racially taunting the teens, saying things like 'go back to Europe.' Phillips has claimed that the teens were chanting 'build the wall!,' but that isn't in any of the videos that circulated Saturday. Based on what can actually be seen and heard, it's looks as if Phillips and his crew sought out Catholic teenagers and tried to make them uncomfortable. And of course, they recorded it.
In response to this viral news story, the boys' church and school, doing damage control for public-relations purposes, essentially disowned them. As a friend notes, this "isn't surprising," because Catholic officials, to avoid being demonized by the media, can be "very PR sensitive." As a result, some in the past have denounced "their own members falsely accused of bigotry by liberal interest groups, to avoid the taint of being associated with them." That is so "even when those members later won large libel awards over the false accusations of bigotry that the Church carelessly repeated. For example, a priest loudly denounced two of his parishioners as anti-Semites, after they were falsely accused of antisemitism by a liberal Jewish group, a charge that was so false that it led to a multi-million-dollar libel verdict against the group. See Quigley v. Rosenthal, 327 F.3d 1044 (10th Cir.2003)." Sometimes, churches will throw their members under the bus to deflect bad publicity.