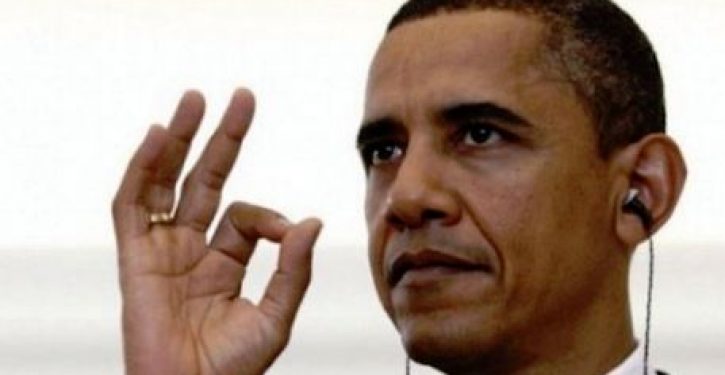 If you blinked during the Kavanaugh confirmation hearings, you probably missed the tempest in a teapot the Left created over a former employee of the judge flashing the "white power" sign. The white power hand gesture, for the uninitiated (yo!) is more commonly recognized as the "OK" sign. It is created by forming an "O" with the thumb and forefinger and slightly raising the other fingers. For those who need a visual aid, the photo at the top of the page is of an unlikely source flashing the sign.
Where did this all come from and when? According to the website LifeHacker (via Medium):
Some time around 2015, the OK sign became popular among Trump supporters. Know Your Meme gives a meticulous history, showing its use by figures like Mike Cernovich (a brain-pill salesman who believes Hillary Clinton ran a pedophile ring out of a pizza shop) and Milo Yiannopoulos (who swears he's not a neo-Nazi but surrounds himself with neo-Nazis). Both of these men famously thrive on publicity and controversy, which explains a lot of what happened next.
Anyhoo, during an interview with the Coast Guard on then-developing Hurricane Florence, NBC cameras captured an iteration of the white power signal flashed by a member of the tracking team. Here is visual evidence of the man making the offensive gesture:
According to NBC News:
The man has since been removed from the Florence response operations and the incident is under investigation, said Coast Guard Lt. J.B. Zorn.
There is still no word on the serviceman's fate, though a firing squad might be appropriate.
All joking aside, I predict that the paranoid Left's creation of this bit of insanity will come back to bite them. I suspect that now capricious conservatives will bait liberals by seeming to make this gesture, albeit in ways that are ambiguous and easily defended.