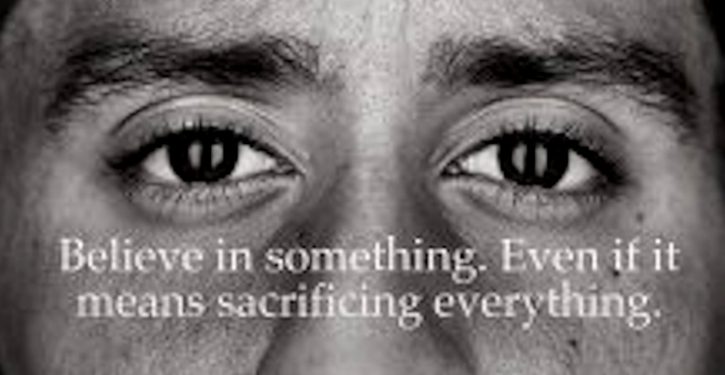 Let's pretend for a moment that Colin Kaepernick is a genuine crusader for oppressed people of color, not a former NFL quarterback whose career was on the skids and who originally sat during the national anthem as a petulant cry for attention. Let's also pretend that young black men across America are constantly in the cross hairs of police who are just looking for an excuse to gun them down.
That's a lot of pretending, but if we accept both conditions, then we can also accept the premise of an article in Monday's Washington Post by Max Boot, the title of which is "Protest is as American as football. Why doesn't Trump get it?" In his article, Boot writes:
… Initially, I was critical of Kaepernick. I cited the words of retired Navy Adm. William H. McRaven, who wrote: "Those that believe the flag represents oppression should remember all the Americans who fought to eliminate bigotry, racism, sexism, imperialism, communism, and terrorism." I argued that Kaepernick's protests were disrespectful to all the soldiers who defended American freedom — and they ignored the fact that, although America remained racist and imperfect, "it has made tremendous progress during its history."

But as Trump continued savaging the protesting players, my sympathies swung in their direction — and there they have remained. The issue is no longer whether it's appropriate to protest "The Star-Spangled Banner." The issue now is whether a demagogue will succeed in stifling protests and pandering to racist yahoos.
That's a fairly epic admission, whether Boot knows it or not. He reveals that he was opposed to the anthem protests until he discovered that Donald Trump was also opposed to them, which prompted him to switch sides. The enemy of my enemy, and all that.
Boot and others who are willing to turn a deaf ear to arguments like those of Admiral McRaven will tell you, as Kashana Cauley of the New York Times does, that "most of those players [who protest] are black men. They have lived with the reality of police brutality their whole lives."
Which brings us back to the fiction that  it is "open season on young brothers." as actor Samuel L. Jackson put it in 2013. There's no denying that back then, stories of young black men being felled by police bullets were a near-daily occurrence.
But there's also no denying that the stories have stopped coming. Is that because the killings have also stopped?
Not according to Wesley Lowery, who covers law enforcement, justice, and their intersection with politics for The Washington Post. In March of this year he wrote:
Police violence — beatings, Taserings, killings — and criminal justice reform more broadly were arguably the leading domestic news storyline during the final two years of the Obama administration. The deaths of Michael Brown, Eric Garner, Sandra Bland, Philando Castile and others dominated headlines, inspired nationwide protests and brought on a pro-law-enforcement backlash that helped elect President Trump. Now the issue has all but vanished from the national political conversation.

It's not because police violence has stopped. As of Thursday, 212 people had been shot and killed by American police officers so far this year, according to The Washington Post's police shooting database — about the same pace of three fatal shootings per day that The Post has recorded since we began tracking police shootings in 2015. [Emphasis added]
Forgive what may seem to some to be insensitivity on my part, but if these shootings are just as prevalent but aren't making headlines any longer, then precisely which acts of police brutality are Kaepernick and his imitators protesting? Are we to understand that these activist athletes spend their waking hours off the field poring over crime logs and federal data in search of information on police killings of black men to fuel their protest the following Sunday?
It's highly doubtful, in part because these heartfelt protests last 52 seconds, which is the length of time it takes to play the national anthem. Once the music stops, the players are up on their feet, primed to do silly triumphal dances each time they score points or make a tackle. Black lives matter, but end zone celebrations matter more.
Kaepernick, who no longer plays, has plenty of time to devote to the plight of the oppressed. This he accomplishes by raising large sums of money for groups like Assata's Daughters, which is named for a cop-killer serving a life sentence.
In her Times article, Kashana Cauley attempts to justify the protests by claiming that "African-Americans have a long history of staging protests during the national anthem because of a deep understanding and internalization of the anthem's patriotic significance." Her evidence is anecdotal. She cites a meeting at a Chicago A.M.E. church in Memphis where the "pastor asked the 1,000 black people in the audience to sing 'My Country, 'Tis of Thee,' the de facto national anthem of the time. But everyone refused. One man argued, 'I don't want to sing that song until this country is what it claims to be, 'sweet land of liberty.'"
So when did this meeting take place? In 1892, and it followed a lynching. Is it fair to say that times have changed since then?