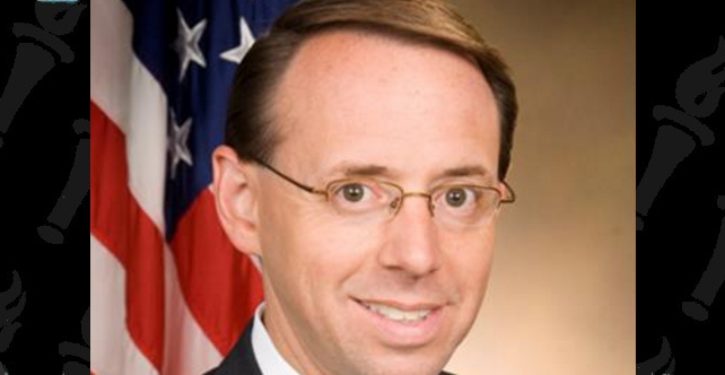 It may require a double-take to register the meaning of this.  The real point is not whether one side is right in its self-serving characterization of what happened.  The real point is that there are sides, and the exchange between them is self-serving, accusatory, and heated.
It sounds as if Deputy Attorney General Rod Rosenstein threatened the House Intelligence Committee's Republican leadership with "subpoenas," if they persisted in demanding access to Russiagate documents – so far withheld by the Justice Department or heavily redacted – on pain of bringing a contempt motion against Rosenstein.
House committee chair Devin Nunes (R-CA) has for some time been pressing the DOJ for unredacted information on the origins of Russiagate and the charter of the Mueller investigation.  Fox's Catherine Herridge reports on Tuesday that the threats were made in a January 2018 meeting between House staffers and Rosenstein.
In February, she notes, Gregg Jarrett alluded to the same "subpoena" threats from a 10 January 2018 meeting that fits the description.  What Herridge has now seen is emails that describe the nature of the alleged subpoena threat.
The emails memorialized a January 2018 closed-door meeting involving senior FBI and Justice Department officials as well as members of the House Intelligence Committee. The account claimed Rosenstein threatened to turn the tables on the committee's inquiries regarding the Russia probe.

"The DAG [Deputy Attorney General Rosenstein] criticized the Committee for sending our requests in writing and was further critical of the Committee's request to have DOJ/FBI do the same when responding," the committee's then-senior counsel for counterterrorism Kash Patel wrote to the House Office of General Counsel. "Going so far as to say that if the Committee likes being litigators, then 'we [DOJ] too [are] litigators, and we will subpoena your records and your emails,' referring to HPSCI [House Permanent Select Committee on Intelligence] and Congress overall."

A second House committee staffer at the meeting backed up Patel's account, writing: "Let me just add that watching the Deputy Attorney General launch a sustained personal attack against a congressional staffer in retaliation for vigorous oversight was astonishing and disheartening. … Also, having the nation's #1 (for these matters) law enforcement officer threaten to 'subpoena your calls and emails' was downright chilling."
Take a moment to reflect on this.  First, there is no apparent pretext for the DOJ to subpoena records from the House committee.  That would be true on principle: the House committee has every right to demand records from the DOJ, and can demand that correspondence about it be in writing, and none of that is inherently suspect.  There is nothing wrong or out of bounds with anything the House committee did, in seeking the records.
It doesn't even matter if the House staffers were rude about it, although we would hope they weren't.  The request from the House is prima facie legitimate, and the DOJ can have no valid reason to react angrily or defensively to it.  That's the case even if there is some valid reason why the DOJ doesn't want to turn the records over.
Now, keep that in mind as we consider what has just happened, in the short hours since this Fox report came out.
Attorney General Jeff Sessions appeared on the Tucker Carlson broadcast on Tuesday evening, 12 June, and said that Herridge's report "mischaracterized" the nature of the exchange in January.
Attorney General Jeff Sessions on Tuesday described as a "mischaracterization" news reports that Deputy Attorney General Rod Rosenstein threatened to subpoena documents from the Republican-led House Intelligence Committee and staffers in a meeting earlier this year.
Sessions, who says he wasn't at the meeting (and who has recused himself from such dealings, so we can assume that is true), didn't elaborate further.  But he came out of his cone of silence to back up Rosenstein – who himself is vigorously disputing the Herridge report.
To my ear, Rosenstein is actually taking things beyond what would work best to blunt the impact of the report.  His office could have issued a generically worded "he said, she said; we don't remember it that way" response, and left it at that.  There would have been nowhere to go with it, beyond an evening's entertainment for the talking heads on Fox News.  On a basis like that, I would be more willing to believe that there was a simple misunderstanding here.
But Rosenstein has instead gone on the offensive on CNN, not just offering a special-pleading counter to the email allegations cited by Herridge, but having his spokesmen (he's out of town) announce that he wants the House to investigate the committee staffers' conduct.
In order to frame his point, Rosenstein's office said this:
"The Deputy Attorney General never threatened anyone in the room with a criminal investigation," the official said. "The FBI Director, the senior career ethics adviser for the Department, and the Assistant Attorney General for Legislative Affairs who were all present at this meeting are all quite clear that the characterization of events laid out here is false.

"The Deputy Attorney General was making the point — after being threatened with contempt — that as an American citizen charged with the offense of contempt of Congress, he would have the right to defend himself, including requesting production of relevant emails and text messages and calling them as witnesses to demonstrate that their allegations are false," the official added. "That is why he put them on notice to retain relevant emails and text messages, and he hopes they did so."
None of us was there, of course.  But this statement is disingenuous on the face of it, since according to Herridge, the staffers' emails don't say Rosenstein threatened a criminal investigation.  The potential implication of a criminal investigation might be read into the threat of subpoenas, but it's the threat of subpoenas that comes across in Herridge's report.
Rosenstein's office is purporting to answer a categorical charge that wasn't actually made in the staffers' emails.  The Rosenstein response about "no threat of criminal investigation" is a deflection.  And that's clear in part because Rosenstein's office then promptly abandons it in further discussing the allegation.  The whole Rosenstein response is triangulating and incoherent.
The Rosenstein statement doesn't say there was no threatening-sounding reference during the meeting to subpoenas; in fact, it acknowledges that subpoenas were indeed mentioned.
That takes us back to whether there was any inherent reason to speak to the House staffers about the possibility of subpoenaing their records.  Rosenstein's statement says the reference to subpoenas was about what would happen if the House moved to hold him in contempt.
But the premise for issuing advance warnings about subpoenas would have to be that there was some wrongdoing by the committee or its staff, in deciding on a contempt motion.
How could there be?  What evidence is there for that?  Look at this passage again:
[A]s an American citizen charged with the offense of contempt of Congress, he [Rosenstein] would have the right to defend himself, including requesting production of relevant emails and text messages and calling them as witnesses to demonstrate that their allegations are false.
Their allegations?  Which would be that Rosenstein refused to comply with a request to produce documents, and did not want to correspond about that request in writing?
What is false about either of those points?  Rosenstein can be held in contempt by Congress on just that basis.  The point here isn't whether it would be fair, in a given set of circumstances, but whether Congress, on principle, could do it lawfully and in good faith.  On both counts, the answer is yes.
In a contempt proceeding, Rosenstein would of course have the right to subpoena information from his accusers.  But there would be no obvious reason to say that to the committee staffers – other than Rosenstein wanting to intimidate them.  These committee staffers were holding a meeting to facilitate a legitimate oversight function of the House of Representatives.  Speaking to them about subpoenas for doing that is not a gesture of goodwill, or even of self-defense.
Rosenstein's aggressive alibi for talking about subpoenaing the House committee doesn't hold water.  We don't know what's in the documents he is so determined to keep House members from seeing, but more and more, that itself is obviously the point.
What interests me as much, however, is that Jeff Sessions, making one of his brief public excursions, backed Rosenstein up in what is a poorly-based position.  It comes off as odd that Sessions didn't just stay recused for this one, since he forswore involvement in Russiagate policy more than a year ago.
What's going on here?  It's very doubtful that it's all just about some guys losing their tempers with each other in a meeting.  And at this point, with the future of the republic hanging in the balance, it simply isn't good enough to accept that it's nothing, really, and we shouldn't worry about it.  We're way past assuming good faith on everyone's part.
It's not just Devin Nunes, Adam Schiff, or a Capitol Hill Gang that needs to see those withheld or redacted documents.  It's the entire American public.  Coming clean to the American people is the highest national security priority now.