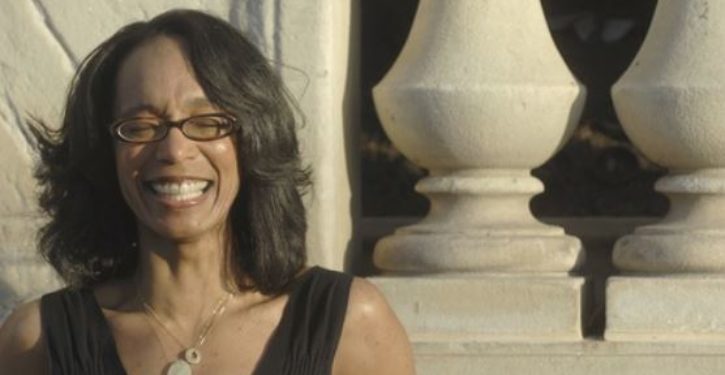 A Pulitzer Prize-winning journalist got an unceremonious boot from a conference featuring Michelle Obama for the alleged crime of invading her "safe space" and violating "black girl code."
Robin Givhan, a Washington Post reporter who won the Pulitzer for her work in 2006, was invited to the forum with the former First Lady but was subsequently forced to leave after she published an article about the event. A panel she had been scheduled to host was also canceled.
The BET Network, hosts for the event, claimed that Mrs. Obama's talk had been conducted in a "sacred space," which Givhan had violated by posting her observations. The organizers says they wanted the event to be a private, intimate gathering even though BET posted a video on its website of some of Obama's comments.
I am looking at this social media ruckus as folks are angry that @RobinGivhan wrote a story about @MichelleObama speaking at #lwdbet and it is confusing. First, folks are saying that the conversation was off-the-record. Yet @BET posted a video featuring some of her comments.

— rolandsmartin (@rolandsmartin) March 22, 2018
Trending: Gunpoint Robbery: Armed Thieves Steal Nearly $100,000 In Jewelry From Guests At 4-Star Hotel In Los Angeles
Fellow writer and journalist, Jamilah Lemieux, criticized Givhan for her actions, saying "this is a complete violation of journalistic ethics and Black girl code."
"As I recall, at the start of the event, we were told that were in 'safe space' and to put our phones away," Lemieux claims. "That, to me, is a clear indication that no one was to be reporting on this moment."
A rep for BET issued a statement chastising Givhan, claiming she "was made aware that it was an intimate conversation in a sacred space of sisterhood and fellowship."
I'm so confused trying to figure out why @RobinGivhan is being criticized for her article on @MichelleObama interview at @BET Leading Women Defined summit. The network literally posted video on their site. So clearly it's an on the record convo.

— Nic (@NicNdzibah) March 22, 2018
Givhan's article is one of reflection for Mrs. Obama, in which she talks about the 2008 campaign and trying to earn the public's trust as First Lady.
"I couldn't count on my husband's campaign to protect me," she said. "I had to protect myself."
In discussing their final days in office, her lack of respect for President and Melania Trump was palpable.
"There … had been tears as the Obamas said goodbye to the staff," Givhan reported, "and Mrs. Obama didn't want to look as if she was crying when she greeted the Trumps because that would give the media the wrong idea."
She complained once again about Melania giving her a large Tiffany frame as a gift because it broke protocol.
Cross posted at the Mental Recession