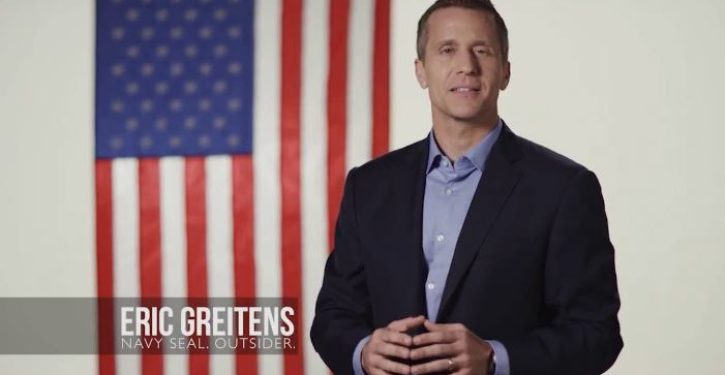 There is sadly little that is unusual for the most part about Missouri Gov. Eric Greitens's (R) story. He is the latest in a string of sleazy politicians to get caught in an extramarital fling.
But one aspect of his affair with his former hairdresser does make it more revolting than usual. And that was the "insurance policy" he took out to buy the woman's silence: He snapped a photo of her naked and blindfolded, her hands bound, and threatened to share the image on social media if she ever went public about their tryst.
According to station KMOV:
Greitens on Wednesday night confirmed to News 4 he had an extramarital affair, an admission a months-long News 4 investigation prompted.

Trending: Dems unanimous as House passes bill forcing schools to let males compete in female sports

In a recording obtained by News 4, a woman says she had a sexual encounter with Missouri Gov. Eric Greitens and that he tried to blackmail her to keep the encounter quiet.

The details were provided to News 4 by the woman's ex-husband, claiming the sexual relationship happened between his now ex-wife and Greitens in March 2015. News 4 is not naming the woman and she has not made an on-the-record comment about the story.
During his campaign and his first year in office as Missouri's Governor, Greitens billed himself a family man. During his campaign announcement, he went so far as to state:
I'm Eric Greitens, I'm a Navy SEAL, native Missourian and most importantly, a proud husband and father.
Since the sordid incident was revealed, Geitens and his wife, Sheena, released a statement acknowledging that there were previous incidents of infidelity:
A few years ago, before Eric was elected Governor, there was a time when he was unfaithful in our marriage. This was a deeply personal mistake. Eric took responsibility, and we dealt with this together honestly and privately. While we never would have wished for this pain in our marriage, or the pain that this has caused others, with God's mercy Sheena has forgiven and we have emerged stronger. We understand that there will be some people who cannot forgive – but for those who can find it in your heart, Eric asks for your forgiveness, and we are grateful for your love, your compassion, and your prayers.
The wife added:
We have a loving marriage and an awesome family; anything beyond that is between us and God. I want the media and those who wish to peddle gossip to stay away from me and my children.
For your convenience, you may leave commments below using either the Spot.IM commenting system or the Facebook commenting system. If Spot.IM is not appearing for you, please disable AdBlock to leave a comment.