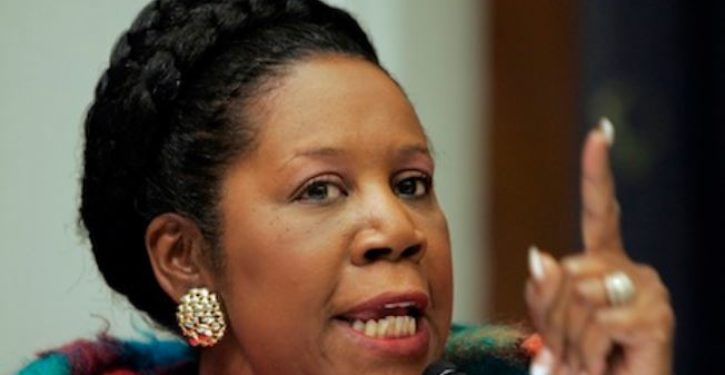 In what must be a first for the U.S. Congress in its 216-year history, a member of the House of Representative knelt down on the floor of the chamber during a speech on Monday.
Texas Rep. Sheila Jackson Lee took a knee during a dressing down of the president that was meant as a show of solidarity with NFL players who themselves performed the same gesture or linked arms during the playing of the national anthem this past Sunday.
"There is no basis in the First Amendment that says that you cannot kneel before the national anthem or in front of the flag," said Jackson Lee, who is apparently oblivious to the existence of codes of conduct beyond rules hinted at in the Constitution, including one that governs the conduct of House members.
Jackson Lee, who has held her seat in Congress for 12 consecutive years, has provided abundant ammunition for those who advocate term limits. In a speech on the House floor in 2014, she observed that the United States had been "operating under" the Constitution for the past 400 years. Her math was off by a mere 181 years.
Trending: Schools say they teach critical race theory, even as education reporters falsely deny it
Later the same year, she declared that the Ferguson, Mo. police officer involved in the shooting death of Michael Brown was an "obvious" criminal. Obvious to whom or for what reasons went unexplained. And in the run-up to last year's presidential election, she blamed the leaks of the DNC emails that supposedly cost Hillary Clinton the election on Wikipedia.
In Monday's embarrassing display, Jackson Lee imputed racism to Donald Trump's remarks in Alabama last Friday in which he called on NFL owners to fire players who refused to stand for the national anthem.
Here is a video. A transcript follows.
There is no regulation that says that these young men cannot stand against the dishonoring of their mothers by you calling them 'fire the son of a b' [sic]. You tell me which of those children's mothers is a son of a b. That is racism. You cannot deny it. You cannot run for it, and I kneel in honor of them.

I kneel in front of the flag and on this floor.

I kneel in honor of the First Amendment. I kneel because the flag is a symbol for freedom. I kneel because I'm going to stand against racism. I kneel because I will stand with those young men, and I'll stand with our soldiers. And I'll stand with America, because I kneel.
Sure. Whatever.