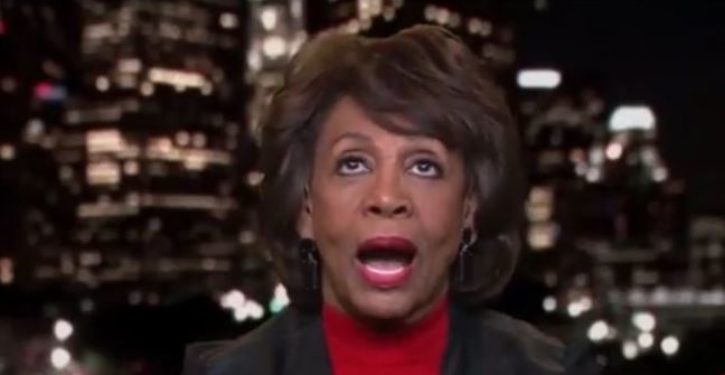 Appearing before the Los Angeles Community Review Board Thursday, Maxine "Auntie" Waters tore into the president and members of his cabinet. In and of itself, that's nothing newsworthy since Waters has been on a personal crusade to impeach the president dating back to before his inauguration.
What sets this rant apart was Waters's inadvertent coining of a neologism. The transcript of her remarks follows. Don't berate yourself unduly if you have difficulty navigating the run-on sentences or handling her lack of coherence. Waters is pushing 80, and it's not as though she was likely ever the swiftest steed in the stable.
Of course, there's so much uncertainty, now with this president and with this administration. Mr. Mnuchin, who is the Treasury Secretary, who is responsible for over 36,000 foreclosures in this area, is now the Secretary of the Treasury. Standing next to him just yesterday, or the day before yesterday — I'm getting these days mixed up. While the president was defending the white-wing nationalists and the KKK and all of those alt-right groups that were basically out there in Virginia literally beating and marching and ranting about Jews and black people, etc., etc. But, this is what this Cabinet looks like. Were we talking about Mnuchin or Ben Carson. He's got to come before my committee. If you think "reclaiming my time" that I did with Mnuchin, you wait till Ben Carson comes.
If the phrase were intended as a portmanteau that combines right-wing and white nationalist, it might almost seem logical. One would still be hard-pressed to assign it a meaning since in Waters's view, anyone on the Right is automatically a white nationalist.