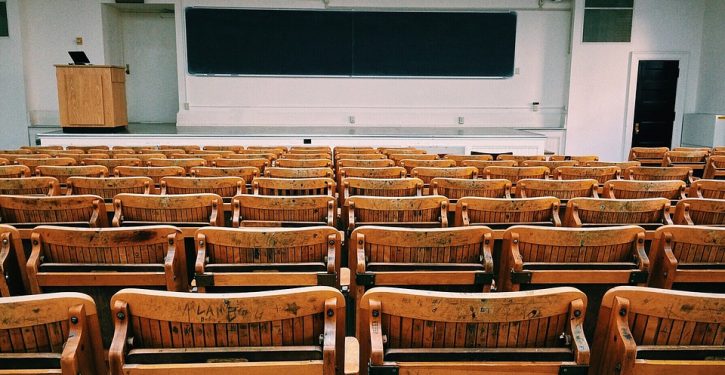 A visiting lecturer at Oberlin College says his black Marxist father was a racist for liking classical music. Professor Philip Ewell is a music theory professor at New York City's Hunter College, who has said in the past that his father exhibited racism by liking "Bach."
Now Ewell makes the broader claim that his father, who "believed deeply in the tenets of Communism," was not radical enough, and was a racist for liking classical music in general, because of its white origins.
In a recent interview with the progressive student newspaper, he attacked his dad for being committed to "assimilation.
"He wore tweed coats and drove a Mercedes he couldn't afford — he was doing the things that whiteness teaches us, makes us more sophisticated and more civil," Ewell told The Oberlin Review. "In terms of music, that meant listening to Mozart, Beethoven, and Chopin and going to the opera and buying a pair of opera glasses to look at the stage."
Dressing well and enjoying classical music are ways his dad bought into "white supremacy," he said. He further claimed:
That's what whiteness has taught about what great music should be. My dad bought that hook, line, and sinker. He was extremely committed to what whiteness teaches us is "excellence." As part of a white supremacist patriarchal structure, he was being taught to love Rachmaninoff, to go to the opera and watch Verdi, and somehow think that would make him a better person. White supremacy teaches us that there is a mythological goal of excellence.
Ewell told the Review that his radical white Norwegian mother had a better take on race relations. He told The Oberlin Review:
I often say that while it was my dad who got me started in classical music because he was a big classical music fan, it was actually my mom who taught me the true tenets of anti-racism and anti-sexism. She was a white Norwegian who came over to the country in 1959 and married my father, who was African-American, in 1960. She didn't have the baggage that whiteness has in our country. She just kind of came here and fell in love with a Black guy.
The Yale Daily News previously published a fawning article about Ewell after he won an award from Yale University. In it, that student newspaper reported that Ewell explained how "concentric circles of white supremacy" are manifested not just in the Ku Klux Klan's "burnt crosses on lawns" but also in "a Black man's deification of Bach."
More and more things are deemed racist by academics and progressives these days. They claim lots of opinions or simple statements of fact are "hate speech" or "discrimination." The progressive Global Disinformation Index labeled the Washington Examiner guilty of "misogynistic discrimination" and "disinformation" for accurately citing a study by a University of Virginia researcher finding that conservative women are happier than liberal women.
"Hate speech" is a misleading, slippery phrase, and it's no longer just about hate. Even things like expert medical opinions about transsexualism and gender identity have been labeled as "hateful" speech.
"Hate speech" is now broadly "defined" by leftists to include "offensive words, about or directed towards historically victimized groups." The concept of hate speech has expanded to include commonplace views about racial or sexual subjects. That includes criticizing feminism, affirmative action, homosexuality, or gay marriage, or opinions about how to address sexual harassment or allegations of racism in the criminal justice system.
These broad definitions of hate speech aren't based on the First Amendment. In the past, the Supreme Court has ruled that there is no "hate speech" exception to the First Amendment, which protects speech that offends minority groups. But foreign countries are banning hate speech on social media, and many legal scholars and civil-rights activists are now calling for America to follow their example and ban hate speech by limiting the First Amendment.
That's a bad idea, because both normal people, and even experts, run the risk of running afoul of broad bans on "hate speech." For example, Twitter applied its "rules against hateful conduct" to ban an expert on sexuality for stating in passing that transsexualism is a mental disorder. That was true even though, back then, the "bible of psychiatry," the DSM-5, said that transsexualism is a disorder, and the expert chaired the group that worked on that section of the DSM-5. Sharing his expertise was deemed hate speech.
As Ben Bowles notes, Ray Blanchard was known for "his scholarly writing on gender confusion." He also was "chairman of the working group on paraphilia" for the fifth edition of the "Diagnostic and Statistical Manual of Mental Disorders" (DSM-5), in which the classification of transgenderism was changed from a serious disorder to a milder one, "gender dysphoria." As Bowles observed, "Paraphilia is a condition characterized by abnormal sexual desires, typically involving extreme or dangerous activities."