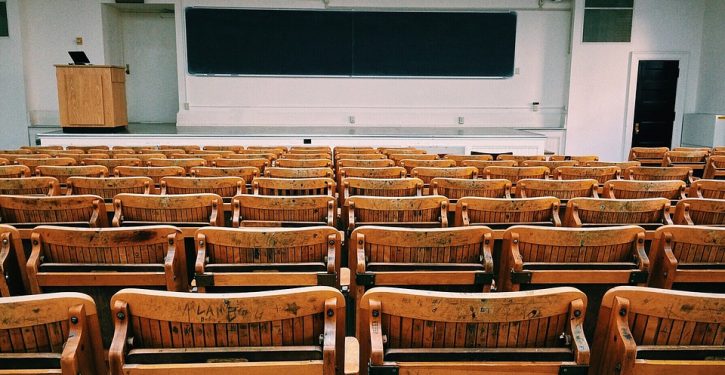 Biden's $500 billion student loan forgiveness plan wasn't authorized by Congress and is likely illegal, as lawyers have noted. But that doesn't mean objectors have legal standing to challenge it.
On November 4, Supreme Court Justice Amy Coney Barrett denied an emergency motion to issue an injunction against the Biden Administration's student loan forgiveness plan.
The request for emergency injunctive relief was made by Pacific Legal Foundation (PLF). On November 1, PLF asked the justices to grant a preliminary injunction blocking the implementation of student loan forgiveness until the U.S. Seventh Circuit Court of Appeals ruled on the the lawsuit. The government argues that PLF's client lacks legal standing to object to any illegalities in the student loan forgiveness plan.
Justice Amy Coney Barrett declined the request on Friday, without referring the request to the full court. Justice Barrett denied a similar request on October 20 after the Wisconsin Institute for Law & Liberty (WILL) moved for an injunction pending appeal, which also was denied by the Seventh Circuit Court of Appeals, which viewed WILL as lacking legal standing to seek an injunction.
Caleb Kruckenberg, an attorney for PLF, said he was disappointed by the Supreme Court's failure to enjoin the student-loan forgiveness program. "Practically since this program was announced, the administration has sought to avoid judicial scrutiny. Thus far they have succeeded," said Kruckenberg. "But that does not change the fact that this program is illegal from stem to stern. We're disappointed by today's denial but will continue to fight this program in court."
The student loan forgiveness plan is currently awaiting review in another federal appeals court, the Eighth Circuit Court of Appeals, which issued a temporary injunction last month pushing back the start date for the student loan forgiveness program. In that case, the challengers include Missouri, whose loan servicer logically had legal standing to challenge the program.
Biden's student loan forgiveness plan is illegal, and will cost taxpayers at least half a trillion dollars.That's why multiple lawsuits have been brought against it.
But its illegality doesn't mean taxpayers can sue over it. The Supreme Court has long said that taxpayers in general can't sue the federal government (as opposed to municipalities) for illegal spending. Only someone with a more focused, individualized injury from illegal government spending can. As a result, only a small fraction of the people who object to Biden's plan can sue over it, like companies that service the student loans not currently held by the government.
So most of the lawsuits brought against Biden's plan will be dismissed for "lack of legal standing" to sue over it.  The Biden administration is trying to kill as many of those lawsuits as possible, by excluding certain categories of student loan borrowers from student loan forgiveness, lest people who benefit from their loans — like loan servicing companies — sue over their cancellation.
Six states are challenging Biden's $500 billion student loan forgiveness plan in federal court. Iowa, Kansas, Missouri, Nebraska, South Carolina, and Arkansas sued together in a lawsuit filed today in Missouri. It makes some of the same arguments as a lawsuit challenging Biden's plan that was filed earlier this week by Pacific Legal Foundation on behalf of Frank Garrison, an attorney with student loans:
Six Republican-led states are suing the Biden administration in an effort to halt its plan to forgive student loan debt for tens of millions of Americans, accusing it of overstepping its executive powers.

It's at least the second legal challenge this week to the sweeping proposal laid out by President Joe Biden in late August, when he said his administration would cancel up to $20,000 in education debt for huge numbers of borrowers. The announcement, after months of internal deliberations and pressure from liberal activists, became immediate political fodder ahead of the November midterms while fueling arguments from conservatives about legality.

In the lawsuit, being filed Thursday in a federal court in Missouri, the Republican states argue that Biden's cancellation plan is "not remotely tailored to address the effects of the pandemic on federal student loan borrowers," as required by the 2003 federal law that the administration is using as legal justification. They point out that Biden, in an interview with CBS' "60 Minutes" this month, declared the Covid-19 pandemic over, yet is still using the ongoing health emergency to justify the wide-scale debt relief.
The six states argue Biden's debt forgiveness program will damage their state tax collections, and Missouri says its loan servicer will lose revenue for payments and debt collection it would normally otherwise be entitled to under federal law.
The states had legal standing to challenge Biden's program, as it is currently structured. (I say "as currently structured," because Biden's plan was tweaked by the government in a way designed to deprive the Pacific Legal Foundation of standing to challenge the program, in its separate lawsuit in Indiana against the Biden student loan forgiveness program).
A constitutional lawyer at the Cato Institute notes that loan servicers also likely have standing to sue over the Biden plan, given its negative impact on their revenue. He also explains in detail why it was illegal to do what Biden did, and why it is challengeable in court by loan servicers under the HEROES Act and the Administrative Procedure Act.
The Detroit Free Press reported on how Biden earlier shrank the scope of his student loan bailout by excluding between 770,000 and 4 million borrowers, because their loan servicers might otherwise bring a successful lawsuit challenging the legality of what Biden did:
About 770,000 borrowers would lose student loan forgiveness, according to a Biden administration official.

But an outside expert estimated that the number could be significantly bigger [up to 4 million borrowers]. The borrowers who are not going to be eligible for forgiveness are those who hold older Federal Family Education Loans and Perkins loans that are not held by or on behalf of the U.S. Department of Education….. it was expected that these borrowers would have been able to consolidate those loans into a Federal Direct Consolidation Loan to qualify for the one-time forgiveness program, Kantrowitz said. "[But not now.] They are out of luck," he said.
This shrinkage in the scope of Biden's plan will reduce the cost of debt cancellation from about $519 billion, down to about $500 billion.
In addition to that $500 billion student loan bailout, Biden also is changing income-driven repayment plans in ways that will spur colleges to raise tuition and stick taxpayers with the tab. Biden's changes "will make college much more expensive" for taxpayers and many students, reports Reason Magazine.
Between the student loan bailout and Biden's changes to income-driven repayment plans, the overall cost of Biden's plan could be over a trillion dollars, according to analysts at the University of Pennsylvania's Wharton School, taking into account changes made by Biden to income-driven repayment plans.
Other observers have said that Biden's plan is illegal. As the College Fix notes, "An analysis from the Texas Public Policy Foundation concluded that an executive order bailout is likely illegal. Alan Dershowitz, professor emeritus at Harvard Law school, has also said that a student bailout through executive action would be illegal."
Biden's plan is also likely to increase college tuition and inflation.
Jason Furman, chairman of President Obama's Council of Economic Advisers, calls Biden's plan "reckless." Furman says, "Pouring roughly a half-trillion dollars of gasoline on the inflationary fire that is already burning is reckless." Biden's plan will increase economic inequality and the national debt.
Even the liberal Washington Post calls Biden's student-loan bailout "a regressive, expensive mistake."
While Biden is writing off some student loans for high-income college graduates, he has left intact far more burdensome obligations imposed by the government on some working-class people who never went to college — obligations that federal law prevents from being modified, even when those obligations lead to impoverishment or, in some cases, incarceration.