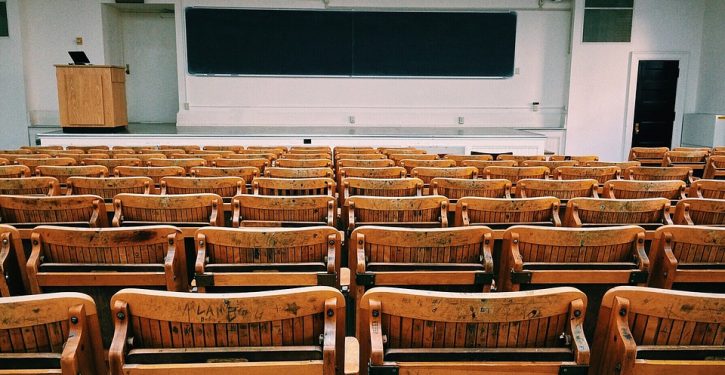 Can accreditors pressure a college to use race in hiring, even if it's already diverse — in retaliation for its failure to offer tenure to a controversial black scholar whose work has been criticized as historically inaccurate?
Accreditors may be doing that to the University of North Carolina-Chapel Hill, denying it full accreditation after it failed to offer tenure to the New York Times' Nikole Hannah-Jones, whose 1619 Project has been condemned by historians across the political spectrum as historically inaccurate.
This pressure to consider race more in hiring may run afoul of a federal law, 42 U.S.C. 1981, which bans racial discrimination in contracts. It forbids racial quotas at colleges, according to a 2003 Supreme Court ruling, Gratz v. Bollinger. That law, Section 1981, allows not only employers, but also those who aid, abet, or compel their discrimination (like accreditors), to be sued for discrimination.
The College Fix reports:
A national journalism accreditation organization has denied the Hussman School of Journalism and Media at the University of North Carolina-Chapel Hill full accreditation because the school has fallen short on measures meant to promote racial diversity.

The accrediting council reviews schools every six years. In a vote taken April 29, the Accrediting Council on Education in Journalism and Mass Communications instead granted Hussman provisional accreditation, meaning the school would retain its accreditation pursuant to a further examination in two years.

Hussman's last review took place in October 2021, with the on-site team unanimously recommending re-accreditation…But earlier this month the full council voted only to grant provisional accreditation…."The council's site team said the journalism school needs to continue to follow its diversity plan and initiatives in student and faculty retention and recruitment specifically. It also said the school needs to include diversity and inclusion within its curriculum," the Daily Tar Heel student newspaper reported.

However, faculty listed on the journalism school's website shows that of the four dozen or so professors in the school, it appears to be a very diverse staff; many are female and professors of color.

Professors at the school are also already required to undergo diversity training. And undergrads are required to take a diversity course to earn a diploma.

But according to its accreditation standards, the council requires a journalism school to have a "written diversity plan for achieving an inclusive curriculum, a diverse faculty and student population, and a supportive climate for working and learning and for assessing progress toward achievement of the plan."

Further, a school must have an "understanding of issues and perspectives that are inclusive in terms of domestic concerns about gender, race, ethnicity and sexual orientation" and must make "effective efforts to recruit women and domestic minority faculty and professional staff and, where feasible, recruits international faculty and professional staff."…

Last year, the journalism school was involved in a national controversy when it offered controversial New York Times writer, "1619 Project" creator and UNC alumna Nikole Hannah-Jones, who has no academic background, a five-year contract at a salary of $180,000 per year, with the option for tenure when the contract was up.

The recruitment of Hannah-Jones lasted a full year, beginning in 2019.

But Hannah-Jones and her supporters felt disrespected that she was not offered tenure, which virtually guarantees lifetime job protection. She cited "viewpoint discrimination" and "race and sex discrimination" for the decision to only offer her a five-year contract.

Documents obtained by The College Fix at the time uncovered a behind-the-scenes push by donor Walter Hussman to prevent Hannah-Jones from getting the job. Hussman, whose name adorns the school after providing a $25 million gift to UNC, repeatedly emailed then-Dean Susan King, worrying that if Hannah-Jones was hired, his name would forever be tied to the 1619 Project.

"If this happens, I know I will be asked about it," he emailed King on New Year's Eve 2020. "I find myself more in agreement with Pulitzer prize winning historians like James McPherson and Gordon Wood than I do Nikole Hannah Jones. These historians appear to me to be pushing to find the true historical facts. Based on her own words, many will conclude she is trying to push an agenda, and they will assume she is manipulating historical facts to support it."

"If asked about it, I will have to be honest in saying I agree with the historians," he wrote.

Hannah-Jones later declined the job at Hussman and took a job at Howard University.
As Education Week notes, "historians have criticized important elements of the 1619 Project" promoted by Nicole Hannah-Jones. It made false claims about America's origins, says Timothy Sandefur, author of a widely-acclaimed biography of Frederick Douglass. The 1619 Project claimed that "the moment [America] began" was in 1619, when 20 enslaved Africans were brought ashore in Virginia and sold. This incident, the 1619 Project said, "is the country's very origin." Although the nation's "official birthdate" came in 1776, the 1619 Project claims that it was really "out of slavery—and the anti‐​black racism it required" that "nearly everything that has truly made America exceptional" grew.
This claim about America's origins is so wacky that it has been rejected as false by historians of every ideological stripe — not just liberals and conservatives but even socialists. "Despite the pretense of establishing the United States' 'true' foundation, the 1619 Project is a politically motivated falsification of history. It presents and interprets American history entirely through the prism of race and racial conflict," notes the World Socialist web site, citing historians across the political spectrum.
In reality, the American colonies were first settled in 1607, before any slaves arrived on America's shores. More importantly, some of the principal colonies, such as Massachusetts (the birthplace of the American Revolution), did not depend upon slave labor, and abolished slavery soon after American became independent. Moreover, America's most prosperous and populated states were not slave states. The northern free states were much more populous and economically advanced than the southern slave states, which is why the south lost the Civil War.