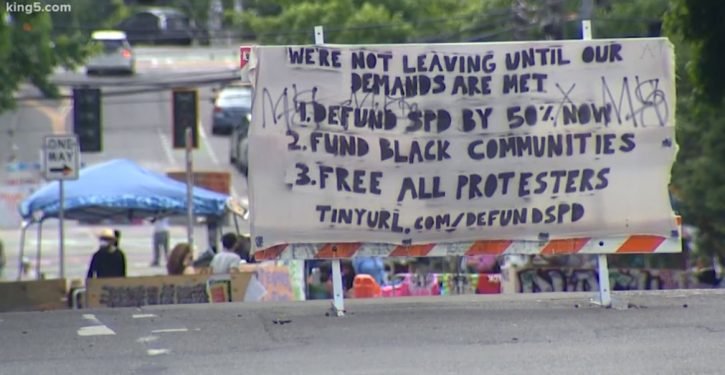 In Seattle, a rapist was released despite being caught naked after committing the crime — probably due to dwindling police manpower in Seattle, which resulted in a delayed investigation. Within three days, he raped another woman, saying he "knew he could get away with it. Myron Lee Jacobs was initially arrested on April 25 for raping a woman at a homeless camp. Jacobs was caught naked at the scene:
The Seattle Fire Department and Seattle police officers responded to an encampment near the intersection of Sixth Avenue South and Airport Way South for a medical call.

When first responders arrived on the scene, they heard a woman calling for help inside a tent. First responders located the tent and a "nearly naked" woman exited stating she had been raped, court documents show. Officers found a naked man inside the tent. The man, who was identified as Jacobs, was arrested at the scene.

While she was receiving medical treatment, the victim told officers Jacobs would cover her mouth when she tried to call for help and that she had been choked and beaten, court documents say.
As Hot Air notes, the case against Jacobs was "a pretty simple case. Police didn't have to track Jacobs down. He was in the tent and naked with the victim. And yet …. according to court documents the police were still investigating when the 72 hours to hold Jacobs without charges expired. The court had no choice but to release him. Documents to charge Jacobs arrived at the court sometime after he was released. Three days later, on May 1, Jacobs allegedly raped another woman at the same homeless camp, telling her he knew he'd get away with it because he'd been released the first time."
King 5 reports:
According to court documents, the second victim, who is seven to eight months pregnant, agreed to go into Jacobs' tent "to talk but was clear it was only to talk."

Court documents say the victim smoked an unknown drug and began nodding off. Jacobs then allegedly hit her in the face and eye and would not let her leave the tent for four to five hours. Jacobs disarmed the victim when she pulled out a knife, documents show.

Investigators say Jacobs then raped the woman. According to court documents, the victim told police Jacobs told her he "knew he could get away with it," because "he was arrested last week for raping another transient female and was released from jail."
Jacobs was arrested in his tent nearby the next day. He has since been charged with rape and false imprisonment.
As Hot Air notes, Jacobs' initial release was a big "screw up but if you're a regular reader then it's not a complete surprise. Last month just a few weeks before these rapes happened, Seattle's NPR affiliate reported that the city had put sexual assault cases on the back burner because the city didn't have the manpower to investigate them."
The NPR affiliate reported:
In March, outside of arrests, not a single sexual assault case involving an adult victim was assigned to a detective, according to documentation provided by a Seattle Police employee.

"The Seattle Police Department sexual assault unit is not at all investigating adult sexual assault reports or cases unless there was an arrest," said one source inside the Seattle Police Department…

The Seattle Police Department says there are fewer officers to investigate these crimes. The two anonymous Seattle Police employees agreed that employee retention is part of the problem; 16% of Seattle officers are on leave.
Hot Air says that "no one is explicitly connecting this to the defund the police efforts but that's exactly what it's about. Since 2019 Seattle is down more than 300 officers with another 150 or so on extended leave (probably prior to leaving themselves). Seattle's new mayor, Bruce Harrell, has recently expressed support for a plan to lure more officers to the city. The mayor announced today that he's working on his own plan to bring staffing levels back up."
KOMO reports:
Details of the plan are still being worked out but it will likely include specifically targeted incentives like a relocation bonus and education benefits…

Police officials said that the department is budgeted for 1,350 officers. However, while they are budgeted for that amount, there are 1,100 officers on the force and of those, 950 can be deployed.
Hot Air predicted that "Seattle will continue to have trouble recruiting new officers. Even if they manage to entice some, it's probably going to take many months to get the numbers back up to where they were in 2019 before the 'defund the police' movement took off in the city. Until then, very bad things can happen because there just aren't enough officers to handle the workload."
Police manpower has also fallen in many other places in America, helping fuel large increases in homicide. Police manpower was shrinking even before the George Floyd incident, which accelerated the trend. In the last few years, there has been "a notable decline in the number of police on the beat," said Rafael Mangual of the Manhattan Institute:
"In a September 2019 report, the Police Executive Research Forum outlined what it declared a 'workforce crisis.' A robust body of research has thoroughly illustrated that more police means less crime — a finding at odds with ever-more-popular calls to 'defund the police.' It stands to reason that a significant decline in the sizes of the nation's police forces could have helped set the stage for the violent crime uptick. There is also reason to believe that — in part because of the anti-police sentiments that characterized last summer's protests — the cops we have left became less proactive."
Higher police spending is usually correlated with lower murder rates, showing that defunding the police costs lives.