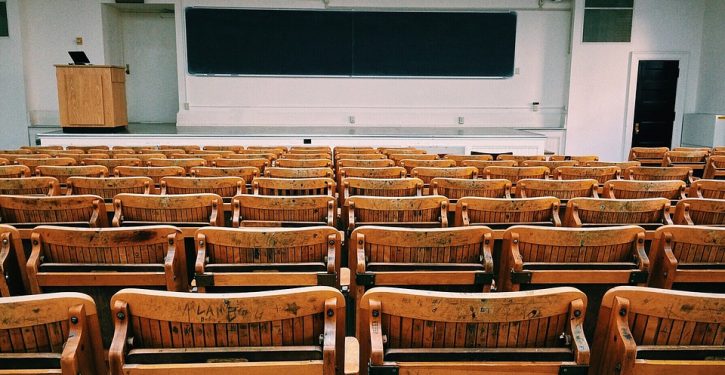 Employment lawyers have advised employers that they may be liable for "age-based harassment" if they allow employees to say "OK, Boomer" to older colleagues. The idea is that such remarks could add up to a "hostile work environment" based on age, in violation of the Age Discrimination in Employment Act.
Now, such censorship is trickling down to college campuses, which are covered by a law called the Age Discrimination Act, which forbids discrimination against students based on their age. The College Fix reports:
A student at the University of Central Florida was reported in September 2019 to the school's bias response team for referring to older people as "boomers" on Facebook, which the complainant considered an "ageist slur."

"This is clearly a violation of the student code of conduct and should not be tolerated by the university any more than calling someone a racial slur," the complaint read. "Discrimination by age is clearly protected by federal law as well as your golden rule guidelines."

Trending: Great Replacement Theory is fueled by woke progressives gloating about America becoming non-white

This report to the "Just Knights Response Team" was one of over a dozen complaints reviewed by The College Fix. The JKRT complaints were obtained by The College Fix through an open records law request and the identities of the parties involved were redacted by the school.

The reports were obtained as The College Fix continues to investigate the types of complaints that are lodged through bias response teams at college campuses across the nation. More than two dozen universities have been included in the investigation so far since it launched in 2019.

The Fix is exclusively reporting on the bias complaints it received from UCF in 2020 in the wake of a recent court ruling that called into question the constitutionality of the Just Knights Response Team.

The complaints obtained from UCF also include students who were reported for using the n-word and a student reported for not using preferred gender pronouns.

Last week, a federal appeals court not only overturned UCF's "discriminatory harassment" policy, calling the speech code "an overbroad and content-and viewpoint-based regulation of constitutionally protected expression," and also suggested its "Just Knights Response Team" may not pass constitutional muster either.
Due to laws against "hostile work environments," saying "OK, boomer" in the workplace can get you fired, notes human-resource professional Suzanne Lucas. That's because it expresses prejudice based on age, and thus can contribute to a hostile environment for older workers. Under federal discrimination laws, conduct is illegal "harassment" when it is "severe or pervasive" enough to create a "hostile or abusive working environment" for people based on their age, race, sex, disability, or other protected characteristic.
It is far less likely that such comments would violate federal law when uttered by students. That is because federal discrimination laws require that conduct be both "severe AND pervasive," not just "severe OR pervasive," to trigger liability when the conduct is committed between students, rather than between employees. Moreover, to violate the law, the conduct needs to affect access to an education, not just hurt people's feelings, according to the Supreme Court's decision in Davis v. Monroe County Board of Education (1999), and other court rulings like Hawkins v. Sarasota County School Board (2003).