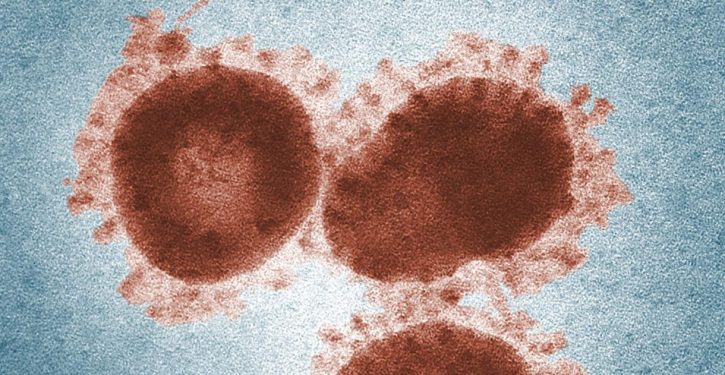 The coronavirus infected a "majority of Americans," reports the Washington Post. But many of them never suspected they had it. "Three-quarters of children have had the coronavirus," but only about "a third of people 65 and older":
Before omicron, one-third of Americans had been infected with the coronavirus, but by the end of February, that rate had climbed to nearly 60 percent — including about 75 percent of kids and 60 percent of people age 18 to 49, according to federal health data released Tuesday.

The data from blood tests offers the first evidence that over half the U.S. population, or 189 million people have been infected at least once since the pandemic began — double the number reflected in official case counts. Officials cautioned, however, that the data, in a report from the Centers for Disease Control and Prevention, does not indicate people have protection against the virus going forward, especially against increasingly transmissible variants…The largest increases [in cases] were in children and teenagers through age 17 — about 75 percent of them had been infected by February, based on blood samples that look at antibodies developed in response to a coronavirus infection but not in response to vaccination. That's about 58 million children.

The blood test data suggests 189 million Americans had covid-19 by end of February, well over double the 80 million …. confirmed infections… that's because the blood tests captures asymptomatic cases and others that were never confirmed on coronavirus tests.
During the pandemic, government officials frequently seemed ignorant about the disease. White House press secretary Jen Psaki claimed that "We don't know" that COVID affects older people more than younger people. That was "anti-science disinformation straight from the White House," noted Logan Dobson.

In reality, "An unvaccinated child is at less risk of serious Covid illness than a vaccinated 70-year-old," noted the New York Times. Many children caught COVID-19 but barely noticed.
Some progressives tried to make it sound like young people face as high a risk from COVID as old people, in order to justify school closings, which had no scientific basis. But they don't.
Politics, not students' well-being, was behind school closures. Decisions about whether to close schools were driven mainly by teachers "union influence and politics, not safety," reported Reason Magazine. Progressive teachers unions repeatedly blocked school reopenings. Some used "sick-outs" to shut down schools or force school boards to delay school openings.
"Schools do not, in fact, appear to be major spreaders of COVID-19," said Professor Emily Oster of Brown University. While a few students and staff have caught the coronavirus, that doesn't show schools spread the virus: "Even if there were no spread in schools, we'd see some cases because students and teachers can contract the disease off campus."
Schools remained open in most of Europe. But in America, progressive teachers unions successfully pushed to keep schools closed, resulting in enormous learning loss. Kids learned less when learning from home than they did when schools were open — especially black and Hispanic students, whose pass rates collapsed in states such as Virginia.
Many children became fatter when schools closed to in-person learning during the coronavirus pandemic, resulting in less physical education, and less walking to and from school in our cities. Childhood obesity rose at the fastest annual rate ever. "Overweight or obesity increased among 5- through 11-year-olds from 36.2% to 45.7% during the pandemic," reported the Journal of the American Medical Association.
Skyrocketing obesity made suffering from the coronavirus worse. "The evidence linking obesity to adverse COVID-19 outcomes is 'overwhelmingly clear,'" say medical experts. Most people hospitalized for the coronavirus were obese. Researchers have found that COVID infects fat cells, which means it is more likely to give obese people "long COVID" or severe illness.
Supporters of school closings claimed they were needed to protect people's health. But by driving up obesity rates, school closings harmed kids' health. Shutting schools actually increased coronavirus deaths, according to researchers at the University of Edinburgh. The Centers for Disease Control pointed out that there's "little evidence that schools have contributed meaningfully to community transmission."