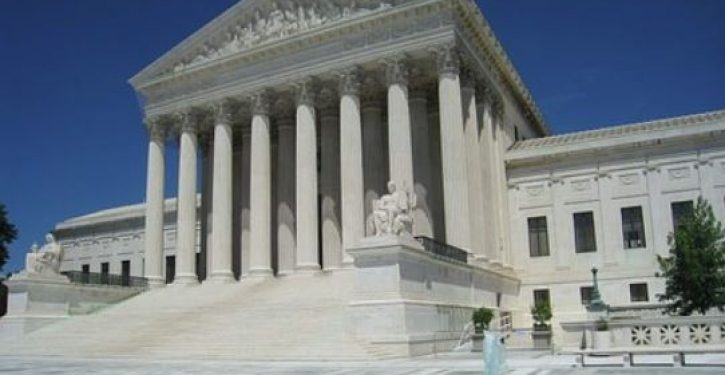 Statisticians know different racial groups have different crime rates. In homicide crimes, "the offending rates for blacks were more than 7 times higher than the rates for whites" between 1976 and 2005, according to the federal Bureau of Justice Statistics. (See BJS, Homicide Trends in the United States).
Does this mean that statisticians are racist, and should not sit on juries? A dissent by three liberal Supreme Court justices suggests that question may come up in the future.
On April 18, those three justices dissented from the Supreme Court's refusal to hear a challenge to a death sentence, in Love v. Texas. The challenge was based on the failure to exclude a juror who cited crime statistics showing that "more violent crimes are committed by certain races" in response to a questionnaire.
The dissent, authored by Justice Sonia Sotomayor, argued that Texas judges hadn't adequately considered claims of racial bias based on a juror's answering "yes" to a voir dire question, "Do you believe that some races and/or ethnic groups tend to be more violent than others?":
In 2018, a jury convicted Love of capital murder in the course of a robbery that occurred in 2015. Prior to trial, prospective members of the jury filled out a questionnaire that included the following questions:

"68. Do you sometimes personally harbor bias against members of certain races or ethnic groups?

"69. Do you believe that some races and/or ethnic groups tend to be more violent than others?"

To the first question, No. 68, the prospective juror at issue answered, "No." But to the second question, No. 69, he answered, "Yes." He explained that "[s]tatistics show more violent crimes are committed by certain races. I believe in statistics."

During the voir dire proceeding that followed, both Love and the State questioned the prospective juror about his response to question No. 69. He explained that he understood "[n]on-white" races to be the "more violent races." He claimed that he had seen statistics to this effect in "[n]ews reports and criminology classes" he had taken.

He stated that his answer to question No. 69 was based on these statistics, rather than his "personal feelings towards one race or another," and he indicated that he did not "think because of somebody's race they're more likely to commit a crime than somebody of a different race." He told defense counsel that he would not feel differently about Love "because he's an African American."
But the dissent argued that Texas judges hadn't delved into the issue of racial bias enough. As law professor Eugene Volokh notes, the dissent felt "that the Texas courts were mistaken in their harmless error analysis, which focused on the availability of peremptory challenges earlier in the process (the challenges were apparently used up by the time the juror was being questioned). The Texas courts apparently never reached the merits of the argument that the juror was biased and therefore should have been excluded for cause."
Volokh says that the juror should not
have been excluded here, at least absent further evidence of bias that wasn't mentioned in the opinion. While "tend to" in the question is ambiguous, I take it many reasonable jurors can interpret it as simply reflecting statistical correlation related to the per capita offense rate, and in particular statistical correlation within the U.S., which is how the juror said he was reading it.

And under that interpretation, the answer of many fair-minded people who have seen the statistics would be "yes"…it does appear to be true about blacks in the U.S.
Volokh cites the following table based on the Bureau of Justice Statistics' National Crime Victimization Survey, which shows that in 2018, 28.9% of offenders who committed nonfatal violent crimes are black, even though only 13% of Americans are black; and that only 52.2% of offenders are white, even though 60% of Americans are non-Hispanic white.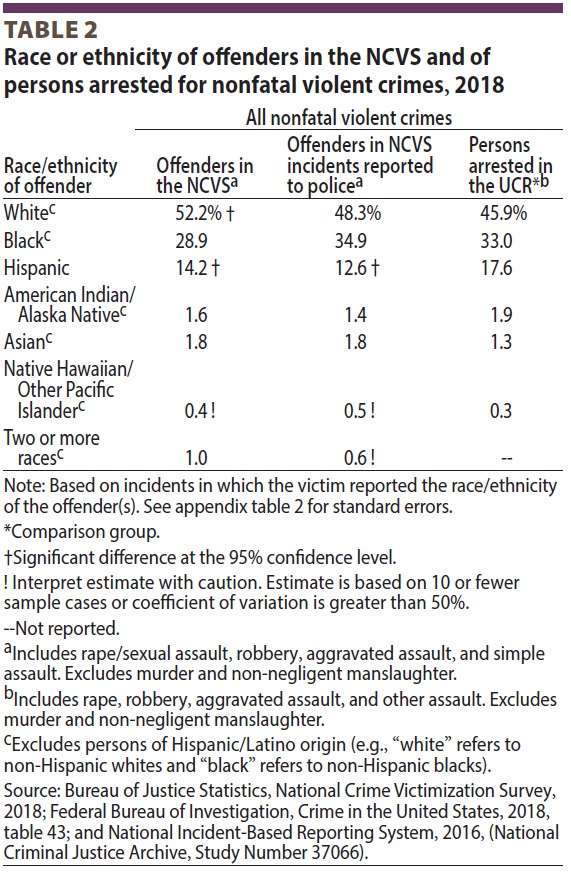 A self-described lawyer objected to Volokh's statement that blacks have a higher crime rate than whites, by claiming that "the stats … show people arrested, not people who actually committed crimes… 'non-white' people tended to be stopped, arrested, and charged more than 'white' people despite evidence that the particular crime is being committed at similar rates by each 'race.'"
This was a false claim, that understated what the statistics showed. The racial crime statistics did not just show people arrested, but also surveyed crime victims as to the people who actually committed the crimes.  As Professor Volokh explained, readers should "focus … on the first column" of the table above, which shows crime victims' reporting of the race of the offender, "since that's less skewed by differences in rates of reporting to the police." Thus, Volokh anticipated the possibility that police might not be evenhanded in their arrests of offenders.
Moreover, surveys of crime victims are seldom affected by racism. That's because crime victims are overwhelmingly of the same race as their attacker. As the Bureau of Justice Statistics explains, crimes are committed mostly between members of the same race, and this is true for "rape or sexual assault," "simple assault," "aggravated assault," and indeed, "all types of violent crime except robbery." (See Race and Hispanic Origin of Victims and Offenders, 2012-2015.)
Moreover, arrest rates generally mirror crime rates, rather than being shaped by racism. A 2021 study by the federal Bureau of Justice Statistics found that although blacks are arrested for serious nonfatal violent crimes at more than twice the rate of people in general, this is not due to racism. Instead, arrests are correctly "proportional" to the actual crime rate (which is higher among blacks than among whites), and to the crimes actually reported to the police, which often are committed by black offenders. As it noted, "white and black people were arrested proportionate to their involvement in serious nonfatal violent crime overall and proportionate to their involvement in serious nonfatal violent crime reported to police." (See Allen J. Beck, Race and Ethnicity of Violent Crime Offenders and Arrestees, 2018).
Even liberals used to admit that crime rates differed by race, as most of the liberal justices did in United States v. Armstrong (1996). As that 8-to-1 Supreme Court ruling noted, there is no legal "presumption that people of all races commit all types of crimes" at the same rate, since such a presumption is "contradicted by" real world data, in which "more than 90% of" convicted cocaine traffickers "were black" in 1994.
To those who argue it is bigoted to admit there are differences in crime rates, Professor Volokh points out that accepting this argument could result in excluding jurors who truthfully note that men have a higher crime rate than women — something confirmed by crime statistics showing that 86% of all violent offenders are men: "sex bias by jurors is also impermissible; but if people were asked, 'Do you believe that people of one sex tend to be more violent than other people?,' I assume many fair-minded jurors would feel obliged to say 'yes.' The sex-based differences in violent offense rates are of course much starker than the race-based differences." Sex discrimination is almost as forbidden as racial discrimination, when it comes to juries, as Professor Volokh notes, citing the Supreme Court's decision in J.E.B. v. T.B. (1994).
Some progressives now refuse to admit that there are gender-based differences in behavior. In a May 24, 2021 letter, progressive state attorney generals asked the Biden administration to impose racial and gender quotas for school discipline and school suspensions. Those progressive officials complained that school-discipline "data has long documented disparities based on sex, with male students facing exclusionary discipline at significantly higher rates than female students."