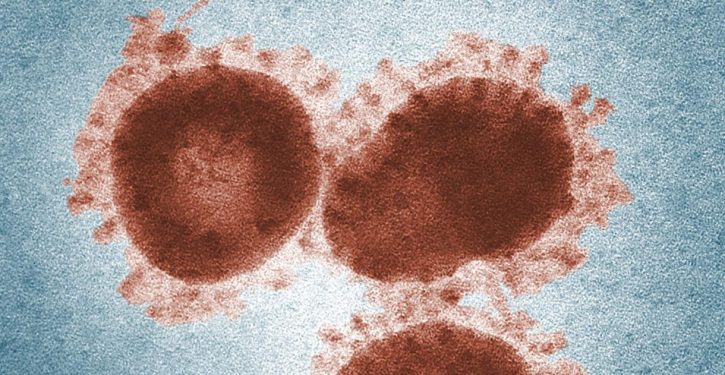 An appeals court ruled 2-to-1 that federal disabilities-rights laws likely require that schools mandate masks when they have disabled students with "heightened risk of severe injury" from the coronavirus.  The judges in the majority included a Democrat and a Republican; the dissenting judge was a Republican.
Here are the pivotal passages from Arc of Iowa v. Reynolds, decided today by the federal Eighth Circuit Court of Appeals (with Judges Duane Benton and Jane Kelly in the majority):
Plaintiffs, the Arc of Iowa and Iowa parents whose children have serious disabilities that place them at heightened risk of severe injury or death from COVID-19, sued to enjoin enforcement of Iowa's law prohibiting mask requirements in schools…. Plaintiffs are entitled to a preliminary injunction because mask requirements are reasonable accommodations required by federal disability law to protect the rights of Plaintiffs' children….

In early 2020, many schools and school districts in Iowa moved to remote learning in response to the COVID-19 pandemic. When they later reopened for in-person classes, the Iowa Department of Education recommended mask-wearing at  schools, and many districts imposed broad mask mandates. On May 20, 2021, Iowa Governor Kim Reynolds signed into law Iowa Code Section 280.31, prohibiting schools and school districts from requiring anyone wear masks on school grounds unless otherwise required by law. In response, all Iowa schools and school districts with mask mandates ended them….

Plaintiffs are likely to succeed on the merits because mask requirements constitute a reasonable modification and schools' failure to provide this accommodation likely violates the [Rehabilitation Act]. Section 504 of the Rehabilitation Act states, "No otherwise qualified individual with a disability in the United States … shall, solely by reason of her or his disability, be excluded from the participation in, be denied the benefits of, or be subjected to discrimination under any program or activity receiving Federal financial assistance."

"[P]ublic entities discriminate in violation of the Rehabilitation Act if they do not make reasonable accommodations to ensure meaningful access to their programs." For a failure-to-accommodate claim under the RA, a plaintiff must show that (1) she is a qualified individual with a disability, (2) the defendant receives federal funding, and (3) the defendant failed to make a reasonable modification to accommodate her disability. "[A]n accommodation is unreasonable if it either imposes undue financial or administrative burdens, or requires a fundamental alteration in the nature of the program." …
Plaintiffs' requested accommodation—that schools require some others wear masks—is reasonable. It does not constitute a "fundamental alteration" of the nature of schools' educational programs. Before Section 280.31 was enacted, the Iowa Department of Education maintained "guidance on face coverings … in line with CDC" recommendations, and "defer[red] to local districts" on how to conduct school activities. After the district court enjoined Defendants' enforcement, Iowa public schools enrolling "approximately 30% of students in Iowa" imposed mask requirements. Similarly, most of the schools that Plaintiffs attend imposed mask requirements, at least as necessary around Plaintiffs, before Section 280.31 was enacted and reimposed mask requirements after the law was enjoined.

Where these schools can, did, and do impose mask requirements, continuing to maintain some mask requirements does not constitute a "fundamental alteration." Further, Defendants have not produced any evidence that mask requirements would create a significant financial or administrative burden.

Requiring masks also is not an unreasonable infringement on third parties' rights. First, this argument is undercut by the fact that some Iowa schools have already imposed the requirement. Second, the Eighth Circuit has found reasonable a modification that imposed on third parties without injuring their health. See Buckles v. First Data Res., Inc. (8th Cir. 1999) (finding employer's accommodations of employee's condition that resulted in sinus attacks from environmental irritants "were reasonable," including ban on "the use of nail polish in his department"). Third, schools and the State routinely impose similar requirements, including protective headwear, and immunization. See Iowa Code §§ 280.10, 280.11 (requiring eye and ear protection in some classes); id. § 139A.8(2) (prohibiting enrollment in "elementary or secondary school in Iowa without evidence of adequate immunizations" against various communicable diseases). Because Plaintiffs' requested accommodation is reasonable, they are likely to succeed on their Rehabilitation Act claim.

Because Section 504 of the RA likely requires mask wearing as a reasonable accommodation for plaintiffs' disabilities, this Court need not consider how [the American Rescue Plan Act of 2021] or Title II of the ADA applies to Plaintiffs' claims….

The district court, however, did not tailor the present injunction to remedy Plaintiffs' harms…. By barring Defendants … from enforcing Section 280.31 in all contexts, the court prevented them from enforcing Iowa's law against schools that encounter no one with disabilities that require masks as a reasonable accommodation. This sweeps broader than the relief necessary to remedy Plaintiffs' injuries and is an abuse of discretion….
Judge Ralph Erickson dissented on the ground that the plaintiffs were required to exhaust their administrative remedies before suing. Thus, he did not reach the question of whether the disabilities-rights laws can require a disabled students' classmates to wear masks.
Trial judges in Pennsylvania have divided over this issue, with one judge ordering the North Alleghany District to require masks, and another judge saying the Upper Saint Clair School District did not have to require masks, and that the disabilities-rights laws do not require such mandates.
In a case arising in Texas, the Fifth Circuit Court of Appeals suggested that mask-mandates are not required by the federal disabilities-rights laws, in a decision in December 2021 finding that the disabled plaintiffs in the case before it had not established a concrete or imminent injury from the abrogation of mask mandates. It also suggested in footnote 2 of its ruling that the injury relied on by the challengers demanding mask mandates —  the decision to stay home from school — is "self-inflicted" in the sense of being the product of their own choices, and thus not grounds for suing their school district.
Some lawyers have argued that disabilities laws generally don't require mask-wearing, and that federal officials were wrong to pressure schools to require masks — as the New York Post reported:
"It's massive federal overreaching," says Hans Bader, a former senior attorney at the Competitive Enterprise Institute, who also has worked in the Education Department's Office for Civil Rights. "The federal government essentially wants to dictate systemic changes to states' school policies because of speculation [about] how those policies may affect disabled students in particular school districts….Bader says Cardona's position is inconsistent with the relevant case law, which rejects discrimination claims based on speculative harms or parents' voluntary decisions. "The health benefits of wearing masks are so modest that European countries don't require young children to wear them," he says, "so the failure to attend school is due to parental or student choice, not effectively compelled by school policy."