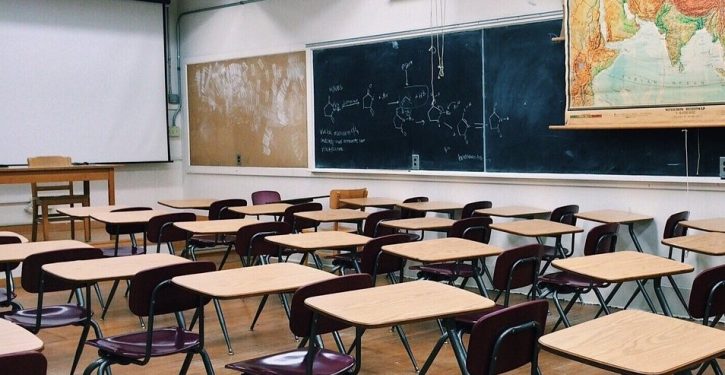 A school shooter who killed three students and wounded eight people, including a teacher, reportedly pretended to be a sheriff's office employee, to try to lure students to leave a classroom so that he could shoot them.
Newsweek reports:
The person suspected of carrying out the school shooting Tuesday at Oxford High School in Michigan allegedly pretended to be a law enforcement official while trying to convince students to leave the classrooms where they were taking cover, Detroit-based WJBK reported.

One student's parent, who was not identified within the station's report, said his son climbed through a window in order to leave the classroom where he was hiding. His son said the shooter was pretending to be a law enforcement official sent to the classroom to help the students as they took cover, the parent said.

"They were impersonating sheriffs there trying to get into the door," the parent told WJBK. "My son was actually barricaded under a desk, they were actually knocking on the door trying to get into his classroom."
Fox News reports:
As a gunman opened fire inside Oxford High School on Tuesday, confusion reigned as students, fearful for their lives, were unsure if the person knocking on the door was a gunman or actually an Oakland County Sheriff Deputy.

A parent called into FOX 2 sharing what his son, a student who attends Oxford High School, experienced Tuesday amid a mass shooting that left three teens dead and eight other people wounded. 

The three teens fatally shot were identified as 14-year-old Hana St. Juliana, 16-year-old Tate Myre, and 17-year-old Madisyn Baldwin.

The parent, who said his son escaped through a window, claims that the shooter might have been knocking on classroom doors trying to get students to come out and said he was with the sheriff's office.

In the video, embedded from TikTok below, you can see confusion in the classroom as students were unsure if they were safe or not. From the other side of the door, someone yells "Sheriff's office, it's safe to come out."

One student spoke for the classroom and said they "we're not willing to take that risk right now." The voice on the other side said "come to the door and look at my badge, bro."

The word 'bro' was enough to trigger the skeptical students not to open the door but instead escape out the window.

"He said bro. Red flag," one student said.

Then the students opened a window and climbed out and ran across an outside courtyard.