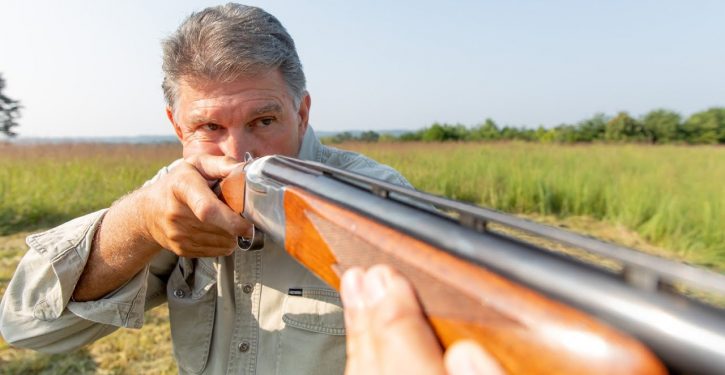 West Virginia Sen. Joe Manchin has become the face of the Democrats' newest piñata, with Arizona Sen. Kristen Sinema a close second. The target Manchin finds painted on his back is the result of an op-ed he published in the Charleston Gazette-Mail over the weekend titled "Why I'm voting against the For the People Act." This bill, a more legitimate name for which might be the "For the Democrats Act," would radically change the way elections are carried out, effectively making the U.S. a one-party state.
Democrats have expressed their pique before over what they perceive as Manchin's "Twelfth Man" act, but this week it became personal. Mondaire Jones, who is running to become New York's first gay black Congress member, tweeted "Manchin's op-ed might as well be titled, 'Why I'll vote to preserve Jim Crow'," and called the senator's position "intellectually unserious."
Manchin's op-ed might as well be titled, "Why I'll vote to preserve Jim Crow." https://t.co/pS1xEvkwEz

— Mondaire Jones (@MondaireJones) June 6, 2021
The Atlantic's Jemele Hill came right out and called Manchin a "cowardly, power-hungry white dude" who was upholding white supremacy:
This is so on brand for this country. Record number of black voters show up to save this democracy, only for white supremacy to be upheld by a cowardly, power-hungry white dude. @Sen_JoeManchin is a clown. https://t.co/fCMuyoLer3

— Jemele Hill (@jemelehill) June 6, 2021
MSNBC's Medhi Hasan didn't play the race card, but he accused Manchin of something far worse. He called him a "traitor" to this own party, telling viewers:
The Republican Party has launched an unprecedented war on American democracy in which shamefully they are now being aided and abetted by at least two Democratic senators. … Joe Manchin thinks voting fundamental. He says voting is fundamental. But he doesn't want to do what needs to be done to save it.
New York Rep. Jamaal Bowman, meanwhile, called Manchin "the new Mitch McConnell," explaining:
Mitch McConnell during Obama's presidency said he would do everything in his power to stop (then-President Barack Obama). He's also repeated that now during the Biden presidency by saying he would do everything in his power to stop President Biden, and now Joe Manchin is doing everything in his power to stop democracy and to stop our work for the people, the work that the people sent us here to do.
For all the Democrats' petulant feelings of betrayal, they need to realize that things could be worse. Manchin could really stick it to them if he had a mind to do so. He could become an actual traitor to the party by switching his allegiance to the Republicans, which would give the GOP control of the Senate.
It wouldn't that radical a move. West Virginia is already a heavily red state. Residents, who like Manchin, have freely acknowledged that if he were not their senior senator in the U.S. Congress, a Republican would be.