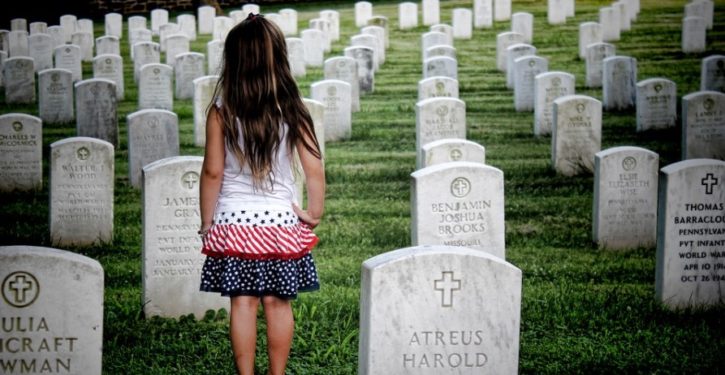 You can't put the toothpaste back in the tube. You can't go home again. You get only one chance to make a first impression. All of these aphorisms point to the same bitter lesson Vice Pres. Kamala Harris learned this week. On Saturday, Harris clumsily tweeted out "Enjoy the long weekend." No mention of the reason why the last Monday in May is recognized as a national holiday.
She was summarily marched to the tool shed by patriotic Americans who found it insulting that the holder of the second highest office in the land hadn't spoken of the holiday and all it embraces. (The holder of the first highest office in the land didn't do much better, tweeting, "Stay cool this weekend, folks," but maybe he was cut some slack because of his age.)
Anyway, Harris's crackerjack writing crew took another shot at a tweet that would appease the masses. Instead, what they gave her was the content of a third-grade essay with the theme "What Memorial Day means to me." The sentiment is about as pro forma and, hence, bloodless as you can get.
Throughout our history our service men and women have risked everything to defend our freedoms and our country. As we prepare to honor them on Memorial Day, we remember their service and their sacrifice.

— Vice President Kamala Harris (@VP) May 30, 2021
Trending: At age 15, Beto O'Rourke wrote a short story fantasizing about killing children, mass murder
The responses on Twitter reveal that she should have quit while she was ahead:
Took long enough to make the post after all the backlash. SHOULD HAVE BEEN THE 1st post prior to "enjoy the long weekend!" AND posting a photo of yourself? Even if you didn't post but your PA – it's a distasteful move!
Americans cannot forget the sacrifices. pic.twitter.com/JKtC1yM1pF

— Angelique Kenney (@AngeliqueKenney) May 30, 2021
At best, your original Tweet was insensitive and ignorant. Glad someone got the message across to you what Memorial Day is about. A suggestion. With no reporters and cameras around, take a walk around Arlington Cemetery and reflect.

— Ken (@kemios) May 30, 2021
I am a veteran and I believe our madame gives too little too late.

— Rob (@RobHoey) May 31, 2021
Naturally, there were some who tried to use Harris's fail as the springboard for a "gotcha":
Trump also tweeted about Memorial Day and made it about him. Also likes veterans who don't get captured. pic.twitter.com/3Xkvrc8R5P

— Stretch (@mike_phillips63) May 30, 2021
Someone should remind Stretch that Donald Trump was not reelected.
Others used the opportunity to display their ignorance on unrelated topics:
Hey Kam, I have zero issues with which tweet you sent out first, it's your business what you tweet but I do hope your party follows through on a Jan6 investigation despite the GOP, those officers who died that day risked everything to defend freedom, America needs justice.

— Kelmankuts (@Kelmankuts1) May 30, 2021