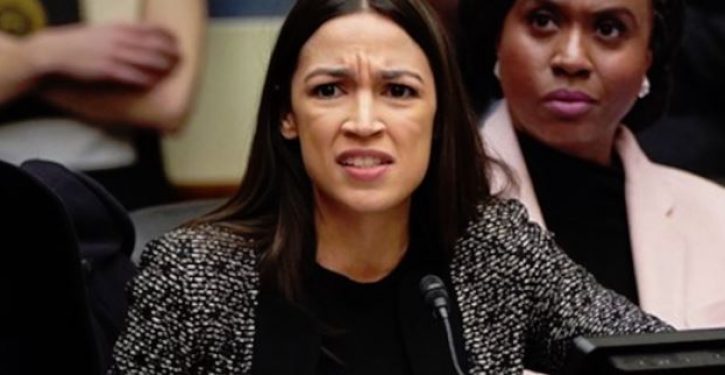 On the 6th of January 2021, Rep. Alexandria Ocasio-Cortez (D-NY) was not in the House of Representatives chamber, or even in the Capitol building.
She was across Independence Avenue south of the Capitol building in the Cannon House Office Building, where her office suite is.  Rep. Nancy Mace (R-SC), whose office is on the same hallway as Ocasio-Cortez's, confirmed that the rioters who swarmed the Capitol building that day were never in their area of the Cannon building.  Other accounts indicated the rioters did not enter the Cannon building at all.
Ocasio-Cortez has nevertheless taken every opportunity, such as a "special orders" hour in the House chamber on February 4, to recount her riot-day story.
Her latest story-sharing foray was on the public radio show "Latino USA," on Friday May 21, with an interview NBC News provided excerpts from.
Trending: At age 15, Beto O'Rourke wrote a short story fantasizing about killing children, mass murder
Referring to it as an "extraordinarily traumatizing event," Ocasio-Cortez spoke of how "[Mike] Pence was taken out of the Senate chamber something like 60 seconds before these terrorists, insurrectionists got into the Senate chamber."
In her words, "Pence was the one person, arguably, that had one of the most important roles in making sure that procedurally the Electoral College counts went on as proceeded. Sixty seconds could have meant potentially the difference between what we have right now and a martial state.  This was an all-out attempted coup.
"If 60 seconds went differently," she continued, "if a different door was opened, if a chair wasn't barricaded in a certain way, we could have a completely different reality right now.  We don't want to acknowledge that that's how close we got, but that is how close we got."
It's not clear how the 60 seconds she refers to could have produced a "martial state," but there's a lot that isn't clear from her interview.
At one point, as NBC News recounts, Ocasio-Cortez conveyed that "many people refuse to admit how the attack's aftermath 'has impacted the actual legislative process' in Congress."
Said the N.Y. congresswoman darkly: "It has deeply, deeply affected lawmaking, policy making, and it's very quiet, it's not spoken about."
But while there may be deep effects that aren't spoken about, Ocasio-Cortez was willing to share some of her trauma.
For whatever reason, NBC News didn't report these portions of the interview.  But other outlets did, like Business Insider and Breitbart.
They reported Ocasio-Cortez's update that she has been in therapy since the riot:
"After the 6th, I took some time and it was really Ayanna Pressley when I explained to her what happened to me, like the day of, because I ran to her office and she was like, 'you need to recognize trauma,'" Ocasio-Cortez said.

"And I feel like I learned this the hard way after my father had passed away when I was a teenager … That happened at a young age and I locked it away. You have to live with it for years," she continued, explaining she is in therapy due to the January 6 event.

"Oh yeah, I'm doing therapy but also I've just slowed down," she said. "I think the Trump administration had a lot of us, especially Latino communities, in a very reactive mode."
A number of sites have quoted the congresswoman as saying that members who survived the January 6 riot were people who had "effectively served in war," although it appears that she didn't say precisely that.  While speaking of the riot's traumatizing impact, she said the 6th "was, you know, an extraordinarily traumatizing event that's not really being discussed. It's politically sensitive … no one wants to say, Oh, boo-hoo, but there are members of Congress that served in war."
@ZaidJilani, I listened through the whole interview and I could have missed something, but I don't think she said that. Do you have a timestamp?

Here's the part I think it may be misattributed from. pic.twitter.com/UGYTyUVxWT

— The Progressive Michigander (@Progress_Mich) May 24, 2021
This seems to refer to congressmembers who actually served in war, and might be interpreted as an allusion to the riot evoking traumatic memories for them.
It's not exactly clear, because what immediately follows is on a different theme:  "And not just that, but also, staff.  You know, there's this woman whose smile I love, and she's just so incredible, and she's a food service worker, and her name's Veronica.  And she works in the basement of the Capitol, a coffee place and things like that, and all I could think of that day is how they, like, you have these people who are storming the Capitol.  And there's no place for these service workers to go, where our custodial staff went …"
NBC was more interested in Ocasio-Cortez's hopscotching political connections.
"Ocasio-Cortez recalled," says the NBC article, "how rioters and other pro-Trump protesters built 'functional gallows with nooses and they put them in front of the Capitol.'"  (That does raise the incidental question how she knows the gallows were functional.)
She continued:  "They were looking for us, and we were not protected.  White supremacy in and of itself is a mythology, and you have to protect it in order to protect that political power, which has now become a very important base in the Republican Party."
These sound bites from the woke lexicon might not exactly have a logical connection, but Ocasio-Cortez continued her pursuit:  "For Ocasio-Cortez, the white supremacist ideals are interconnected with the 'idea of American exceptionalism.'
"There's this one myth," she said, "that it's all happened because we're smarter and perform better."
Her take on the "myth":  "I don't think we've really internalized how much of that has been created through the subjugation of other people."
In any case, Breitbart recalls that the congresswoman thought she was going to die on January 6.
AOC recounting her horrifying experience hiding in her office during the insurrection.

"I thought I was going to die…I have never been quieter in my entire life." pic.twitter.com/t2P6FU3mFU

— Justice Democrats (@justicedems) February 2, 2021
Of note, although Ocasio-Cortez thinks "the Trump administration had a lot of us, especially Latino communities, in a very reactive mode," it's Trump's unprecedented electoral performance with Latino voters that has had the mainstream media marveling over the last year.
The community "reaction" doesn't seem to have been a traumatized one.  Maybe what she's referring to is the Latino reaction of voting for Trump.