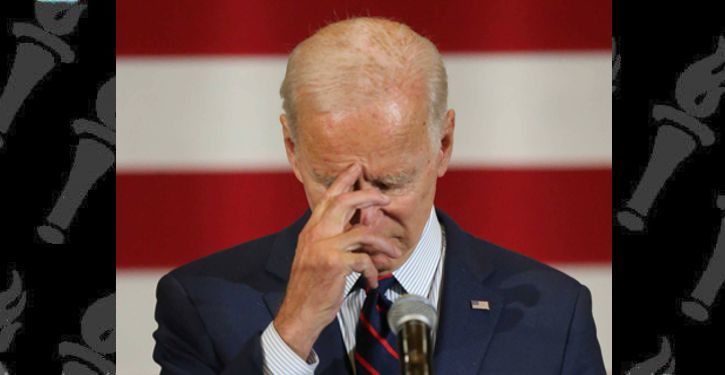 What better way to demonstrate the new CDC guidelines, which advise that you no longer need to wear a mask outdoors alone or in a small group as long as you've been vaccinated, than to make the long walk from the White House to the podium alone wearing a mask? As if to add further confusion to his teaching by example, Biden removed the mask the instant he had reached the podium and a gaggle of waiting reporters. According to the new guidelines, he should have donned a mask at that moment. (RELATED: Do as he says, not as he does: Biden again violates own mask mandate)
Joe Biden wears a mask outside alone, breaking new CDC guidance while announcing the new guidance pic.twitter.com/6DdpQUv9ev

— RNC Research (@RNCResearch) April 27, 2021
The president went on to take another victory lap over the great work he had done to tame the COVID-19 pandemic, only misreading the words on the teleprompter once but taking care to correct himself pointedly lest anyone miss his gaffe.
President Biden: "If you're in a crowd, like a stadium or a concert, you still need to wear a mask." pic.twitter.com/7h5NbWLvVg

— The Hill (@thehill) April 27, 2021
His actions were so out of sync with his verbal message that NBC's Peter Alexander asked at the end of his remarks, "You chose to wear a mask as you walked out here. What message were you sending by wearing a mask outside alone?" Biden's non-sensical answer, which he mumbled, was something along the lines of "Then watching me take it off and not put it on till I go back inside." This was accompanied by a cat-swallowing-the-canary grin, as though Biden thought he had something really clever.