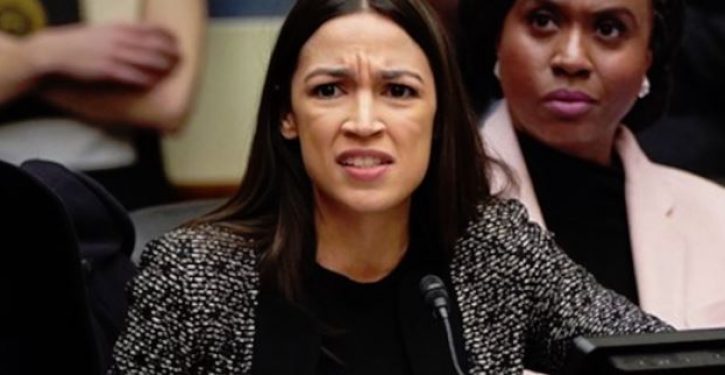 If you tune in right now, you can still catch some of it live.  The special order hour will presumably also be available at the C-SPAN website in recorded video.
At 5:30 PM EST on Thursday (today), the House Progressive Caucus is holding a special order hour as a forum for sharing riot stories.  Breitbart quotes the announcement of the special order hour; its goal is "creating space for members to talk about their lived experience and to call for accountability."
Lawmakers will share their personal stories of the Jan. 6 attack on the House floor tonight.

.@AOC will kick off the special order hour pic.twitter.com/rhj10BGe9F

— Scott Wong (@scottwongDC) February 4, 2021
Ms. Ocasio-Cortez kicks off the interlude.  Other participants will reportedly include Ayanna Pressley (MA), Cori Bush (MO), Sheila Jackson Lee (TX), and Barbara Lee (CA).
We noted at Liberty Unyielding yesterday that Ocasio-Cortez's alarm at finding herself on the remote edge of a riot didn't seem to extend to concern about the many people who have actually been set upon by rioters and seen their businesses destroyed, or been physically beaten themselves.
Breitbart, meanwhile, observes that "many pointed out that she was not actually in the Capitol building during the breach, but in an adjacent House building that protesters did not enter," after which "she was mocked by prominent conservative commentators on Twitter for exaggerating."
Social media spent much of Wednesday disputing and ridiculing Ocasio-Cortez's account, from which she retreated a bit in some disorder.  But she's back throwing up rhetorical baffles and touting the special orders hour as an opportunity to hear some of the "100s of stories" about the January 6 riot.
As I said earlier this week, my story of the attack on our Capitol is not the only story,nor is it the central story.

It is just one of 100s of stories.

Tonight, we will start to hear more on the House floor.

I invite all colleagues who wish to share to join our special order. https://t.co/O4rVIA4R95

— Alexandria Ocasio-Cortez (@AOC) February 4, 2021
If it's a popular segment, they may decide to hold another one, or even more, in order to tell as many as possible of those 100s of stories.  Don't miss it.