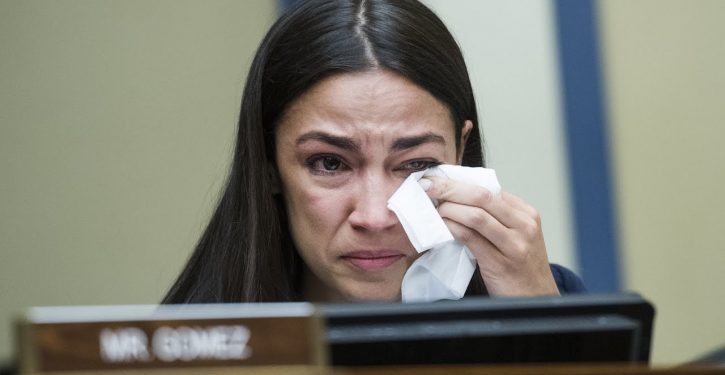 You can always count on Rep. Alexandria Ocasio-Cortez to shed crocodile tears over injustice, like the time she toured the southern border and arranged to be photographed with a pained expression on her face as she peered through a chain link fence. Unfortunately for her, the cameras pulled back for a longer shot revealing the source of her anxiety to be not caged migrant children but parked cars.
The congresswoman waxed melodramatic again on Monday in a video posted to her Instagram account in which she relived the horrors of Jan. 6. Watch:
I just thought to myself, 'They got inside.' And so I hide behind my door, like this, like I'm here, and the bathroom door starts going like this. Like, the bathroom door is behind me — or rather in front of me, and I'm like this, and the door hinge is right here, and I just hear, 'Where is she?! Where is she?!' And this was the moment where I thought everything was over. And the weird thing about moments like these is that you lose all sense of time. In retrospect, maybe it was four seconds, maybe it was five seconds, maybe it was ten seconds. Maybe it was one second, I don't know. It felt like — my brain was able to have so many thoughts in that moment between these screens and these yells. 'Where is she?! Where is she?!' And so I go down and I just — I mean, I thought I was going to die.
But apparently others present in the Capitol set the record straight, prompting her to post a second video the following day with a far less traumatic ending.
Hearing these yells of these men or just this is a man, just one man, going, 'Where is she?! Where is she?!' I start to look through the door hinge to see if I can see anything, and there's like a door here and there's another door here, so I'm like — I'm like trying to look through two door hinges. And so I look through this door hinge and I see this white man in a black beanie bump — just like open the door of my personal office and come inside the personal office and yell again, 'Where is she?!' And I have never been quieter in my entire life I was just — I don't even know if I held my breath, but I was just, you know, here, behind there, and I just start sliding down. And then all of a sudden I hear my staffer G. yell out, and he's like, 'Hey, hey, hey. It's OK. Come out. Come out.' So, I'm like, I don't know, so deeply rattled. I'm still processing the act of my life when I come out. And I come out and this man is a Capitol Police officer.
One would have to be callous to doubt that Ocasio-Cortez and others who were inside the Capitol when the riots began were frightened. But where was their compassion when there were real victims of riots who suffered genuine trauma not too long ago?
How concerned were they last August with the condition of Portland resident Adam Haner, who was beaten unconscious by Black Lives Matter protester Marquise Love? Haner and his girlfriend were driving along when a mob seemed to materialize out of nowhere, forcing him to crash his vehicle. He was then dragged out and savagely beaten. He suffered broken ribs and bruising. Doctors are concerned that he could have long-term vision damage.
Or how about Korboi "KB" Balla, a Minneapolis firefighter and owner of Scores Sports Bar, who watched his business burned to the ground during the riots in that city following the death of George Floyd. The bar was gearing up for its grand opening after being shuttered for months by the coronavirus pandemic when the rioters arrived with Molotov cocktails.
"As we were standing in the front of the restaurant, people where in the back trying to steal the safe!" Balla's wife Twyana posted on Facebook. "It was all coming together and when COVID-19 hit, the reality of not being able to open for a grand opening was difficult," KB adds. "To find out that the countless hours, hard work, late nights away from my kids, and family had all been for nothing was soul shattering. It is not the material things, more so the time that cannot be reclaimed."
Do any of the Democrats in Congress even know these victims' names, let alone the trauma they endured despite the Dems' denials that the "summer of love" was anything more than "peaceful protests"?