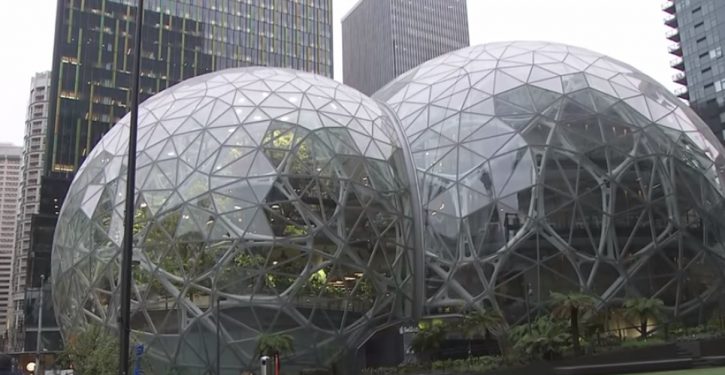 File this under things a monkey with a typewriter could make up faster than the human brain would dare to.
Less than 20 years ago, Democrats and the media were lamenting the insecurity of voting by mail.  In 2020, publications like The Federalist cited a number of examples of their concerns, which featured warnings like this one:  "[V]otes cast by mail are less likely to be counted, more likely to be compromised and more likely to be contested than those cast in a voting booth, statistics show."
That passage is from a New York Times article in 2010, which goes on (continuing the citation from the Federalist) to assert that "fraud is easier by mail." An election official in Florida was quoted as saying, "The only cases of election fraud have been in absentee ballots… The more people you force to vote by mail, the more invalid ballots you will generate."
Said the Times, "Election experts say the challenges created by mailed ballots could well affect outcomes this fall and beyond."
There's lots more; see just the Federalist's other examples (featuring top public officials) from 2004 and 2005.  Other websites have assembled more.  The Federalist's, however, which include a high-level study commission and a lengthy feature by NYT, are enough to make it clear that it was an about-face for Democrats and the media – using the coronavirus pandemic as their justification – to push the theme in 2020 that voting by mail was not just perfectly safe, but even safer than voting in person.
NBC proclaimed voting by mail to be the new normal, and basically said everyone should stop complaining about it.  Left-leaning think-tanks and prestigious media outlets weighed in with paeans to voting by mail.
Congressional Democrats tried to shoehorn a national vote-by-mail mandate into every piece of major legislation taken up throughout the year.  (A dubious effort, by the way, and one that would have lost heavily to constitutional challenges in court.  State legislatures govern the methods of voting, by the black-letter wording of the U.S. Constitution.)
And because a number of states decided to mass-mail ballots to voters unsolicited (California sent out some 20 million ballots), the 2020 election cycle saw a dramatic increase in voting by mail.
After the 2020 general election, when complaints and allegations piled up about the handling and processing of vote-by-mail ballots in at least half a dozen states, the media made it an article of faith that all such allegations were invalid, in spite of the reality that fewer than a handful of courts have actually considered the evidence on the matter.  (Almost all cases have been dismissed on grounds unconnected to the evidence itself, which the courts have not reviewed.)
The media industry, meanwhile, has been de-platforming websites and users simply for asserting or even referring to the possibility of vote fraud, much (though not all) of which is related to mail-in ballot concerns.
So the punchline of this story is especially thrilling as something you couldn't possibly make up.  Amazon, one of the commercial darlings of the establishment Left (and whose CEO, Jeff Bezos, owns the Washington Post; see here as well), is asking for eye-opening relief from the National Labor Relations Board (NLRB) on a relevant matter:  a vote organized for Amazon workers on unionization.
Because of the COVID-19 pandemic, organizers want to conduct the vote by mail.
Amazon argues to the NLRB that voting by mail "could disenfranchise dozens or hundreds of voters" because it reduces "vote fidelity" and "timeliness of vote count."
Oh, and if an infectious-disease "outbreak" is used as the excuse for requiring it – says Amazon – no workplace, certainly not Amazon's, would ever be outbreak-free enough for the NLRB to agree it wasn't "necessary" to vote by mail instead of in person.  Amazon sees that coming from miles away.
Think I'm kidding?  Emphasis added:
Amazon said that at its Bessemer facility, 2.88% of Amazon's 7,575 employees and third-party workers at the facility — or 218 people — tested positive during the 14-day period ending on January 7. Amazon rejected the idea that this would be considered an outbreak.

"If true, facilities will be in a constant state of 'outbreak' unless and until the virus all but disappears, with no manual elections occurring until that unknown time," the filing read, also citing that a mail election could "disenfranchise dozens or hundreds of voters" because it is imperfect.
And:
In a statement to CNN Business, Amazon spokesperson Heather Knox said the company believes "the best approach to a valid, fair and successful election is one that is conducted manually, in-person, making it easy for associates to verify and cast their vote in close proximity to their workplace."

"Amazon provided the NLRB with a safe, confidential and convenient proposal for associates to vote onsite which is in the best interest of all parties — associate convenience, vote fidelity, and timeliness of vote count," Knox said in the statement. "We will continue to insist on measures for a fair election, and we want everyone to vote, so our focus is ensuring that's possible. …"
Someone on Facebook noted that Amazon probably knows the reliability of the mail system better than anyone else on the planet.  That's only one aspect of vote-by-mail problems, but it's a fair observation that Amazon doesn't trust mail-in voting for an election that will affect Amazon's bottom line.
Yes.
Yet the mainstream media report this with composure, and without foaming at the mouth about racism, suppression, and genocide — unlike their predictable behavior if a company lauded by the Right (or any right-wing group or politician) were involved.  There's a reason no one is listening to lectures from the Left anymore.  This kind of cynically two-faced operation isn't hapless.  It's evil.  The American people aren't meant to be ruled by it, any more than Amazon and its workers are.