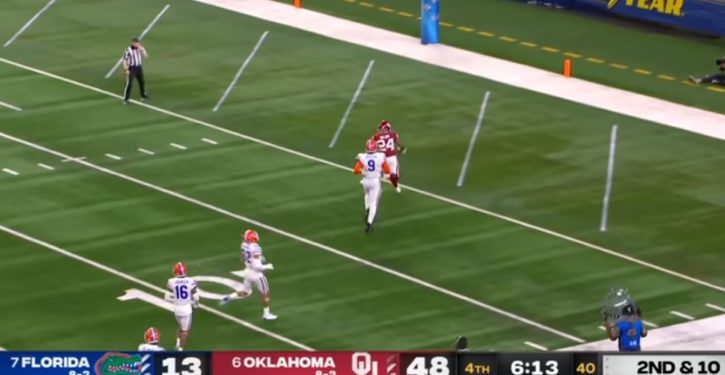 We've had some very fine bowl action since the last installment, and as this one evolves we await the kickoff in the Goodyear Cotton Bowl, featuring our own #6 University of Oklahoma Sooners and #7 Florida (motto: "Nyaah nyaah!").  (Update: Oklahoma 55, Florida 20.  Dan Mullen explains that the Gators were really so woefully undermanned that they shouldn't even have played, except the players really wanted to.  In a reverse situation, Lincoln Riley would have said, "Hats off to Florida, we got our clock cleaned.")
It's starting to look like a good thing they're playing in AT&T.  Winter storm coming in, and the Florida fans don't want to get their hair mussed.  We fear the winter weather will keep a few fans away from the Lockheed Martin Armed Forces Bowl on Thursday morning, at Amon G. Carter in Fort Worth.  Which is too bad.  Tulsa, we have no doubt, is raring to go, along with Mississippi State.  We expect some prime action on the field, of course (TU played through four straight quarters of pounding rain in Cincinnati; we know they can do it), but the coaching match-up of Phil Montgomery and Mike Leach will be a treat in its own right.
Other Inner Circle updates: congratulations to OK-State for hanging on to prevail over Miami (Da U) on Tuesday.  The Pokes scored more than half their points in the 1Q, but their defense, uncharacteristically, saved the day as Miami kept trying to surge on them.  37-34, a win's a win, and an honorable retirement from 2020 for OSU.
Sadly, however, we report a Melancholy Cancellation for Thursday night.  The COVID got TCU, ending the hopes of the Mercari Texas Bowl and the showdown with Arkansas (which was looking like a pretty good game).
This follows the Melancholy Cancellation for Wednesday of the TransPerfect Music City Bowl, with Iowa and Mizzou.  Bummer!
We'll just have to make do with an end of year countdown centered on the Offerpad Arizona Bowl featuring Ball State and San Jose State, and of course our own Army, in the AutoZone Liberty Bowl with West Virginia, pride of the Big 12.  (All previewed last week.)
We offer congratulations, among others, to Texas, which hung 55 on Colorado in a blowout in the Valero Alamo Bowl, and Wisconsin, which prevailed over Wake Forest 42-28 in the Duke's Mayo Bowl, and promptly broke the crystal football trophy during the locker room celebration immediately following.
And that catches us up to New Year's Eve.  Now for our first intrepid peek into the New Year, as Booger goes (drum-roll) Bigger!
1 Jan 2021: The New Year's bash
The year 2021 kicks off for us bright and early with the Chick-Fil-A Peach Bowl, featuring #9 Georgia (7-2) and #8 Cincinnati (9-0) at Mercedes-Benz in Atlanta.  The game appears to still be a go, which is never a given.  Georgia will be missing RB James Cook, whose father died this week, and we send our condolences to the Cook family.  (His brother, Minnesota Viking Dalvin Cook, will likewise be missing the game with the Lions.)
We are pleased to report that, in spite of the pathetic dearth of fan activities attending the 2020 bowl games, Chick-Fil-A is managing to sponsor Fan Days at the Georgia Aquarium.  We assume there are still other things to do in Atlanta, but you can't beat a good visit to an aquarium – and you may feel the need of one rather keenly without a Chick-Fil-A Player Olympics this year, or the Chick-Fil-A teams luncheon from which we usually get those great panorama shots.
The Bulldogs are laying 7.  We'll go with that.
The day accelerates with a snooty crossover (a shade to the right of Elite Booger), the Vrbo Citrus Bowl, which misses the cachet of Deep Boogerdom because it's venerable and enduring and so forth.  Auburn (6-4) will be matched with #14 Northwestern (6-2) for this one, which naturally is held in Camping World in Orlando as the flagship bowl of the Florida Citrus fleet.
This is a pretty good match-up, the Wildcats' D having been notably stingy against the pass this season, and Auburn having relied on it pretty heavily.  In that regard, Tiger WR Anthony Schwartz, an opt-out for Friday, will be missed.  But Northwestern's All-Big-10 corner, Greg Newsome, is not only on the injured list but is opting out in favor of the NFL draft, so in a sense it kind of evens out.
This is in Orlando, of course, and if you don't know how to entertain yourself in Orlando without a schedule of bowl events, can't nobody do much fer ya.  Northwestern gives 3.5.
The Rose Bowl Game Presented by Capital One, the first of the CFP semifinals, will see #1 Alabama (11-0) and #4 Notre Dame (10-1) duking it out for a championship slot.  As every schoolboy now knows, the Rose Bowl Game is being played outside Pasadena for the first time since 1942.  AT&T in Arlington, TX will be hosting, and as we mentioned last week, this will be Texas's second save in that regard: the New Mexico Bowl had to move from Albuquerque to Frisco because the governor of New Mexico, like the governor of California, has lost her mind.
Pasadena has a statement.
And no, there's no Rose Parade.  Not Pasadena's best year.  The bowl game and the parade – which annually has tourists lined up for days to visit the floats (as paying customers) – are big moneymakers for the city.  But not this year.
However, Kermit the Frog will be celebrity-conducting a virtual performance by high school and college musicians in the alternative "Rose Parade's New Year Celebration presented by Honda," a TV presentation airing on ABC, NBC, and Hallmark Channel on New Year's Day.  Check your local listings.
As with Orlando, we figure fans visiting in the Dallas-Fort Worth area would have to be pretty thick to not come up with ways to keep busy, even when faced with an empty bowl events calendar.
As for the game, we're not astonished, exactly, to see the Tide giving 20, but we think that may be a bit short-sighted.  However, it's true the Arsh have some iffy defensive go-tos (like super-productive DB Kyle Hamilton) coming off injuries, which is not how you want to come in versus Alabama.  As correspondents know, we've been dubious all season about the Notre Dame ranking, and they did take the beating from Clemson in the ACC title match.  We'd just be more comfy with a spread of, say, 13.
Hauling up the rear on New Year's Day, the Allstate Sugar Bowl will decide the other championship opponent between #3 Ohio State (6-0) and #2 Clemson (10-1).  This august bowl just keeps coming back to the Superdome year after year, sponsored by Allstate, and we salute its consistency in that noble regard.
It hardly needs saying that Clemson captained by a healthy Trevor Lawrence looks like the prime Kobe beef stock this CFP season.  Although the Tigers have a few (pretty big) names on the injured/iffy list, Ohio State has everyone beat in that department, with practically a full offense worth of players with niggling problems (receivers, linemen, RBs; QB Justin Fields with his thumb sprain), and a short handful of defensive players as well.  The Buckeyes, of course, got only six games this fall, to Clemson's 11, something the sportsbabblers are sure to mention frequently.  They haven't been able to stop talking about it for the last month.
So it's a testament to somebody's something that the oddsquad has Clemson favored by only 7.5.
Meanwhile, we are interested to observe that the Allstate Sugar Bowl Fan Jam is still on at the Mercedes-Benz Superdome before the game, featuring "food, interactive games, family-friendly performers and hours of fun as well as musical entertainment for the whole family."  The featured band will be KARMA.
2 January 2021
We'll see some darn good bowl action on Saturday, with #23 NC State (8-3; motto: "They have a football team?") and Kentucky (4-6) squaring off first thing in the TaxSlayer Gator Bowl at TIAA in Jacksonville.  You know how we love us a bowl game that's all about your taxes.
This being Florida – but not Orlando – they have thoughtfully assembled a short-stack schedule of events for eager fans, and we're delighted to announce that there's a New Year's Eve Run starting at 2 PM (Eastern) on Thursday, with an intriguing "virtual option."  There doesn't seem to be a course length, so I guess technically you could hot-foot it to the refrigerator and back, and feel good about participating.  If you're in Jacksonville, the live run starts at VyStar Veterans Arena.
We're bummed, meanwhile, to realize that we've missed the TaxSlayer Gator's Bowl's premier partner event, the AEW (All Elite Wrestling) Dynamite New Year's Smash.  That took place Wednesday night.
The highlights video is here.  (It doesn't embed due to copyright restrictions.)
As for NCSU and UK, the Wildcats ae giving 2.5, for some reason.  About this time we're thinking it would be kind of a hoot if the ACC won all their New Year's weekend games.  But pay no attention to us.
The Outback Bowl tees up next at Ray-Jay in Tampa featuring Ole Miss (4-5) and #11 Indiana (6-1).  The Outback Bowl used to be a toothy-grin newcomer when it took over from the Hall of Fame Bowl (1995), but it's been around so long now it feels like an aging uncle of a bowl, if not by any means a "Granddaddy" of anything.
In case you don't have your head on straight about the bowl's cumulative community impact up to now, this'll help you out.
We do appreciate not having to track these things down.  Cultural note: we, personally, have dined at the original Outback Steakhouse in Tampa, and it's everything you would expect it to be; i.e., a perfect microcosm of the Outback restaurant franchise anywhere in North America.
On the culinary theme, we would be remiss not to advise bowl-goers on where to get the best pizza while in Tampa.  It's — hands down — Sally O'Neal's Pizza Hotline, just southwest of downtown, on the edge of Hyde Park.  1319 S. Howard.
Admittedly, the Outback Bowl has wimped out on an event schedule for this go-round, even for the VIP-privilege set.  But see the previous caveats for Florida.  It's only an hour and a half's peaceful parking lot snooze across I-4 to Orlando, or you could enjoy the many fine entertainments available right there in the Tampa metro – starting, of course, with the beach.
With the pastiche of conference seasons, COVID outages, potential mid-game opt-outs, and who knows what else this year, it's hard to account for all the manifestations of the oddsquad.  So we're going to remark that the betting has Indiana favored by 8.5 (the O/U is 65, go figure), and leave it at that.
Afternoon play gives us the PlayStation Fiesta Bowl coming from State Farm Stadium in Phoenix and featuring the clash of #25 Oregon (4-2) with #10 Iowa State (8-3), which fought a tough, exciting game with Oklahoma in the Big-12 championship match, when it wasn't spinning cyclones over other hapless teams throughout an energetic season.
Oregon did some stuff too, but it was all winning over (or losing to) the most lackluster field of PAC-12 teams in forever, so we hate to say it didn't amount to much, but it really didn't.  PAC-12 football was kind of a sidelight to COVID, Antifa, and wildfires this year.
This will be the first-ever game between these long-lived, distinguished programs, incidentally.  ISU has played most of the PAC-12 teams, but so far not the Ducks.
ISU has a couple of defensive players out due to injuries, but no opt-outs that we know of at this point.  Oregon has been playing with a short roster due to season opt-outs, and RB CJ Verdell, their second leading rusher in 2020 (the leader is Travis Dye, coming in with a whopping 56 carries and 391 yards), remains uncertain for Saturday's game.  ISU's super-scamper yardage man, RB Breece Hall (over 1,400 yards and 19 TDs), should be suiting up with no issues.  We'd frankly take the points on Iowa State (-4), and more if somebody's offering.
As for events, we feel like we're the last to know that the Fiesta Bowl Parade has been postponed to 10 April 2021, which strikes us as a mighty peculiar date, and one that will suffer from its severe lack of proximity to the, you know, Fiesta Bowl.  But we guess they know what they're doing.  You'll be able to stream it online by going to the PlayStation Fiesta Bowl website.
The Fiesta Bowl Fan Fest is scheduled to occur on game day.  Other than that, the events listed all seem to mention Big-10 and Big-12 fans, which sounds suspiciously like the last (2019-2020) iteration of the PlayStation Fiesta Bowl.
The bowl season hits penultimate with a bang on Saturday night with the Capital One Orange Bowl, in which #5 Texas A&M (8-1) and #13 North Carolina (8-3) go head to head.  If you're thinking, "I'm not sure those two teams have ever played before," your Spidey sense would be nicely tuned, because as a matter of fact they haven't.
The game, to be played at Hard Rock in Miami, is unattended by in-person events this season, but the coaches' luncheon did occur virtually on Wednesday.  We're sorry not to have notified you sooner, as they were advertising the ability to stream it online (requires registered access at the website).  But we weren't sure how much of a priority it would be for our correspondents to watch people not each lunch together.
As with all the Florida bowls, we're guessing most fans can find ways to keep their spirits up in the Greater Miami area.
We're not aware of any opt-outs on the TAMU roster, but the Tar Heels will be short a receiver and two RBs, all starters, due to op-outs.  RB D.J. Jones is also on the injured list for UNC.  Backfield-wise, they're skint.
Which has at least something to do, no doubt, with the fact that A&M gives 7.5
Melancholy Cancellations
We'll keep our list of Melancholy (Bowl) Cancellations one more week, in case confused and desperate correspondents of the LU Football Commentary Service need to refer to it.
With the two added this week (so far), there are 17 on the list.  COVID Reaper has a big axe.
Tropical Smoothie Café Frisco Bowl
Radiance Technologies Independence Bowl
Guaranteed Rate Bowl
Union Home Mortgage Gasparilla Bowl
Military Bowl Presented by Perspecta
New Era Pinstripe Bowl
LA Bowl
Tony the Tiger Sun Bowl
TicketSmarter Birmingham Bowl
Redbox Bowl
Hawaii Bowl
Bahamas Bowl
San Diego County Credit Union Holiday Bowl
Quick Lane Bowl
Las Vegas Bowl
TransPerfect Music City Bowl
Mercari Texas Bowl