Naturally, it would be week 13.  We're starting out in Xtreme Disappointment, with a Melancholy Cancellation and two Solemn Postponements: to wit, respectively, Air Force and Colorado State; #11 Oklahoma and West Virginia, pride of the Big 12; and #25 Tulsa and Houston.
You'll notice, as an aside, that we have segued seamlessly into using the CFP ranking.  So Tulsa is #25, not #24, which believe us hurts us more than it hurts you.  The segue is what we do.  Get over it.
And with that, we hereby confer a motto on the CFP, which frankly is something we should have done sooner anyway.  CFP (motto: "Get over it.").
Meanwhile, c'mon man!  The Ram-Falcon Trophy?  That artistic marvel they haul around the field under Plexiglas?  We're not going to play for that?  We look forward to this Storied Rivalry all year.
Ram-Falcon Trophy… #Goals pic.twitter.com/jPKDctQBL5

— Colorado State Football (@CSUFootball) October 24, 2017
It turns out Minnesota-Wisconsin has also been accorded a Melancholy Cancellation, so we're going to miss out on Paul Bunyan's Axe too, for which there can be no excuse.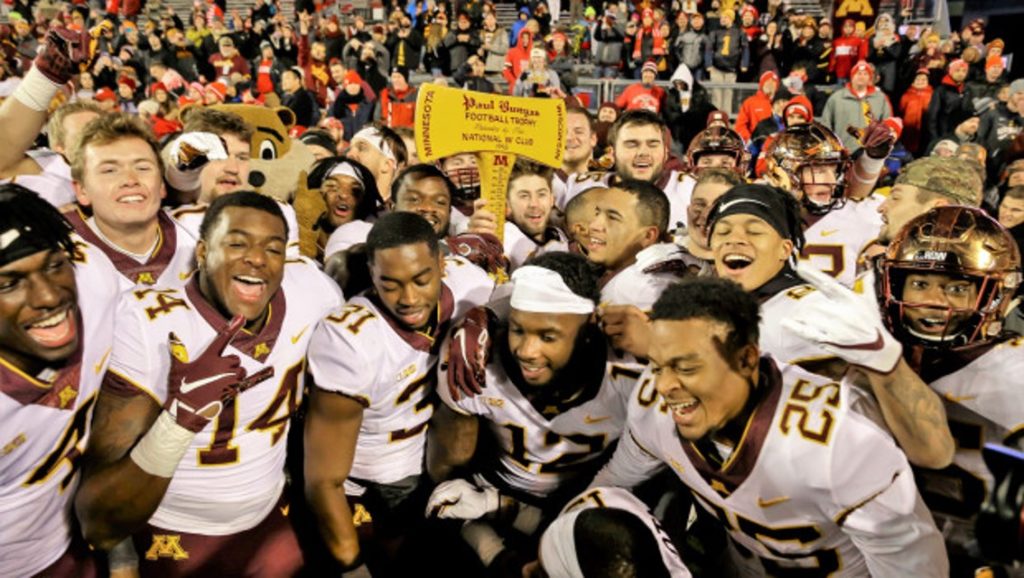 That other crummy axe-head mounted for your safety and convenience on a wooden plaque, which they're playing for in Berkeley as we speak, is all the axe we're gonna get this year.
Brek-ek-ek, losers.  (The Candy Pink and Bears are tied 17-all in the 3Q at this time.  Update: Cerise edge out Cal 24-23.  Goofy game.)  We suspect Dominion Voting Systems had a hand in all these jarring disruptions.
Inner Circle
CFP #25 University of Tulsa Golden Hurricane, which beat Notre Dame 28-27 on 30 October 2010, has been solemnly postponed from its YU-UGE American Conference game with Houston.  We assume these many Solemn Postponements will boil down to some single games being slotted in, as necessary to properly determine conference honors and attempt to set up a non-Power-5 aspirant from the AAC.  Tulsa's next game is at Navy on 5 December.  If TU beats Navy and can possibly get past Cincinnati the following week, we imagine the Houston game is the Postponed Tulsa match that would actually be played.
CFP #11 Oklahoma has been sidelined for the week, as mentioned above.  The next vulnerability window for Solemn Postponement is hosting Baylor on the 5th.  Right now, the WVU game is rescheduled for 12 December.
CFP #23 Oklahoma State hosts Texas Tech Saturday morning, with a 13-point give.
And we would just like to point out that Oklahoma is the only state with three FBS schools in the Top 25.  We plan to be in your face about that until it's over, which for all we know will be by next week.
It's possible Navy will go ahead and host Memphis on Saturday.  Tigers are giving 11.
Army, of course, is now in its annual hibernation period, exploiting the Independents Privilege of giving themselves a big vacation before The Game.  We're happy to report that 7-2 Army is lined up for the Radiance Technologies Independence Bowl in Shreveport, Louisiana (and don't think we're not looking with a fish eye at that one).  That will happen on 26 December; in the meantime, Air Force at Army has indeed been rescheduled to 19 December.
Air Force, as discussed, has experienced a Melancholy Cancellation, and is scheduled to visit Utah State on Thursday, 3 December .
Virginia Tech is off this week, and hosts #3 Clemson on 5 December.
Nevada will be at Hawaii for the late-night show on Saturday, giving 2.  (Game start: 11 PM on the East coast.)
LSU will be at #5 Texas A&M for their Storied Rivalry on Saturday.  We're not much convinced of that Aggie ranking, and think their 14.5 advantage is a bit much.  But we do fear LSU Ver. 2020.0 has its work cut out for it.
Kansas State may be suffering but we know they've got it in them to play hard at Baylor on Saturday evening.  The Bears give 4.
TCU will be at Kansas (motto: "What difference, at this point, does it make?") after a well-timed week off, and we know they'll play hard too, just because they've also got a coach who doesn't quit.  The oddsquad recognizes that the Frogs (-24.5) are likely to take the honors as long as they fog a few mirrors when they show up in Lawrence.
Toledo shifts to the weekends hosting Ball State on Saturday, with a give of 9.
Wyoming, of course, is playing the pox-plagued, leprous UNLV Rebels in Vegas at this moment, and we are very happy to say the Pokes are leading 17-7 at the top of the 3Q.  (Update: Cowboys surged to take it 45-14.  Go Pokes!)
Top 10
#1 Alabama (-23.5) hosts #22 Auburn for their Storied Rivalry known as the Iron Bowl.  We wish the trophy were a laundry iron, because that would actually be cool.  But you can't always get what you want.  Alabama is beatable, although we're not counting on Auburn to do that particular job.  Coach Saban, of course, tested positive for The COVID and will be unable to provide coach-ly encouragement on the field.  Depending on how it goes, this game or the Notre Dame game could be the game of the week.
#2 Notre Dame has pulled ahead of #19 UNC in the 4Q in Chapel Hill, the score now at 24-17.  The Tar Heels are still in it, but the Arsh seem to have it a bit more in hand at this point. (Yep; final score, 31-17.  Not the game of the week after all.)
#3 Clemson hosts Pitt, donating 26.
#4 Ohio State is at Illinois.  The Buckeyes are giving 28.5, and while we're tempted to say "Illinois's not that bad!" we're just going to leave it at that.  This is, however, the Storied Rivalry for Illibuck, one of our all-time favorite game tokens, and we'll just wipe a tear from our eye as we present you the fearsome creeper.
#6 Florida hosts Kentucky, giving 25.
#7 Cincinnati has had a Melancholy Cancellation with Temple.
#8 Northwestern (-9) will be at Michigan State.
#9 Georgia (-21) will be at South Carolina (motto: The Other USC).
New #10 Miami (Da U) has the week off.
Best of the rest
Our count of Solemn Postponements and Melancholy Cancellations for the week is at eight so far.
Earlier on Friday, #13 Iowa State topped #17 Texas 23-20.  The Cyclones didn't look as dominating as they did last week, but they continue to look real.
Liberty hung 45 on our Minutemen, who couldn't manage to even bag a safety on the Flames.  But we're proud all over UMass for staying in the fight.
In Storied Rivalry action, Central Florida and South Florida are going at it in Ray Jay right now, battling in the War on I-4, one of only three FBS contests involving an Interstate highway; i.e., other than Toledo, Bowling Green, and I-75, and UTEP and New Mexico State on I-10.  The Florida match has the special zing of being situated on an "Interstate" highway that does nothing more than cross central Florida.  Having driven I-4 many times, we are here to inform you that its barn name is Interstate Parking Lot 4.  The Golden Knights are up, as expected, on the Bulls, 38-28 in the 3Q.
Good grief.  Leave those guys alone for a few minutes, and they score a combined 59 points in the second half. UCF by 58-46.
In Ypsilanti, host Eastern Michigan and Central Michigan are both still "in" their Storied Rivalry match, with the Eagles up 20-14 on the Chippewas early in the 4Q.  No scale-model artifacts being played for in this one.  … OK, and the Chippewas rallied to snag this one 31-23.  Not half bad.
#15 Oregon, meanwhile, will be at Oregon State in less than an hour for their Storied Rivalry clash over the platypus.  Ducks give 14.
We like to mention that Oregon State is in Corvallis, just because it's a chance to mention Corvallis.
Mississippi State heads to Ole Miss for the Egg Bowl, and it feels uncommon that neither one is ranked for this Storied Rivalry bout, even if, as of late years, it isn't.  Ole Miss is favored by 12.
Georgia Southern is at Georgia State in the Storied Rivalry known for obvious reasons as Modern Day Hate.  GASO-GAST is emerging as a pick-'em.
Down in Cajun country, Louisiana (U-LA-LA) will fight the Battle of the Bayou on Saturday with Louisiana-Monroe.  This one is for the Wooden Boot, which is all right by us as a game favor.  Its superpower seems to be invisibility, as photos of it are very hard to come by.  In the interest of expeditious posting, we had to give up on that (and you know we don't give up easily).  Bettors are liking the Ragin' Cajuns for this one, to the tune of 21 points.
Other games of note include the one-off gem of San Diego State at Colorado (motto: "We take a pounding!"), emerging as if the teams just sort of ran into each other on a street corner and a light bulb appeared over their heads.  There seems to be a convoluted COVID disaster behind this one (SDSU at Fresno State experienced Melancholy Cancellation this week), but since it doesn't matter AT ALL, we're willing to leave it uninvestigated.
Well, belay that — it matters to aficionados of death-hip game trophies, since SDSU-Fresno State is fought for one of the all-time greats: the Oil Can.  So we'll miss that one, big league.  We're still not investigating, however.
The Aztecs and Buffaloes have played once before, in 2002.  Have fun, dudes.  Colorado's got the odds nod by 3.
Utah at Washington (-9), both decisively unranked, meet in the marquee slot on Saturday evening, and we'll give them a royal-coach wave as we flip past them with the remote.