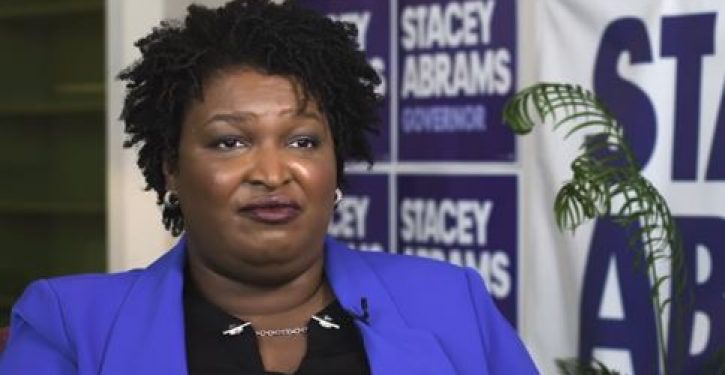 Don't you just hate logic? CNN does. The network gets itself all psyched for another round of whacking the Donald Trump piñata — its favorite pastime — when some traitor to the cause identifies a reason to abort the mission.
During a recent panel discussion, anchor Ana Cabrera and correspondent Ryan Lizza were dumping on the president for refusing to concede the election to Joe Biden when contributor Mary Katharine Ham poured cold water on the hate fest by noting a double standard. A video clip of the exchange follows along with a transcript of the key segments.
Mary Katharine Ham: I think … if he [Trump] has a strategy, the strategy might be a sort of contemporaneous example in Stacey Abrams because he sees there are great accolades and attention and appetite for somebody who does not concede an election as she did not in Georgia for the governorship for two years, and she has got feted by media and everybody. …

Ana Cabrera: … [T]he reason that she [Abrams] was effective post her race is because she actually started, you know, a nonprofit to get out the vote, to really juice up the voter turnout to make sure people have a right to exercise.

Ham: Hold on, but do we think if Trump did not concede, which would be, I think we can all agree, wrong, if he started an effective GOTV nonprofit that we would be giving him magazine covers and good coverage? No, I don't think that would be right, and it happens on the other side, and he sees that very clearly.

Cabrera: I don't think there's a total comparison there, but let's move on because I don't want to make this President Trump versus Stacey Abrams. Go ahead, Ryan. …

Ryan Lizza: I take that point. Look, I covered the Trump White House now for four years. I interviewed Stacey Abrams the other day right before the election, and you know, I don't want to be too cute about this, but Donald Trump is no Stacey Abrams. What happened in Georgia, it was a more defensible post-election non-concession, I guess I would call it. [Emphasis added]
Defensible post-election non-concession? For months after she was defeated in the Georgia gubernatorial race by Brian Kemp, Abrams continued to insist that she had won, quizzically explaining to an ABC reporter in March of 2019 that "I just didn't get to have the job." Two months later, she was still at it, claiming that "we don't have to concede elections anymore, because when we concede, we are condoning systems that are used to oppress us."
It has been 13 days since the 2020 presidential election: less than two weeks. Yet, in the view of CNN Trump is a worse loser (if in fact he lost!) than a woman who has still never fully conceded her 2018 election loss two years after the fact.
(h/t NewsBusters)