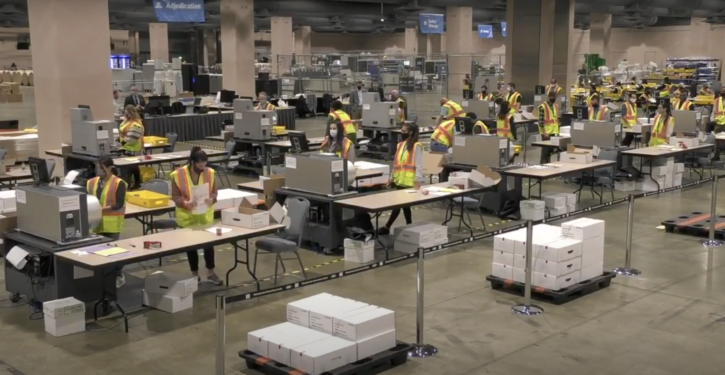 It was inevitable. The Democrats spent the last four years trying everything and anything to unseat Orange Man. They invented a conspiracy between Donald Trump and the Russians to steal the election. No sale. They tried impeaching him. Again nothing, nada.
On Tuesday, they finally thought they had the ogre in their sites. Polls (many of which have since proven to be wrong) had predicted a Biden landslide. All they had to do was sit back and wait.
But by Wednesday morning they were still waiting. Ditto for Thursday and Friday. Now it's Saturday, and they have run out of patience waiting to coronate their candidate who — face facts — is not getting any younger.
Speaker Nancy Pelosi, who hates no one and prays for the president daily, came out yesterday and called Trump a "domestic enemy" for daring to question the shoddy way the election was run.
Others on the Left were more direct. Philadelphia Mayor Jim Kenney told reporters that he thought it was high time the president put his "big boy pants on" and admit defeat, the way others before him had so graciously done.
Others like whom? Others like Al Gore, who New York Times opinion columnist Thomas Friedman reminds us "took a bullet for the country," as opposed to Trump, who has shamefully "put a bullet into the country."
In the 2000 election Al Gore took a bullet for the country. Tonight President Trump put a bullet into the country. Most shameful thing I've ever seen.

— Thomas L. Friedman (@tomfriedman) November 6, 2020
The problems with all this finger-wagging are two-fold. First, it's hypocritical. As Fox News analyst Brit Hume points out to Friedman, "In 2000, Al Gore put the country through a 37-day recount process in which he urged the courts to permit recounts only in the places where he thought he find additional votes for him." Another Democratic candidate these voices of reason tend to be overlooking is Hillary Clinton, who still hasn't accepted the outcome of the 2016 election.
Second, this is the first — and, God willing, last — time a national election will be conducted to this massive extent by mail. There are numerous indicators that this "experiment" has failed abysmally. I would advise these holier-than-thou critics to cool their heels and wait for the courts to render their verdicts on the many outstanding issues that have arisen.