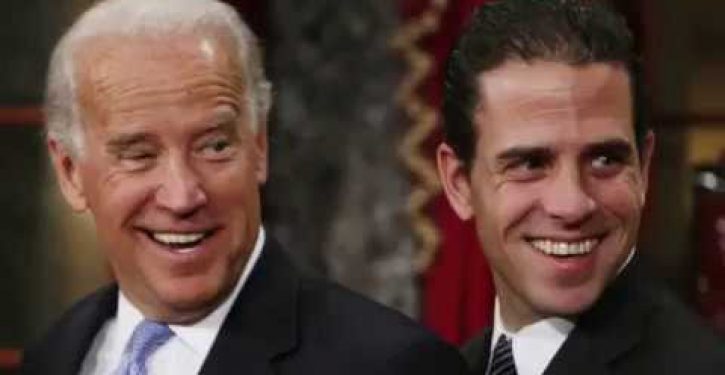 The ball is rolling downhill faster now.  Major developments today included the FBI and Department of Justice concurring with the DNI that the Hunter Biden laptop is not a Russian disinformation operation.  The FBI confirmed that it does have possession of the laptop.
We also learned Tuesday evening that Bevan Cooney, the Hunter Biden associate who turned his email account over to writers Peter Schweizer and Matthew Tyrmand, was removed from his federal prison cell in Oregon, reportedly out of concern for his safety.
What that says about the pervasiveness of the problem with senior Democratic officials is a topic for another post.  But Tuesday also brought some of the most sickening information revealed so far, when Rudy Giuliani spoke to Newsmax TV in an interview.  Giuliani said he had turned over a copy of the files he has from the Biden laptop to the Delaware State Police.  The reason is that one of the files is a text sequence to Hunter's father, Joe Biden, in which Hunter says he's been walking around naked smoking crack, apparently in front of a 14-year-old girl.  The description sounds like his sister-in-law (Beau Biden's wife), with whom Hunter had an affair, had informed a family court about this.
DEVELOPING: @RudyGiuliani displays a "very, very sensitive" alleged text message from Hunter Biden, which he claims to have handed over to the Delaware state police. @gregkellyusa https://t.co/VlT7z8drtO pic.twitter.com/nzbzAb9QbF

— Newsmax (@newsmax) October 20, 2020
The Newsmax host is right to insist on clarifying that what Giuliani has doesn't indicate Joe Biden responded, or that he saw the texts.  Although it's hard to believe Biden Sr. knew nothing about it, that point had to be made.
I would also want to know how long Giuliani has been aware of having this text series in the Biden files.  Giuliani has said he's seen some pretty disturbing and raunchy images among the files, apparently including the presence of minors (implicitly girls).  It's not clear how long Giuliani has had the copy of the Hunter Biden hard drive contents, which he received through his lawyer from the computer repair shop owner in Wilmington, John Paul Mac Isaac.  But my question would be if there was a delay between recognizing what was in the files and making sure the authorities in Delaware had them.
And if so, why that delay occurred.  One possibility, of course, is that if Giuliani had turned the information over before it became national news, Delaware might have deep-sixed the files rather than take on Joe Biden's son.
But we just don't know at this point.  For me, one of the really gut-wrenching aspects of this is that Hunter Biden felt free to text his father about such a topic.  It sounds as if it was a natural thing for him to do.  Yet it would be unimaginable to the average American adult.
It's a very good question whether there will be a debate on schedule on Thursday evening.  At this point, we can only pray that the election takes place on schedule on 3 November.