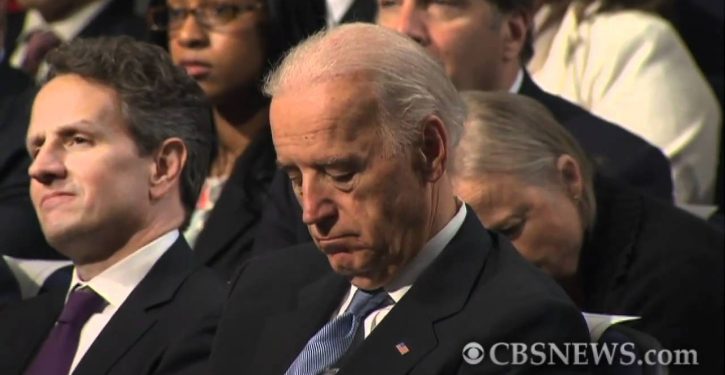 According to Joe Concha, media reporter at The Hill, Joe Biden called another "lid" this morning:
Joe Biden called a lid on the day earlier this morning. No events, no questions. Less than 6 weeks before the election, the Democratic nominee is working at a 50% clip, calling a lid 7 of the past 14 days and 11 of the past 26 this month. Is this a preview of a Biden presidency?

— Joe Concha (@JoeConchaTV) September 26, 2020
In a subsequent tweet, Concha explains that the Biden team is obliged to announce lids so that Biden pool reporters aren't left waiting in vain all day for an appearance in Wilmington.
The idea of a man working at half the expected pace in preparation for one of the most demanding jobs on earth should give voters pause. Even more so when you watch clips like the one that follows, which somehow fell off the radar.
Dr. Jay Fleitman, a pulmonologist and sleep medicine specialist, reacted to the anecdote Biden shares in the video in an August column in the Daily Hampshire Gazette:
He found this to be amazing. I found this to be shocking. It is not clear what this medical encounter was about, it is not clear that it even happened, but it was clearly bizarre.
Fleitman mentions two other relevant clips, one in which Biden clearly didn't know where he was, "another in which he was answering a question about the 2020 census, and in his answer he added the qualification that it happened two or three years ago." He then offers this assessment:
These are not lovable Joe Biden gaffes. I have been involved in patient care for over 40 years, and have no doubt that these are signs of significant cognitive defects. I don't know if Joe Biden has Alzheimer's disease, but he clearly has a degenerative neurological disorder in which dementia is a part.
As no doubt the good doctor knows, making diagnoses of patients without firsthand contact is unethical. That was true in the case of Yale University psychology professor Bandy Lee, who in 2018 diagnosed Donald Trump from afar as mentally unstable, and it is true again in this case.
That said, it doesn't take an expert to sense that all is not right with the former vice president. Whether he is suffering from a cognitive decline or is just tired because he is pushing 78, the media owe it voters to mention his abnormal absences from the campaign trail. So far, they have been silent.