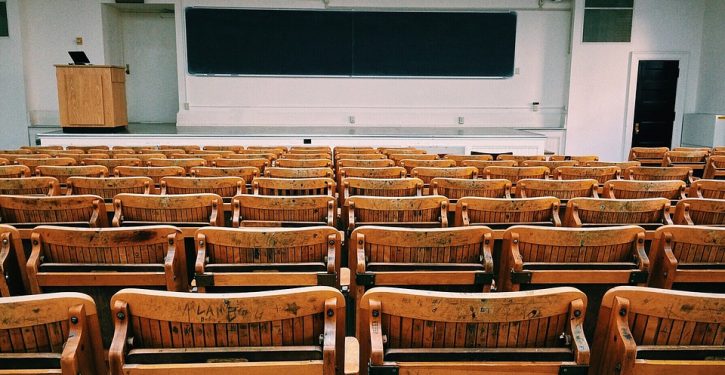 During the coronavirus pandemic, schools have shown an indifference to the welfare of students and parents. K-12 schools have mostly been shut down, even though the coronavirus poses little risk to children, and young children seldom spread the disease to each other or adults. "There is little evidence the disease spreads inside school buildings," notes the Washington Post. Yet schools in most areas remain closed to protect the interests of the teachers unions, whose members don't want to put up with even a tiny, remote risk of catching the disease.
Teachers unions have successfully pressured school boards to push back dates for reopening the schools. They have also successfully used "sick-outs" to shut down schools that planned to reopen, and to force school boards to delay school openings, in places like Kenosha.
Meanwhile, many colleges reopened for just a short time, then closed and sent their students home after a few students caught the virus. Colleges reopened even though the coronavirus spreads among college students, who can take the disease home to their elderly parents if the college closes down. The colleges are keeping students' full tuition when they close, even though many students were only willing to pay that much for an in-person college experience.
Gettysburg College reopened for the fall semester. Then, after coronavirus spread, it told most of its students to go back home, without giving them a refund of their tuition, which is $58,500 for the 2020-21 school year. The students will now have to continue their education online, through distance learning.
Trending: Judge denied visitation rights to unvaccinated parent who already had COVID
Campus Reform reports:
After quarantining students in their dorms for days, Gettysburg College in Gettysburg, Pennsylvania decided to send most of its resident students home in early September. … This "de-densification" comes at the tail end of an "all-student" quarantine which began on September 1.

The restrictions put in place were some of the strictest yet … Gettysburg was rarely allowing students to leave the confines of their dorm rooms. Students were only permitted to leave their rooms to retrieve food or use the restroom. Activities like strolls outside or use of fields and facilities for exercise were strictly prohibited.
Campus Reform quotes a student leader noting that "the college's move was likely to spread the coronavirus across the country, rather than mitigate its spread locally. He said that 'they are sending us all across the country to spread COVID-19 to our families and their close contacts.'" He also expressed concern that "the college is putting money over health by sending us home early, cutting their own expenses, in exchange for risking the lives of our parents and loved ones."
Meanwhile, most major public school systems are only educating K-12 students online — even elementary school students, who often can't handle remote learning and aren't able to concentrate for extended periods on a computer screen or iPad.
The closing of K-12 schools is not being done to protect young children. A commentary published in the journal Pediatrics, the official peer-reviewed journal of the American Academy of Pediatrics, concluded that young children rarely transmit COVID-19 to each other or to adults.
Even in places hard hit by COVID-19, closing schools does little to prevent the spread of COVID. The United Kingdom suffered one of the world's highest death rates from the coronavirus, yet schools there reopened with very little COVID spread among either students or staff.
"Covid-19 has not caused the deaths of any otherwise healthy schoolchildren" in England, noted the Independent.  Nor did the coronavirus cause many serious illnesses among children — hardly any ended up going to the hospital.
Studies find that children are less likely to contract the virus than adults, and less likely to spread it — especially those under age 10.
Why, then, are elementary schools being closed? Reason magazine reported last month that school districts' decisions about whether to reopen were driven by teachers "union influence and politics, not safety."  It cited research showing that closings weren't related to COVID-19 levels.
Teachers' unions want to keep the schools closed so that no teacher will catch the coronavirus from a student, even though the risk of that is very low. It doesn't seem to matter to the unions that teachers are much less likely to catch the disease from students than from other adults outside of school.
To the unions, any risk of transmission on the job — no matter how small — is too much to accept. Other institutions in society, like grocery stores, remain open even though employees run some risk of catching the disease. But the teachers' unions insist that schools be treated differently.
Closing schools doesn't just serve the selfish interests of the teachers' unions. It also could serve a partisan political agenda. One official in a liberal county said schools in her area would be closed until after the election. Closing schools to in-person learning harms the economy by forcing many parents to stop working to stay home with their kids.
That could affect the outcome of the 2020 election: Economic models show that the worse the economy is, the more likely a president is to lose an election to his challenger.
In New Mexico, COVID-19 is being used by state officials as an excuse to discriminate against the private schools. The private schools are only permitted to operate at 25% capacity, while the public schools are permitted to operate at 50% capacity. This discriminatory restriction, now being challenged in court, could economically ruin the state's private schools. That would eliminate them as a competitor to the public schools, whose employees are represented by progressive teachers unions.