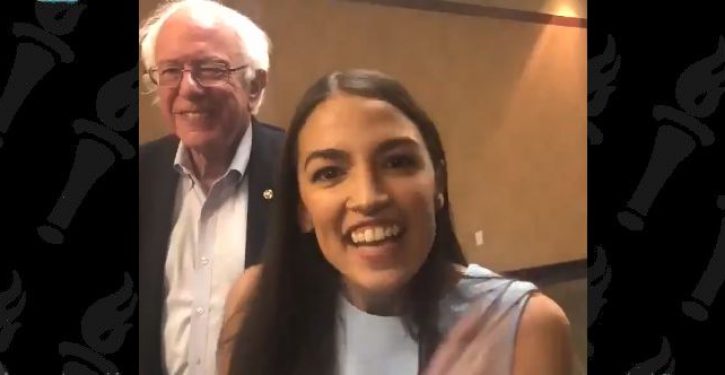 Evidently Rep. Alexandria Ocasio-Cortez was more peeved than Democrats knew over being given only a minute of speaking time when even John Kasich (who?) was given a full five minutes.
Anyway, she stayed more or less within the allotted time (the New York Times timed the speech and noted it ran over by more than half a minute). But when she got to the bottom line of her speechlet, she executed a bait and switch. Have a look. (The transcript follows.)
Good evening, bienvenidos and thank you to everyone here today endeavoring towards a better, more just future for our country and our world. In fidelity and gratitude to a mass people's movement working to establish 21st century social, economic and human rights, including guaranteed health care, higher education, living wages and labor rights for all people in the United States; a movement striving to recognize and repair the wounds of racial injustice, colonization, misogyny and homophobia, and to propose and build reimagined systems of immigration and foreign policy that turn away from the violence and xenophobia of our past; a movement that realizes the unsustainable brutality of an economy that rewards explosive inequalities of wealth for the few at the expense of long-term stability for the many; and who organized a historic, grass-roots campaign to reclaim our democracy. In a time when millions of people in the United States are looking for deep, systemic solutions to our crises of mass evictions, unemployment and lack of health care; en el espíritu del pueblo, and out of a love for all people, I hereby second the nomination of Senator Bernard Sanders of Vermont for president of the United States of America. [Emphasis added]
Say what? The Times is calling the nomination "symbolic," though there's no such thing. As The Guardian explains, "Ocasio-Cortez was assigned to second the nomination of Senator Bernie Sanders as president. Sanders ended his presidential bid and endorsed Biden last spring, but he was in line for a formal nomination as part of the process of transferring his delegates to Biden."
Trending: Tweet-snipe of the Day: Inconvenient voting truth from POTUS draws fire
In spite of its purpose, the nomination has the potential to be a game changer. For better or worse, Ocasio-Cortez has 8.3 million followers on Twitter, and many are likely to follow her endorsement at the voting booth.
Cognizant of that, NBC News, accused Ocasio-Cortez of snubbing Joe Biden. Will it make a difference on Election Day? Stay tuned.