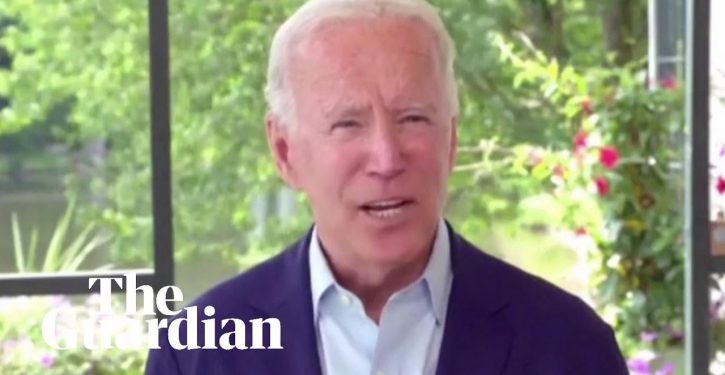 Maybe Team Biden knows what it is doing when it keeps the main attraction tethered to the basement bunker in his home. Left to his own devices, the former vice president will provide his opposition with ammunition.
It has been going on this way for decades. In 2006 the then-senator's office had to do some fast-on-the-feet shuffling after he was captured on  C-SPAN telling an Indian-American supporter, "You cannot go to a 7-11 or a Dunkin' Donuts unless you have a slight Indian accent. I'm not joking!"
Now his handlers have their work cut out for them again. Watch the two videos in order. The first ends at the 30-second mark, but the action picks up in the second, which contains the "money" quote. A transcript of the two passages follows both clips.
Biden says Trump is wrong to hold China accountable for coronavirus because Americans can't distinguish "between a South Korean and someone from Beijing."

The patronizing view of voters aside, not sure what that has to do with the CCP, or anything. pic.twitter.com/hWUbIRK910

— Vince Coglianese (@VinceCoglianese) July 22, 2020
And what Pres. Trump has done in going— in spreading racism, the way he deals with people based on the color of their skin, their national origin, where they're from is absolutely sickening. No sitting president has ever done this, never, never, never. No Republican president has done this. No Democratic president. We've had racists and they've existed, they've tried to get elected president. He's the first one that has. … Look what he's doing now. He's blaming everything on on on China. He's blaming everything on the Chinese. He's blaming everything, and people don't make a distinction. As you well know when the South Korean and someone from Beijing: They make no distinction. It's Asia and that's the way, and he's just using it as a wedge. [Emphasis added]
This is all pretty rich, meantime, coming from a politician who once openly endorsed segregation, calling it "black pride" As NBC headlined an article in 2019, back when the media were still putting their chips on one of the less old-fogyish candidates running for the Democratic nomination, "Joe Biden didn't just compromise with segregationists. He fought for their cause in schools, experts say."