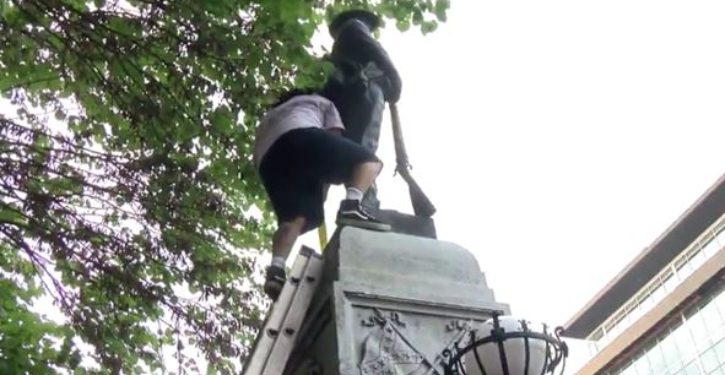 I can't claim to know what "leadership studies" are, though I can tell you that the University of Richmond in Virginia has a program in that area. I can also tell you that Julian Hayter is an associate professor in the department. He is, according to his bio on the university's website, "a historian whose research focuses on modern U.S. history, American political development, African-American history, and the American civil rights movement."
It was in the capacity of historian that Hayter was invited to appear on CNN Newsroom this past weekend. At any rate, that's the way he was introduced by host Fredricka Whitfield, who asked him about the wholesale statue topplings that have swept the country since the death of George Floyd.
The question of whether statues of great Americans should be preserved as part of our shared legacy or permitted to be trashed by screaming mobs has been hotly debated. Biden veep short-lister and Sen. Tammy Duckworth, for example, has said "I think we should listen to the argument" favoring removal of statues of George Washington.
I don't have to tell you where CNN, or its guest historian, comes down in that debate. His meandering and at times self-contradictory thoughts on the subject follow, along with a video of his complete remarks.
Trending: Pennsylvania Drag Queen Who Performed For Children Charged With 25 Counts Of Child Pornography

History is as much about forgetting as remembering and I think what people are really dealing with is the crisis of memories that have been chosen and absurd to think that we can erase history. If you crack open a textbook there are no minorities in those textbooks and they're dehumanized figures. We have been effective to erase history and what I think people want is a history more in keeping with the people that erected the monuments and people recognize that confederate statutory and the institutionalization of the lost cause cast a shadow on what America has become in paving the road to how we got to now.
George Santayana could not be reached for comment.